Another Night of Protests in Ferguson, and More Arrests
Rallies to mark the death of Michael Brown a year ago were peaceful, but the presence of an armed group called the Oath Keepers added to the tension.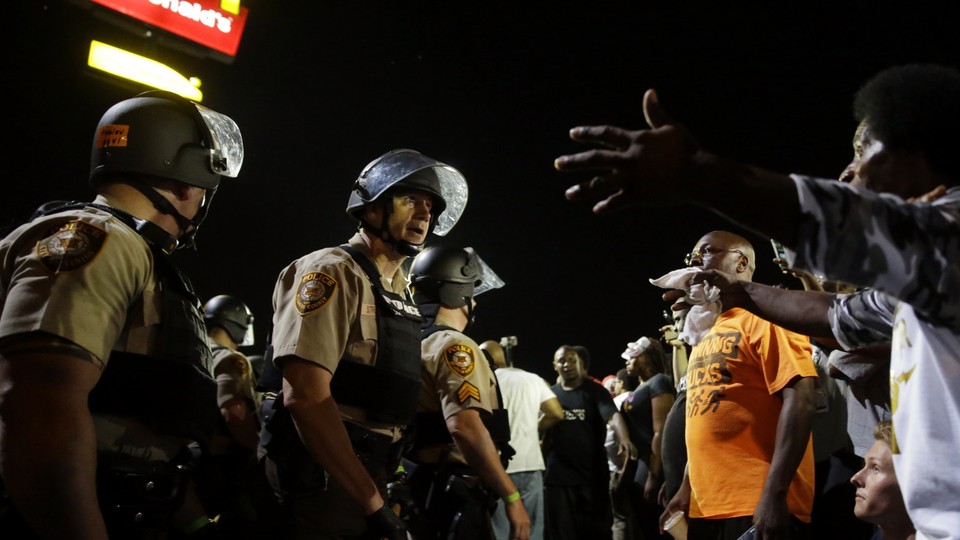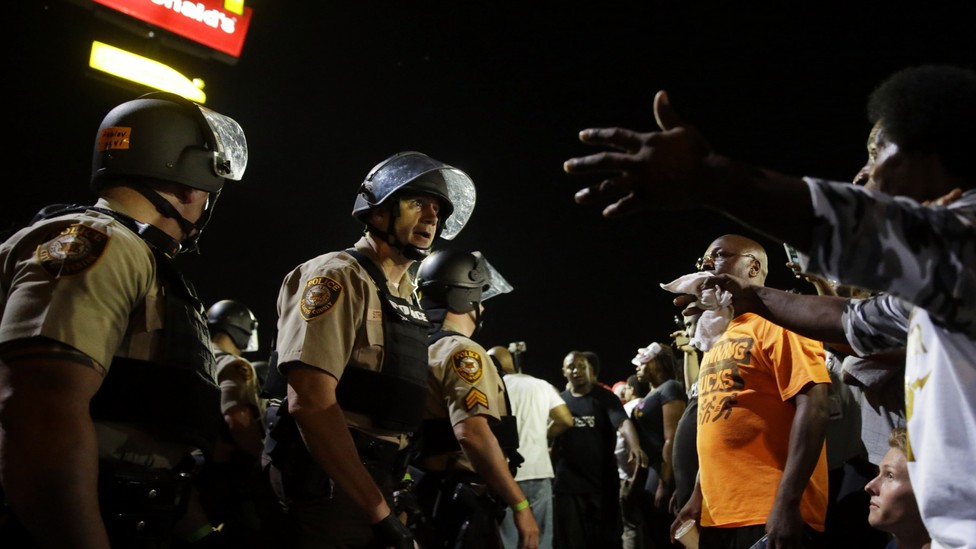 A second night of protests in Ferguson, Missouri, to commemorate the first anniversary of Michael Brown's death led to the arrests of more than 20 people, and saw patrols by an armed group that calls itself the Oath Keepers.
Monday night was peaceful in Ferguson, a contrast with the previous night when gunfire erupted between two rival groups, and police shot and critically wounded a man who fired at officers. In response, St. Louis County's executive declared a state of emergency, under which the county's police department took over the operation of police emergency management in Ferguson and surrounding areas.
Brown, an unarmed 18-year-old black man, was shot dead by a white officer on August 9, 2014. Although rallies marking his death were peaceful Monday night, at least 23 people were arrested as protesters confronted police. The arrests were in addition to the 50 or so people, including prominent members of the Black Lives Matter movement, who were detained during the day Monday.
Meanwhile, NBC News reported, the presence of a handful of Oath Keepers—heavily armed former members of the military, police and first responders—added to the tension in Ferguson. The group says its goal is to "defend the Constitution against all enemies, foreign and domestic."
St. Louis County Police Chief Jon Belmar said their presence was "both unnecessary and inflammatory." Here's more from NBC:
Several protesters confronted members of the group, asking why they were allowed to openly carry weapons.

"I'm happy that we're able to defend ourselves," one Oath Keeper replied in footage from NBC station KSDK."It's been our right for a long time."

The St. Louis County Police Department said it would consult with the St. Louis County Prosecuting Attorneys Office about the legalities of the issue.
Missouri law allows individuals with permits to display their firearms unless it's done in an "angry or threatening manner."