One of the National Zoo's Newborn Panda Cubs Has Died
Giant panda Mei Xiang gave birth to the twin cubs over the weekend.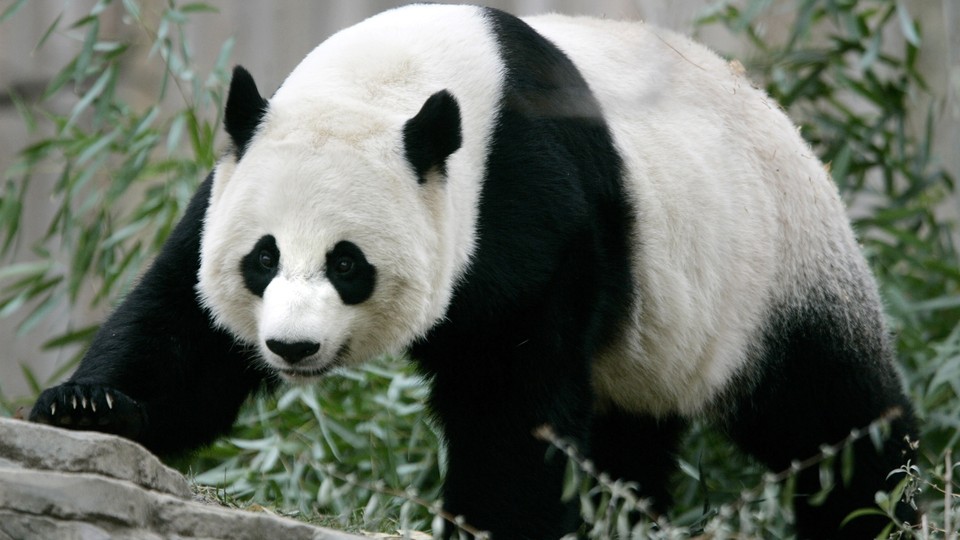 One of two giant panda cubs at Smithsonian's National Zoo in Washington, D.C., has died, the zoo said Wednesday. The cub was less than four days old.
The cub, the smaller of the pair, died shortly after 2 p.m., the zoo said in a press release. The other cub "appears to be strong, robust" and "behaving normally" under the care of its mother, Mei Xiang, who gave birth to them Saturday.
Giant pandas have twins about 50 percent of the time. In the wild, panda mothers can care for only one cub; they leave the other cub to die. In captivity, pandas receive help from veterinarians and zookeepers.
Shortly after the cubs were born, keepers retrieved one of them and placed it in an incubator while Mei Xiang nurtured the other. Keepers later swapped the cubs out so both could spend time with their mother. But by Monday, the strategy appeared to no longer work. Here's the zoo from that day:
When they tried to swap the cubs at 11 p.m., Mei Xiang would not set down the cub she had in her possession. Consequently, the panda team cared for the smaller cub throughout the night until 7:05 a.m. when they successfully swapped the cubs. The panda team supplemented the smaller cub with formula by bottle feeding. They were concerned that the smaller cub was not getting enough volume so they moved to tube feeding which went well and quickly. Our goal is for each cub to spend an equal amount of time with their mother.
By Tuesday, zookeepers were caring for the smaller cub full time, bottle- and tube-feeding the tiny bear:
The cub has shown some signs of regurgitation which can lead to aspiration in such a tiny creature. To be prudent, the veterinarians are administering antibiotics to prevent possible infection. It's very important to keep the cub hydrated so they are alternating an infant electrolyte solution with formula and administering fluids under the skin.
Keepers tweeted a photo of the smaller cub Tuesday afternoon:
Panda cubs are extremely vulnerable in their first few weeks of life. They are born blind, hairless, and weigh as little as a stick of butter. As adults, they can weigh more than 200 pounds.
In addition to the second newborn cub, Mei Xiang is mom to two-year old Bao Bao, who lives at the National Zoo, and 10-year-old Tai Shan, who lives in China.