Jimmy Carter on His Cancer Diagnosis
The former president on Thursday spoke candidly about the melanoma doctors discovered in his brain.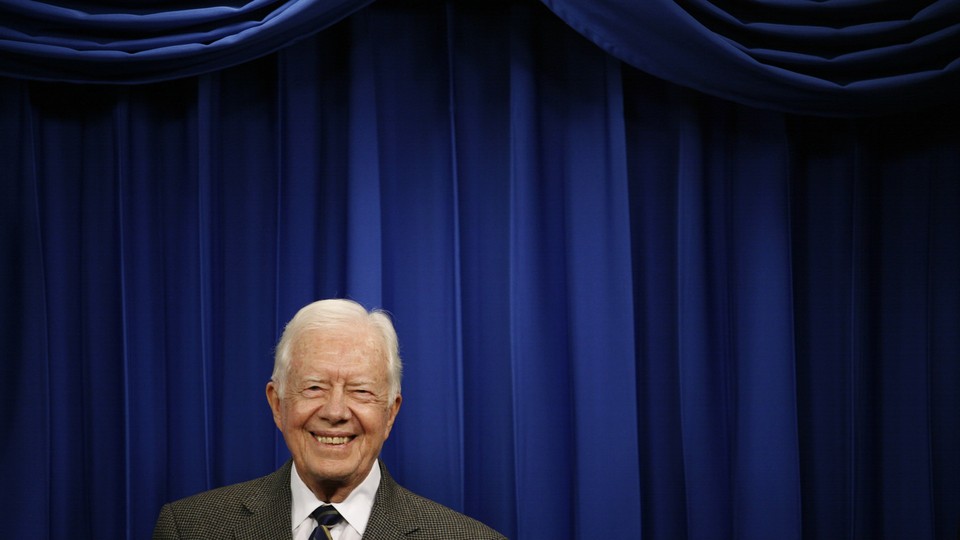 Jimmy Carter is ready for his first cancer treatment.
"I'm perfectly at ease with whatever comes," the former president told reporters Thursday during a press conference at the Carter Center in Atlanta. Carter announced last week that doctors discovered a small mass on his liver during a recent surgery, and that it was cancer.
On Thursday, Carter, 90, revealed more: that a scan had found four "very small spots" on his brain, that these spots were diagnosed as melanoma, and that he will undergo radiation treatment on his brain in just a few hours.
The former president spoke candidly for nearly 40 minutes, describing in detail what physicians have planned. Carter said he will receive four treatments scheduled at three-week intervals, and undergo more scans to search for signs of cancer in other parts of his body. Wearing a dark jacket and red tie with white polka dots, Carter appeared jovial, smiling as reporters asked questions and only stopping to take a sip of water a half hour in. The former president sounded like he was describing a new project by his Carter Center, and not a cancer diagnosis. He referred to what's next for him as "a new adventure."
"You know, I have had a wonderful life," Carter said. "I have had an exciting and adventurous and gratifying existence."
Watch his complete remarks here:
When he first learned of the melanoma in his brain, Carter said he thought he "had just a few weeks left." But he remained in good spirits. "I didn't go into an attitude of much despair or anger or anything like that," he said. "I was just completely at ease."
The reaction to last week's announcement has been "emotional," he said. Supporters have sent him peach pie, a classic summer dessert in his home state of Georgia. President Obama, former presidents George H. W. Bush and Bill Clinton, Vice President Joe Biden, and Secretary of State John Kerry all called him—the "first time they've called me in a long time," Carter said, laughing.
When asked for the accomplishment he feels most proud of, Carter said it was marrying Rosalynn, his wife of 69 years. "That's the pinnacle of my life," he said. Serving as president was the pinnacle of his political career, Carter said, but his work through his eponymous nonprofit organization has been "personally more gratifying."
Much of that work will be put on hold. Carter said he will reduce his work at the center and as a professor at Emory University "fairly dramatically." As for his annual trip to Nepal with Habitat for Humanity in November, Carter said he would have to wait and see. The trip would be the 33rd time he has traveled there to help build homes.
And what about his regrets? "I wish I had sent one more helicopter to get the hostages and we would have rescued them," he said, referring to the Iranian hostage crisis between 1979 and 1981, and drawing laughter from the room. "And I would have been re-elected."