Jimmy Carter's Cancer Diagnosis
The former president learned of the disease after a recent surgery.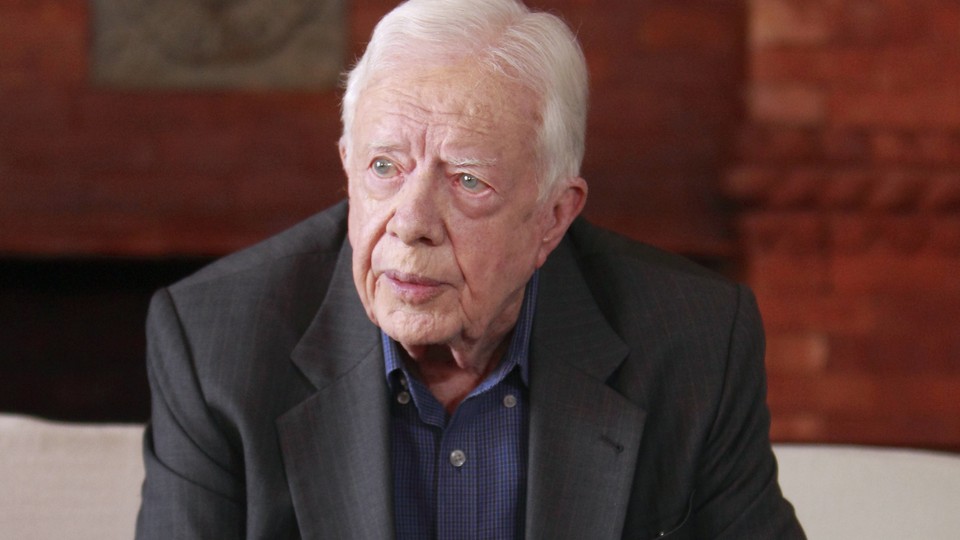 Former President Jimmy Carter said Wednesday that he has cancer.
"Recent liver surgery revealed that I have cancer that now is in other parts of my body," he wrote in a statement posted on the Carter Center's website.
Carter, who is 90, had surgery to remove a "small mass" from his liver, The Associated Press reported. He said Wednesday that he "will be rearranging my schedule as necessary" to receive treatment for the disease from Emory HealthCare, a hospital system in Atlanta. A longer statement about his health will come "when facts are known," perhaps next week, Carter said.
A Carter Center spokeswoman told the AP that the former president's "prognosis is excellent for a full recovery."
Carter told The New York Times in 2007 that he once received regular CT scans to detect lesions on his pancreas. Carter's father, mother, brother and sisters all died of pancreatic cancer. The former president described the health screenings to the Times back then:
"I don't get any more M.R.I.'s or CT scans regularly," he said. "I do have extensive blood work. I get a thorough physical exam once a year, and a fairly good physical exam twice a year. They do ultrasound on my body, too. But I don't get too involved in cross-examining the doctor. They're so thorough at Emory University."
Carter said doctors were stumped about the prevalence of the cancer in his family. More:
"Nobody knew," he said. "They thought my family might have imbibed some kind of poison, a pesticide. Back in the olden days, the federal government didn't care what kind of poison you used."
Carter has remained active since he left the Oval Office in 1981, working on humanitarian projects through his eponymous nonprofit center. He described his work to John Meroney last month in an interview with The Atlantic:
For the people who don't have peace, we negotiate agreements that end wars and prevent wars. We promote democracy and freedom by holding elections in troubled countries—in fact, we just finished our one-hundredth election. This year, we'll treat about 71 million people, mostly in Africa, so they won't have terrible diseases. That's been the concentration of my effort ever since I left the White House.
President Obama on Wednesday wished Carter a fast recovery. "Jimmy, you're as resilient as they come, and along with the rest of America, we are rooting for you," the president said in a statement.