How Bad Is the Damage to the Animas River?
The EPA accidentally dumped 3 million gallons of wastewater from a mine into the river in southwestern Colorado.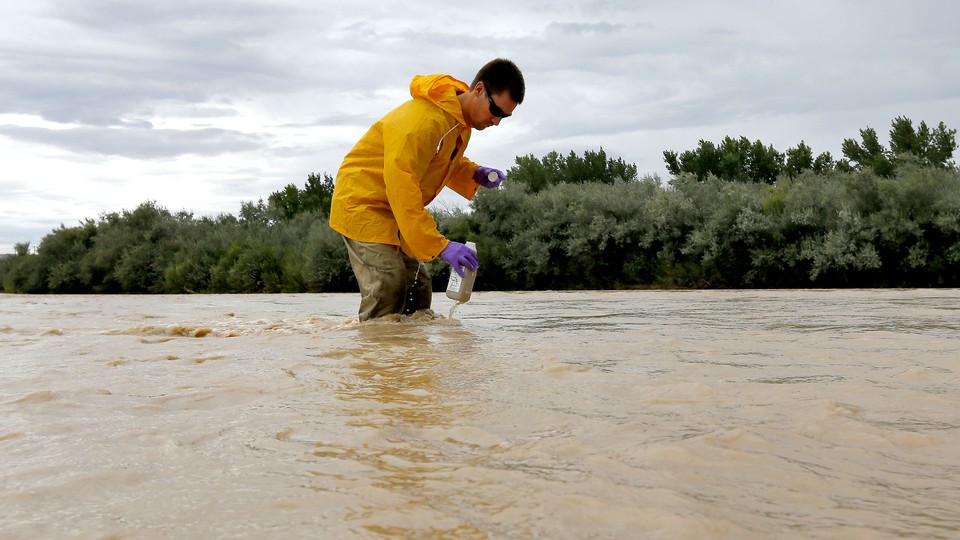 It looked Photoshopped, but it was definitely real: A river in Colorado flowed orange.
Last week, a cleanup crew from the Environmental Protection Agency working along the Animas River in southwestern Colorado accidentally broke through a dam, causing a nearby abandoned mine to spew 3 million gallons of wastewater into the river. The spill sent lead, arsenic, cadmium, and other contaminants into the 126-mile-long river, turning the water a mustard hue.
The river's appearance has since recovered; it shifted to a slight green color as water flowed away from the spill site, diluting the concentration of pollutants, CNN reported. By Tuesday, the water looked clear.
When EPA officials first measured the presence of the toxic heavy metals in river after the accident last Wednesday, the levels broke state water quality limits, The Denver Post reported.
Here's CNN, with the token shocked scientist:
An arsenic sample tested 26 times higher than the EPA acceptable level.

Lead was even worse—much worse.

"Oh my God! Look at the lead!" said Joseph Landolph, a toxicologist at the University of Southern California, pointing to a lead level in the Animas River nearly 12,000 times higher than the acceptable level set by the EPA.
The situation seems much less dire now, according to recent tests of the river. Local drinking water is safe, but the intake valves from the river have been shut off. The state Parks and Wildlife Department reports no dead fish have been spotted along the water. Larry Wolk, Colorado's top health official, told CNN Tuesday that early tests show that the water near Durango, the Colorado city where the spill originated, "doesn't appear" to pose a health risk, but didn't specify to whom—humans, wildlife, local ecosystems, or all three.
The less visible—and long-term—consequences of the spill, however, are unknown, according to state and EPA officials. The flow of contaminants has already reached New Mexico, and heads to Utah next. Some of the dangerous metals may have seeped into the river's sediment, which the current could pick up again at any time. It can take years for the effects of such contaminants to develop.
"We're kind of in a wait-and-see mode right now," Donna Spangler, a spokeswoman for the state Department of Environmental Quality, told KSL, an NBC-affiliate.
The Animas River no longer resembles something like honey Dijon, but the tests are certainly far from over.