A TV Station in Virginia Mourns
Editor's Note:
This article previously appeared in a different format as part of The Atlantic's Notes section, retired in 2021.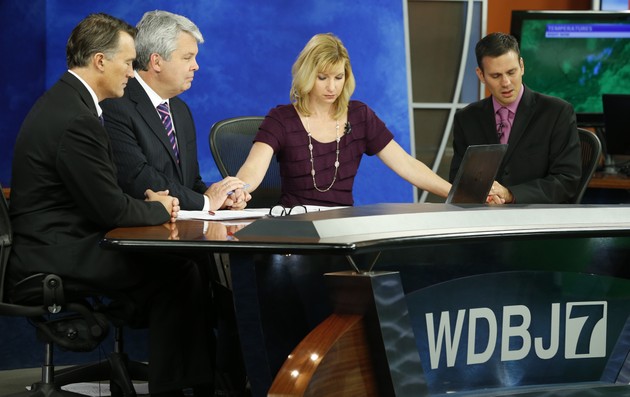 Updated on August 27 at 3:41 p.m. ET
Colleagues of Alison Parker and Adam Ward who were shot and killed yesterday by a former coworker on live TV are paying tributes to the two journalists.
They are also describing Vester Lee Flanagan as someone with "anger-management issues that went beyond anger management."
WDBJ7, the CBS affiliate in Roanoke, Virginia, held a moment of silence at 6 a.m. during its Mornin' show as a tribute to the two slain journalists, and showed photographs of Parker and Ward.
The anchor Kim McBroom, the weatherman Leo Hirsbrunner, and the anchor Steve Grant—who came in from KYTV in Springfield, Missouri, to help the station at a difficult time— joined hands.
"Joining hands here on the desk: It's the only way to do it," McBroom said.
Hirsbrunner's voice trembled as he did the weather.
"I don't even know how to do weather on a day like this," he said.
"Good job, partner," McBroom said, comforting him. "We're going to get through this together."
At a news conference later in the day, WDBJ's staff gathered with Jeffery Marks, the station's general manager and president, wearing ribbons in support of their colleagues.
Kelly Zuber, the station's news director, said anchors cried in the newsroom before going onto the set to deliver the news.
"They cry, they hug and then they get the job done," Zuber said.
You can watch the CBS affiliate's broadcast this morning here:
Here's how WDBJ described Parker and Ward:
Alison Parker and Adam Ward weren't beginners, but they were at the beginning of their careers. And both of them had big plans in their personal and professional lives.

Alison was smart and dedicated to her work.

Adam was a capable photographer who would go the extra mile to get the job done.

And they had a lot in common.

Both Alison and Adam grew up in this part of Virginia

Alison was from Martinsville. She was a graduate of Martinsville High School, and James Madison University.

She was a dancer. And she loved the outdoors, especially water sports such as kayaking and white water rafting.

Adam attended Salem High School, where he played football. He was a Virginia Tech graduate and a huge Hokies fan.

Both worked as interns at WDBJ7 before they signed on as employees. And Alison worked at a television station in North Carolina before she returned to WDBJ7 in 2014.

Adam had been here for four years, first as an employee of our production department, and more recently as a photographer in News.

He and Alison had been working together on WDBJ7 Mornin' for just over a year.

And both found love at the television station.

Adam was engaged to morning producer Melissa Ott. This was her last day at WDBJ7 before moving to a new job in Charlotte. And they were planning their wedding.

Alison and our Six o'clock anchor Chris Hurst were dating. They had moved in together, Chris said Wednesday afternoon, to save money for a house and a ring.

"It's a nightmare to know that both of them are lost well before we should have been talking about this," Chris said, "for reasons that will never be fully understood or explained."
Flanagan, who used the on-air name of Bryce Williams, was also being remembered—but in a different way.
Flanagan shot and killed Parker and Ward during a live broadcast. He then led police on a chase that ended about five hours later. During that time, he appeared to update his Twitter and Facebook feeds, and posted video of the shooting taken from a shooter's vantage point. Police said Flanagan was found with a self-inflicted gunshot wound, and was taken to hospital where he died.
A document he had apparently faxed to ABC News linked his actions to the shooting at a historic black church in June in Charleston, South Carolina.
Police officials described Flanagan as "disturbed." He had been fired from WDBJ, where he had worked as a reporter, about two years ago. Marks, the station's general manager, said Wednesday that Flanagan was fired after "many incidents of his anger coming to the fore."
At the news conference Thursday, he said the station's employees had reported seeing Flanagan in public places since that time, but there were no confrontations.
Flanagan had similar run-ins in the past.
CNN spoke to Don Shafer, who worked with Flanagan when Shafer was news director at WTWC in Tallahassee, Florida.
Shafer—now news director at XETV in San Diego—said "the hair on the back of my neck went up," when he heard Flanagan's name on the radio.
Here's more from CNN:
The reporter who went by Bryce Williams made a nice impression on Shafer at first, but in 2000, he fired him over run-ins with colleagues.

"There were some issues with him and his personality that kind of spiraled down, and that's why we had to get rid of him," Shafer said.

Flanagan sued, alleging racial discrimination, but the suit was dismissed.
Marks said Flanagan's claims of mistreatment at the station were investigated, and it was found "no reasonable person would have taken any of the cited instances as discrimination or harassment."