Twenty-Four Counts of Murder in Aurora
A jury took just over 12 hours to find James Holmes guilty of the 2012 massacre at a Colorado movie theater.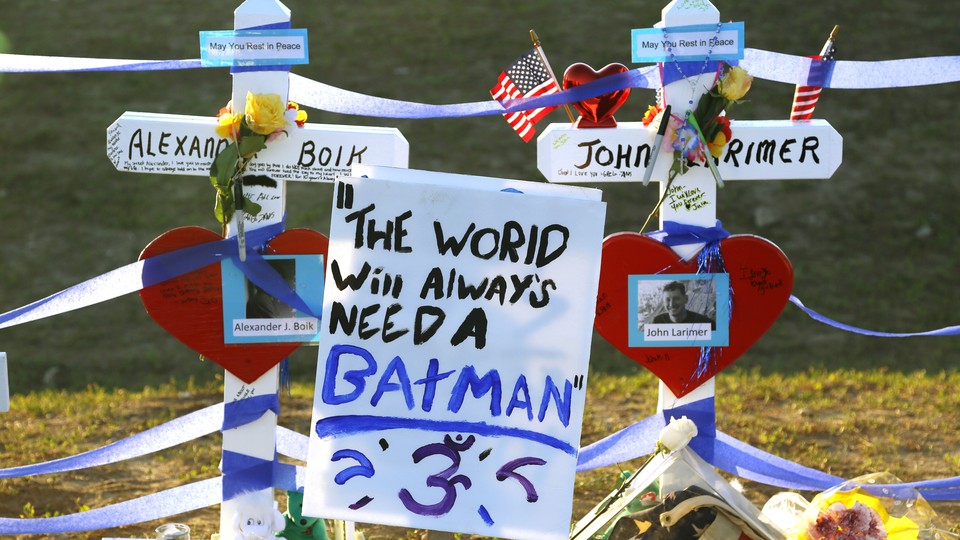 On Thursday, hours after a shooter killed four Marines in Chattanooga, Tennessee, a Colorado jury found James Holmes guilty of multiple counts of murder in the 2012 massacre at a movie theater in Aurora, Colorado.
These developments, while not materially linked, come at a moment when gun violence in the United States is a dominant thread in the national discourse. Last month, after nine people were killed in a church shooting in Charleston, South Carolina, President Obama delivered his sharpest words yet about the tide of mass shootings in the United States.
The Aurora shooting is among the most horrific attacks in recent memory. A packed midnight showing of The Dark Knight Rises in the suburbs of Denver. Twelve moviegoers dead, and 70 injured. Over 250 witnesses testified in the trial.
Holmes' attorneys had argued that their client suffered from mental illness. Writing in The Atlantic, Andrew Rosen noted that a preliminary hearing in 2013 included details about how Holmes hadn't fled the scene of the crime and "meekly" handed himself over to the police when they arrived. The jury rejected Holmes's claim, delivering a verdict just days shy of the three-year anniversary of the shooting.
Holmes, 27, will be eligible for the death penalty, which seems to be what the state is pursuing: According to The New York Times, George Brauchler, the district attorney, has previously said that "justice is death." Court documents also show that Holmes' lawyers sought a plea deal that would have sent Holmes to prison for life without parole, but the prosecutors rejected it.
That would have spared the public the spectacle of a trial and the possibility of years of appeals. As Robert Wright argued in The Atlantic, one possible way of punishing killers who may be seeking notoriety is to keep them obscure.
The trial will now shift to the sentencing phase, which is expected to last weeks.