An Attack on a U.S. Military Recruitment Facility
A gunman shot and killed four U.S. Marines and one sailor at a facility in Chattanooga, Tennessee, and was killed in the attack.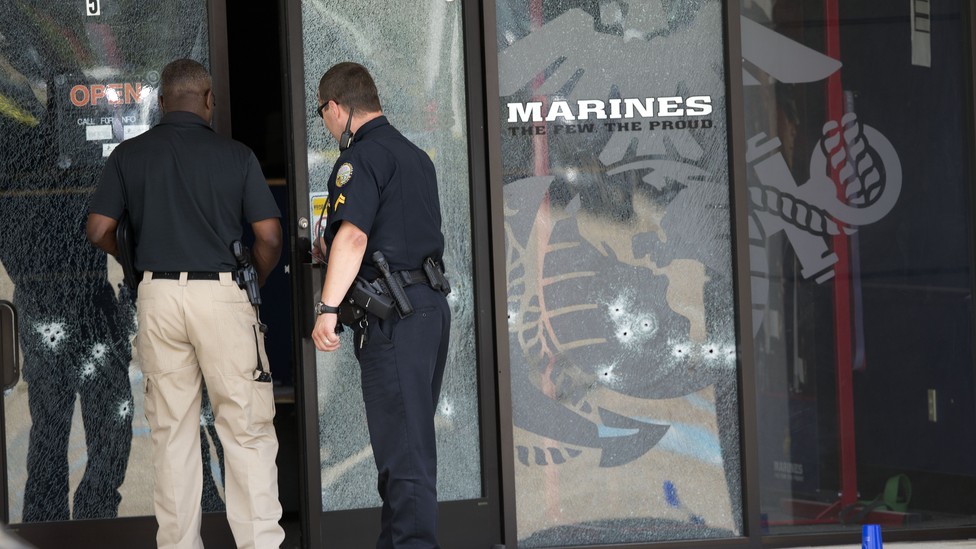 Updated 7/18/15
A gunman opened fire at two military recruiting stations in Chattanooga, Tennessee, on Thursday morning, killing four U.S. Marines before dying in the attack. Three others, including one police officer, were wounded. On Saturday, one of the wounded, a sailor, died of his injuries.
According to Ed Reinhold, the FBI Special Agent in Charge, the Marines were killed at a recruitment center where the Air Force, Army, Navy, and Marines all share offices. President Obama described the attack as a "heartbreaking circumstance" while cautioning that "we don't know all the details." According to CBS News, U.S. Attorney Bill Killian said officials were treating Thursday's attack as an "act of domestic terrorism."
The gunman was identified as Muhammad Youssef Abdulazeez, 24, a naturalized U.S. citizen born in Kuwait. Abdulazeez had attended high school and college in Chattanooga, where he graduated from the local University of Tennessee campus in 2012 with a degree in electrical engineering. Described as "quiet and friendly" and with an interest in wrestling and mixed martial arts, Abulazeez had, in recent months, turned more toward Islam, growing a beard and attending weekly religious services. In two blog posts published on July 13, Abdulazeez commented on passages from the Koran—in one post, he writes that life is "bitter and short." Dr. Azhar S. Sheikh, a founding board member at the Islamic center where Abulazeez worshipped, said that the young man nevertheless showed no signs of extremism.
The FBI, who is investigating Thursday's shooting as an act of "domestic terrorism," has not identified a motive for Abdulazeez' act, and has commenced an investigation of his computer and phone records and bank accounts. A U.S. official told the Washington Post that in 2014, Abdulazeez traveled to Jordan, his ancestral home, and spent several months abroad—but it is unknown whether he made any contact with Islamic extremists during his stay.
Aside from a recent charge for driving under the influence, Abdulaezeez had no police record. According to law enforcement officials, his father was investigated by the FBI for donating money to a group with extremist ties, and was placed on a terrorism watch list before later being removed. However, officials cautioned, this past investigation of the father provided no information about Abdulazeez himself.
The violence in Tennessee represents the first attack on a U.S. military recruitment center since 2009, when Abdulhakim Mujahid Muhammad, a 23-year-old man unhappy about the wars in Iraq and Afghanistan, opened fire on two men standing near a recruitment center in Little Rock, Arkansas, killing one. Recruitment centers, by their nature, are open to the public, and Chattanooga's Armed Forces Career Center had no additional security at the time of the attack.
On Friday, the family members and friends of the four victims began to publicly identify their loved ones. The Facebook page of India Battery, 3rd Battalion, 12th Marines revealed that Sgt. Thomas Sullivan, a member, had died in Chattanooga. The 40-year-old Sullivan, a native of Springfield, Massachusetts, served two tours in Iraq. Also among the dead was Squire "Skip" Wells, a 21-year-old from Marietta, Georgia, who had just joined the Marines last year. The New York Times has identified David Wyatt of Burke, NC and Carson Holmquist of Polk, Wisconsin, as the third and fourth to lose their lives. The sailor who died of his wounds on Saturday was identified by family members as Navy Petty Officer 2nd Class Randall Smith.
In a statement released after the attack, Tennessee Governor Bill Haslam said that "lives have been lost from some faithful people who have been serving our country, and I think I join all Tennesseans in being both sickened and saddened by this."
This story will be updated as new developments unfold.