Youth as a Force for Peace
Three winners of the Peace First Prize illustrate how young people are often the engine for world-changing collective action.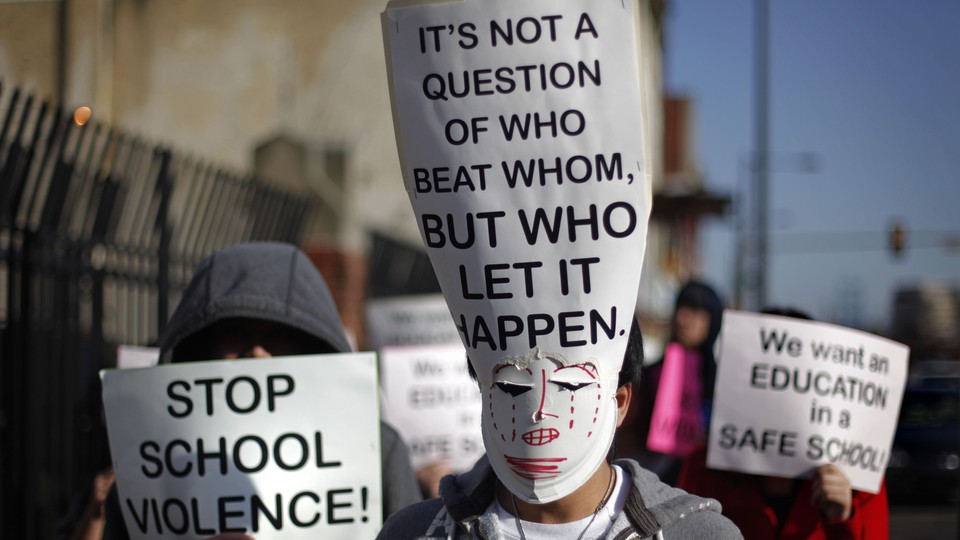 On December 3, 2009, about 30 students at South Philadelphia High School were brutally attacked by their classmates during school. About 13 were sent to the emergency room. The victims were all Asian, many of them recent immigrants from China. The attackers were mostly black.
According to a detailed account of the day's violence from Philadelphia Magazine, the attackers were organized, and unrestrained:
Most of the Asian students … ate their lunch hiding out on the second floor. A few, though, made the mistake of going to the lunchroom. At 12:31 p.m., a group of predominantly black –students — really, a front of about 70 — moved on the cafeteria. Attackers put up the hoods of their sweatshirts and, surrounded by a crowd of cheering, laughing supporters, crashed on their Asian targets in the hall outside the lunchroom like a wave.

Several Chinese students suffered face and head injuries, and one boy's nose was smashed, horribly broken and gushing blood. The campaign moved into the lunchroom, where the 70 or so attackers and supporters found a handful more Asian kids. Some in the crowd seemed to serve as pointers, directing the fighters toward new victims. Cafeteria workers, following school policy, pulled down steel doors to shut off themselves and the possibility the fighters could grab kitchen utensils to use as weapons. The school police arrived, but were shielded for several moments from reaching the victims by the crowd around them.
One of the students at South Philly High School that day was Wei Chen, who'd arrived in the U.S. from China at the age of 16, without speaking any English. His first welcome to his new country, he said in a panel at the Aspen Ideas Festival on Sunday, was two punches to the back of the head.
"There was a culture in the school that allowed young people to beat each other," Chen said. The adults in the school were unable or unwilling to stop the violence that Chen and his fellow Asian students endured daily.
So Chen decided to fight back himself, using a move straight out of the textbook of the Student Nonviolent Coordinating Committee—he organized a boycott. He called his fellow students one by one to encourage them to stay away from school. He organized the collection of homework assignments. He wrote a letter for his classmates to take home to their parents explaining their actions. And for eight days, Chen and about 50 of his classmates studied and rallied outside of the school.
Chen's boycott would bring national attention to the violence facing Asian students at South Philadelphia High School, ultimately resulting in a Department of Justice settlement with the school district that described authorities as "deliberately indifferent to known instances of severe and pervasive ... harassment of Asian students."
What might be most extraordinary about Chen is that he directed his actions not at the students who attacked him and his classmates, but at the system that enabled those attackers, and failed to protect their victims. As a result, five years later, according to Kevin McCorry of Newsworks, the school is much changed. "For the second year running, Philadelphia's Vietnamese community held its Lunar New Year celebration in the gymnasium at South Philadelphia High School," reported McCorry, "an event that many in South Philly's Asian community would have thought impossible just five years ago."
"What happened at South Philadelphia High in 2009 was not just an isolated incident, but a more conspicuous symptom of a larger structural problem," said Chen and his co-author Duong Ly in a column from this past December reflecting on the events at South Philly High. The column continues:
The increasing dehumanization of students and teachers as a result of relentless attacks on public education (for example: high-stakes testing, reduced individualized support for students, attacks on the teachers' union, etc.) had eroded a focus on us as students. It pitted groups against each other and contributed a great deal to the rise in racial tension between the different student groups in the school. Moreover, the School District's indifference toward the harsh anti-Asian, anti-immigrant climate contributed to a culture of normalized violence that hurt all students, especially and including Asian immigrant youth.
"In that small student movement," Chen said in the panel, "we found out that young people had a voice, and we had the power and the right to change school systems."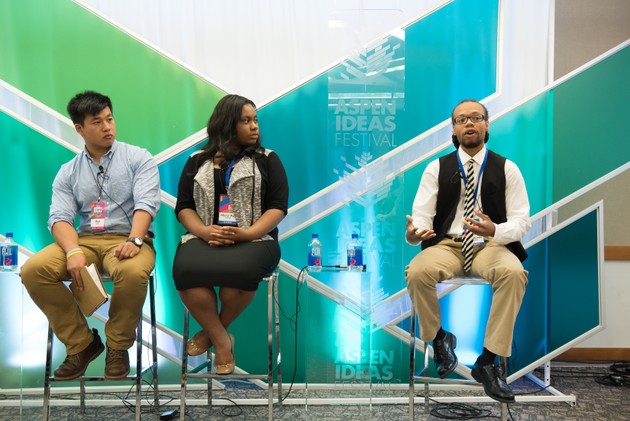 Chen is on stage as one of three recipients of the Peace First Prize, a two-year, $25,000 fellowship described by its co-creator Eric Dawson as a sort of Nobel Peace Prize for young people. Dawson, who led the panel, said that his organization Peace First studied more than a century of movements that resulted in massive social change, and found that those movements almost always begin with young people. "We've interviewed hundreds and hundreds of young peacemakers," Dawson said, and two things came up again and again: "One is, '[Adults] took me seriously.' … And the second is, 'They got out of the way.'"
Joining Chen and Dawson on stage were Babatunde Salaam and Mary-Pat Hector, both recipients of the Peace First Prize. Hector, the National Youth Director for the National Action Network, launched a billboard campaign in Atlanta to combat gun violence. She starts college in August. "In 2044," she told the Atlanta Journal-Constitution, "I plan to be president of the United States." I believe it.
At the age of 16, Salaam produced a documentary, "Kids and Cops," aimed at helping youth and police in Baltimore understand each other. Asked about the documentary before the panel, Salaam offered a semi-apology for the production values, but the exchanges he captured are compelling. The candid exchanges are reminiscent of a similar film, about a group of peacemakers in Chicago, PBS Frontline's "The Interrupters." Take, for example, this exchange two minutes in, where two teenagers talk about the allure of the infamous Baltimore corner, followed immediately by a retired police officer talking about when kids hung out with families on steps without being hassled by police:
The documentary was released more than two years before Freddie Gray's fatal ride in the custody of the Baltimore P.D., an event that sparked nights of protest, criminal charges against six police officers, and a nationwide focus on interactions between youth and the police in Baltimore.
"Our models for thinking and talking about young people is that they are victims or potential victims that we need to protect, or they're problems that we need to fix," Peace First cofounder Eric Dawson told NPR's Michel Martin in 2013. Otherwise, he told the audience in Aspen, "we do tend to talk about young people as the future—you're going to be a great artist someday, or a great leader, or whatever —which has the effect of telling them, That's not who you are right now."
Watching the panel, I thought about an essay Garance Franke-Ruta wrote for The Atlantic about being a member of ACT UP, the AIDS Coalition to Unleash Power, one of the organizations credited with helping turn the world's attention to the swiftly unfolding catastrophe of AIDS. The description she gave of the organization's efforts could apply to the young students holding sit-ins in the '60s, to the activists of the #BlackLivesMatter movement, to Wei Chen's pacifist army of immigrant students:
It was group of despised, gorgeous, terrified and terribly, terribly young people who looked death and society in the face and said no, we will not go quietly into that good night. Save us or give us the means to save ourselves.