The Cardinals Lose Their Virtue
After a chaotic year, the FBI investigation of the beloved baseball team wounds the spirit of St. Louis.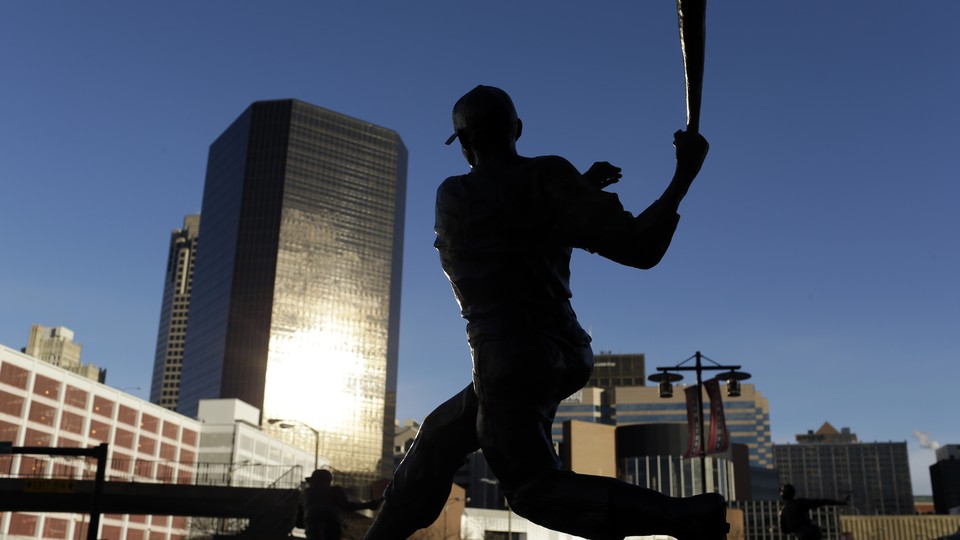 For people from St. Louis, like me, the past year had already been an annus horribilis. What began with Ferguson ended in charges of citywide racism and wrong-doing. But, even in those dismal days last August, St. Louis natives found solace in the organization that publicly defined the better angels of our nature: the proud St. Louis Cardinals.
More than any other institution, the Cardinals have exemplified the Midwestern virtues the citizens of my home town live by, year after year. And they define our city. When I grew up there, the modest Stan Musial was our shining knight, our Galahad. A whole generation of kids in the Midwest came together listening to Musial's exploits on KMOX, the big clear-channel radio station whose signal brought us all together. An indelible memory of my childhood involved nothing more than lying in bed one full afternoon listening to Musial crack five homers in a double-header. African American players like Bob Gibson, Lou Brock, Ozzie Smith, and Willie McGee became local heroes in a city otherwise painfully divided by race.
Musial set the tone for good sportsmanship that Cardinals fans see as characteristic of St. Louis, a Midwestern norm. Cardinals fans are famously good sports: applauding exemplary performances by their own players and even by rival players. They do not boo anyone, as residents of the decadent East so often do. They come together, black and white, friend and foe, in the amicable harmony of a lighted greensward near the river called Busch Stadium.
Even today, the worldwide diaspora of Cardinals fans is bonded by the heritage they share. Whether this is healthy is another question. I migrated east, but, as so many of my friends do, I return to St. Louis every year. My pretext is to see my mother but it's really to look at the numbers of the departed great players on the walls of Busch Stadium: Stan, Ozzie, Red, Gibbie, the first name will do it.
And it works. This year, as in so many years, the Cardinals are on top of their division and have the best record in baseball and second-highest attendance.
So the news that the FBI is investigating the hacking of a rival organization, the Houston Astros, by Cardinals's employees, is particularly devastating. Have they become as cynical and unscrupulous as the decadent teams they compete against?
Of course they have. And it has always been that way. Just as behind every great fortune lies a great crime, so behind every great team lies a great embarrassment.
The Cardinals were once owned by a real-estate developer named Fred Saigh. In the early 1950s, Saigh was engaged in a long war of attrition against the other team in town, the St. Louis Browns. But then, as always, human frailty produced unforeseen consequences—Saigh was indicted and eventually convicted of income-tax evasion. For an owner of a major-league franchise to play fast and loose with other people's money was business as usual in baseball; to serve hard time in prison was not. After shopping the Cardinals to prospective buyers in both Milwaukee and Houston—Houston!—Saigh found a buyer at home: Anheuser-Busch, the nation's biggest brewery, run by the flamboyant August A. Busch Jr., known as Gussie. Armed with an immense marketing budget and led by a CEO with an ego as large as Bavaria, the Cardinals drove the Browns out of town and have ruled the riverfront ever since.
The team was eventually bought from the beer company by a group of civic-minded residents who did more than anyone to restore local pride to the franchise. But there has always been something disquieting about the Saigh episode. We may think we are through with the past, but the past is not through with us.
Houston is a city with the raw economic energy that St. Louis envies. Houston had once tried to lure the Cardinals from Saigh, and the bad blood that more recently resulted when the Cardinals's onetime scout Jeff Luhnow defected to Houston, where he is now general manager, may well lie behind the current imbroglio.
Baseball alone cannot sustain the self-worth of a city. St. Louis remains an inland empire, isolated hundreds of miles from any other major city and even farther from an ocean. It is an American Galapagos, where odd-shaped ideas take form. One of them is that the Cardinals were somehow different, more virtuous than teams like Houston, and that their success would make the city prosper.
Or perhaps not. We do not know yet exactly who undertook the alleged —enterprise, or why. But the charge alone puts a catch in my throat that will take a while to clear.