'Hate Crime': A Mass Killing at a Historic Church
A man suspected of killing nine people at the Emanuel African Methodist Episcopal Church, including a state senator, will be charged with nine counts of murder.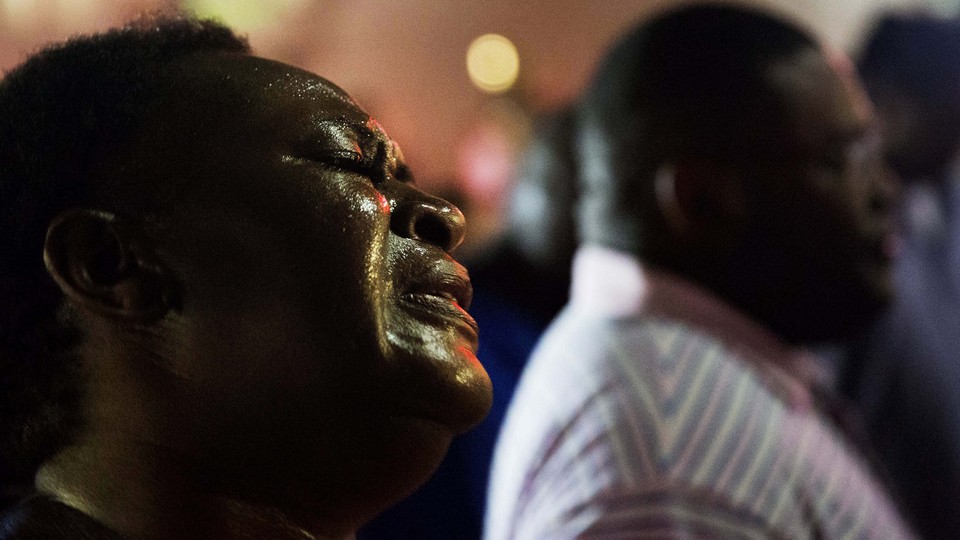 Updated on 6/19
On Friday, as he was set to be charged with nine counts of murder, Dylann Roof admitted his role in Wednesday's shooting at Emanuel African Methodist Episcopal Church in Charleston, South Carolina.
"In addition to the nine murder counts, Roof is charged with possessing a weapon during the commission of a violent crime," the AP reported. South Carolina Governor Nikki Haley added that the state will "absolutely" seek the death penalty against Roof.
---
Updated at 2:50 p.m. EST.
Dylann Roof, the 21-year-old who is suspected of a mass killing at a historic black church in Charleston, South Carolina, has been taken into law enforcement custody. Nine people were killed and at least one other was wounded in the shooting, which occurred at a Wednesday night prayer meeting at Emanuel African Methodist Episcopal Church, one of the oldest black churches in the South.
The Shootings and the Aftermath
Roof sat for about an hour with congregants in a weekly prayer meeting, Charleston Police Chief Greg Mullen said in a press conference. Then, shortly after 9 p.m., he allegedly opened fire.
A cousin of one of the victims, Sylvia Johnson, relayed a survivor's account to NBC News claiming that the shooter reloaded his weapon five times. According to Johnson, the gunman told the survivor, "I have to do it. … You rape our women and you're taking over our country. And you have to go."
"I will say that this is an unspeakable and heartbreaking tragedy in this most historic church, an evil and hateful person took the lives of citizens who had come to worship and pray together," Charleston Mayor Joe Riley told reporters, according to the Post and Courier. Mullen went further in his remarks, saying,"I do believe this was a hate crime."
As news of the shooting spread, locals gathered in the streets surrounding the church in an impromptu prayer session for the victims. By noon on Thursday, hundreds had gathered in local churches and on nearby streets to commemorate the dead, the Post and Courier said.
South Carolina Governor Nikki Haley issued her condolences after news of the shooting broke. "While we do not yet know all of the details, we do know that we'll never understand what motivates anyone to enter one of our places of worship and take the life of another," she said in a statement.
"Michelle [Obama] and I know several members of Emanuel A.M.E. Church," President Barack Obama said at a White House press conference. "To say our thoughts and prayers are with them and their families and their community doesn't say enough to convey the heartache and the sadness and the anger that we feel. Any death of this sort is a tragedy. Any shooting involving multiple victims is a tragedy. There is something particularly heartbreaking about that happening in a place in which we seek solace and we seek peace, in a place of worship."
In his remarks, Obama linked the killings to a pattern of gun violence in the U.S.:
I've had to make statements like this too many times. Communities like this have had to endure tragedies like this too many times. We don't have all the facts, but we do know that once again innocent people were killed because someone who wanted to inflict harm had no trouble getting their hands on a gun. Now's the time for mourning and for healing, but let's be clear: At some point, we as a country will have to reckon with the fact that this type of mass violence doesn't happen in other advanced countries. It doesn't happen in other places with this kind of frequency. And it is in our power to do something about it. I say that recognizing that the politics in this town foreclose a lot of those avenues right now. But it'd be wrong for me not to acknowledge it. And at some point, it's going to be important for the American people to come to grips with it, and for us to be able to shift how we think about the issue of gun violence collectively.
The Iconic History of the Church
The targeting of Emanuel African Methodist Episcopal is particularly significant given its history and symbolism. One of the people killed was Clementa Pinckney, a South Carolina state senator and Methodist pastor at the church, and the youngest African African ever elected to South Carolina's legislature. In a 2013 lecture posted on YouTube, Pinckney spoke about Emanuel A.M.E.'s significance to Charleston and the nation.
"Where you are is a very special place in Charleston," Pinckney said in the lecture, addressing an audience of visitors to the church.
Pinckney continued:
In a nutshell, you can say that the African American church—and in particular, in South Carolina—really has seen it as its responsibility and its ministry and its calling to be fully integrated and caring about the lives of its constituents and the general community. ... Many of us don't see ourselves as just a place where we come and worship, but as a beacon, and as a bearer of the culture, and a bearer of what makes us a people. But I like to say that this is not necessarily unique to us; it's really what America is all about.

Could we not argue that America is about freedom—whether we live it out or not—but it really is about freedom, equality and the pursuit of happiness, and that's what church is all about. Freedom to worship, and freedom from sin, freedom to be fully what God intends us to be, and freedom to have equality in the sight of God. And sometimes you gotta make noise to do that. Sometimes, you maybe have to die, like Denmark Vesey, to do that. Sometimes you have to march, and struggle, and be unpopular to do that.
South Carolinians burned the church to the ground in response to the thwarted uprising; along with other independent black churches, it was shuttered in 1834. The church began to rebuild in 1865. It has continued to play a leading role in the struggle for civil rights.