LGBT Activists Are Still Fighting
Same-sex marriage is now a national right, but advocates for transgender detainees under U.S. Immigration and Customs Enforcement are pushing for further reform.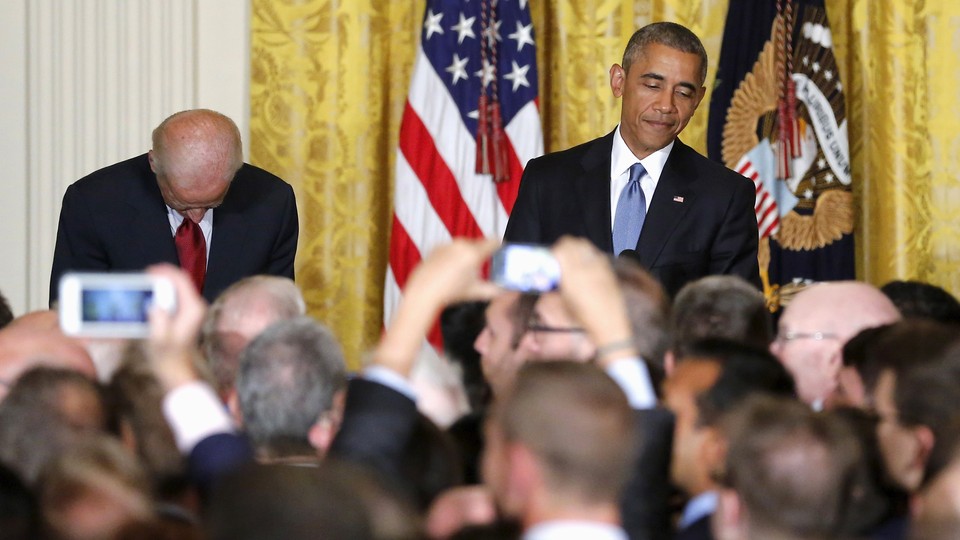 On Friday, the U.S. Supreme Court ruled that the Constitution guaranteed the right to same-sex marriage, a significant milestone in the decades-long struggle to achieve equal rights for gay and lesbian Americans. "Today, we can say in no uncertain terms, that we have made our union a little more perfect," said President Obama. But amid the euphoria of the Supreme Court announcement, many LGBT activists echoed a consistent refrain: Their work is not done. One of the issues that came to the forefront during the week before the Supreme Court ruling was the plight of transgender detainees of Immigration and Customs Enforcement.
Roughly one in 500 detainees held by ICE is transgender, many of them migrants from Central and South American countries that seek asylum in the United States, according to an investigative report by Fusion. But a 2013 report by the Government Accountability Office found that one in five substantiated sexual abuse and assault cases in ICE facilities involved transgender detainees. Under ICE care, advocates charge, transgender detainees are often subject to mistreatment, including long stints under solitary confident, denial of hormones and other medication, and widespread transphobia. (ICE representatives did not immediately respond to requests for comment.)
"When I was booked and processed, I asserted my identity as a transgender woman," said Isa Noyola, program manager for the Transgender Law Center, an Oakland, California, advocacy organization. "But the person I was dealing with refused to identify me as such and instead treated me as a man."
The mistreatment of transgender migrants under ICE care has occasionally proven fatal. In 2007, Victoria Arellano, a 23-year-old trans woman and migrant from Mexico, was sent to a California detention center after a traffic violation. Arellano, who was HIV positive, began to show symptoms of her illness while under detention. But her requests for medical attention were ignored. Soon after, she died.
In the wake of Arellano's death and pressure from activists, ICE has taken some action to protect gay and transgender detainees from abuse. In 2012, the agency established a "pod" at a detention center in Santa Ana, California, that placed gay, bisexual, and transgender detainees in their own unit. Hailed as a humane breakthrough in the organization's treatment of LGBT people, the pods nevertheless could not immunize detainees from harassment from unsympathetic prison staff.
"ICE sells the Santa Ana pod as an ideal solution for LGBT detainees from around the country," said Jorge Gutierrez, National Coordinator of Familia: TQLM, an advocacy organization. "But detainees are still subject to abuse. That's why we don't see any form of detention as the solution."
On Wednesday, Jennicet Gutierrez (no relation to Jorge), a transgender woman and member of the Familia: TQLM, interrupted a White House reception in which President Obama was delivering a speech in praise of LGBT rights. As the president attempted to quiet her down, the 29-year-old Gutierrez identified herself as a trans woman and called on Obama to improve treatment of LGBT individuals under ICE custody. "I am tired of the violence we're facing," Gutierrez said to the president.
While many present, including President Obama, took exception to Gutierrez's methods, activists were sympathetic to her aims. The Daily Beast surveyed several LGBT advocates after Friday's ruling, and found that every respondent "mentioned that issues facing transgender people, especially transgender people of color, should become a priority moving forward."