'Unfortunately, We Had to Take His Life'
Authorities say that Usaama Rahim, who was shot and killed on a Boston street on Tuesday, was planning to behead a police officer.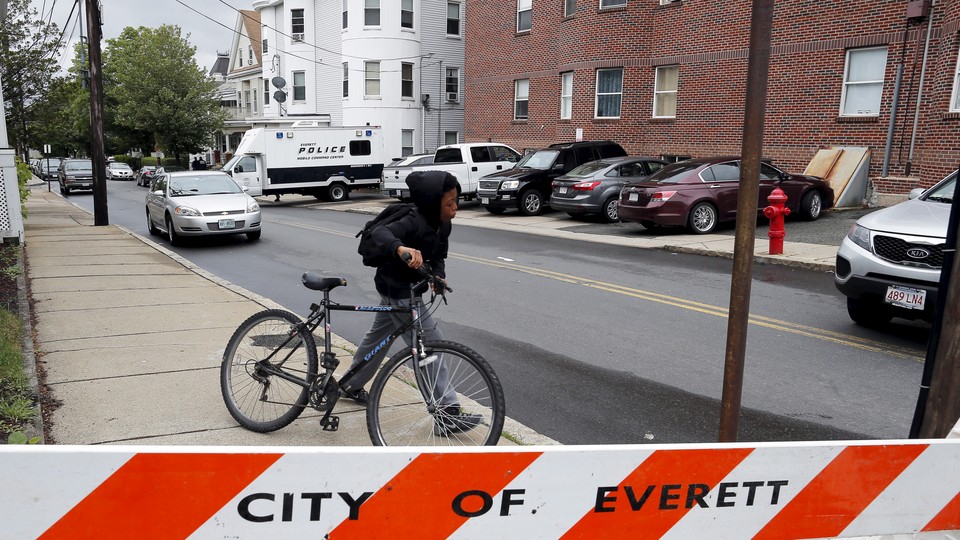 Other than his surreal death, there is little public information about Usaama Rahim, the 26-year-old Muslim man, who was shot and killed on a Boston street on Tuesday morning.
Authorities say Rahim was wielding a military-style knife with an eight-inch blade when he was confronted outside a CVS in Roslindale by law-enforcement officials, who were said to be surveilling him around the clock. An official told The New York Times that Rahim had been radicalized, posed an "imminent threat," and, more specifically, had sought to behead a police officer. (This statement was slightly undercut by FBI officials who told reporters on Tuesday that Rahim had been a threat, but not a "concern for public safety.")
Officers reportedly approached Rahim without drawing their firearms. They called on him to drop his weapon, and then backed up 15 to 20 yards, before opening fire. "Unfortunately, we had to take his life," said Boston Police Commissioner William Evans.
Rahim's older brother disputed the account, writing on Facebook that his brother had merely been waiting for a bus to go to work.
He was confronted by three Boston Police officers and subsequently shot in the back three times. He was on his cellphone with my dear father during the confrontation needing a witness.
The elder Rahim relayed that his brother's final words were "I can't breathe." This report, along the shocking nature of the incident, invited some criticism of law-enforcement procedure and the media's coverage of the events.
But on Wednesday, police screened surveillance video for activists and community leaders, which appeared to back some aspects of the official account. "What the video does reveal to us, very clearly, is that the individual was not on the cellphone. The individual was not shot in the back," Darnell Williams, president of the Urban League of Eastern Massachusetts, told The Boston Globe.
Other details remained less clear. Abdullah Faaruuq of the Mosque for the Praising of Allah, who also viewed the video, described it as "inconclusive," and said that it was not clear to him that Rahim was wielding a knife. He and other communal leaders continue to raise questions about the encounter.
On Tuesday evening, authorities gathered in Everett, Massachusetts, to arrest David Wright, a man whom they claim had been plotting with Rahim. Sources told CBS News that "Rahim and Wright were communicating with each other about attacks in the U.S., which is why Wright was arrested."
Wright is scheduled to appear in federal court on Wednesday, and prosecutors may produce more information at that time. Until then, Rahim becomes the latest terror suspect killed in an encounter with law enforcement in circumstances that raise unanswered questions. A spokesman for the Council of American-Islamic Relations offered a few of them:
It is our duty to question every police-involved shooting to determine if the use of deadly force was necessary, particularly given the recent high profile shootings of African-American men. We are asking for an independent and thorough investigation, public release of the video and transparency, not only about the killing of Usaama Rahim, but also about the basis of monitoring and surveillance, which had not resulted in probable cause for any arrest or search warrant.