A Eulogy in Charleston
President Obama traveled to South Carolina to speak at Clementa Pinckney's funeral.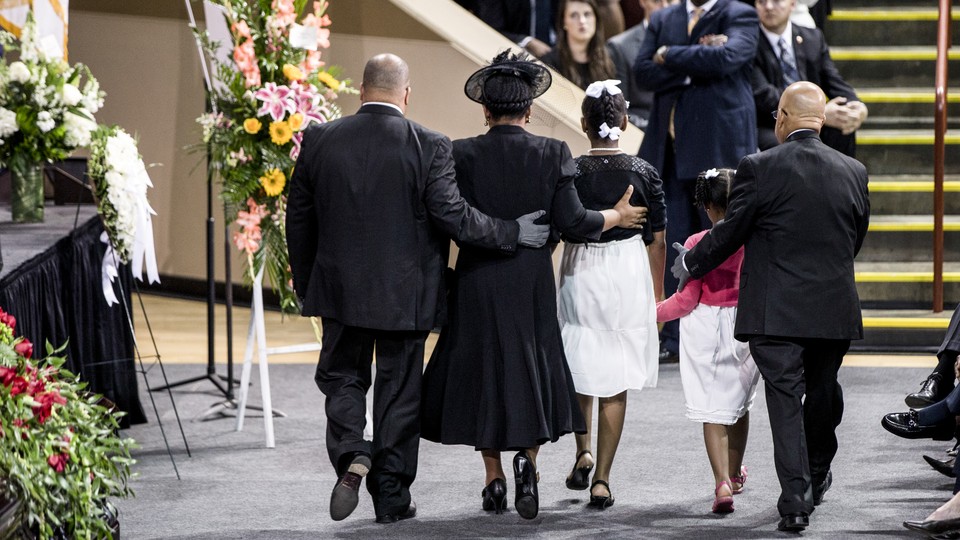 On Friday, President Obama stood in the White House and delivered a triumphant statement on the Supreme Court's affirmation of same-sex marriage. Then he traveled to Charleston, South Carolina, for a very different task: delivering a eulogy for Clementa Pinckney, the pastor and South Carolina state senator who was gunned down last week at the Emanuel African Methodist Episcopal Church.
The president spoke at the church that Pinckney led, offering a remembrance of a man he knew personally. In paying tribute to Pinckney, Obama joins a number of leaders—local and national, secular and religious—who have testified to the ways in which he affected their lives.
President Obama spoke for about 40 minutes, touching on the personal, political, and religious, and melding sermon with eulogy and, movingly, song. The theme of the speech was grace, but the president also talked about racism, poverty, gun control, the legacies of black American churches, and Confederate iconography.
His words:
We are here today to remember a man of God who lived by faith. A man who believed in things not seen. A man who believed there were better days ahead, off in the distance. A man of service who persevered knowing full well he would not receive all those things he was promised, because he believed his efforts would provide a better life for those who followed.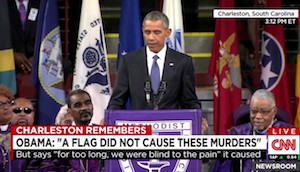 If you were following the speech strictly from the text of the chyrons on television, you might have walked away thinking the president's eulogy consisted of only a few short statements—a pro forma sentence about the nation's shared grief, a small digression about the Confederate flag, and a communal singing of "Amazing Grace."
But the speech was more than soundbites. It wasn't readymade for a television newscast; it was a conversation that demanded the full attention of its audience. It was directed not just at the political leaders who filled the pews in Charleston, including Vice President Joe Biden, House Speaker John Boehner, and Hillary Clinton, but also ordinary Americans across the country who paused to pay their respects. "They were still living by faith when they died," Obama said of the nine Americans who were killed last week.
Dylann Roof was "blinded by hatred" when he shot Pinckney, he said:
He failed to comprehend what Reverend Pinckney so well understood—the power of God's grace. He's given us the chance where we've been lost to find our best selves. We may not have earned it, this grace, with our rancor and complacency short-sightedness and fear of each other, but we got it all the same.
Earlier this week, David Blight wrote for The Atlantic about attending an event in April at which both he and Pinckney were set to deliver speeches. It was a commemoration marking the 150th anniversary of the end of the Civil War in Charleston. He wrote:
Pinckney reminded us that we were commemorating a national event of equal gravity and tragedy. Our Civil War, said the minister, had been brother against brother, "father against son, generation against generation." Then he found a refrain: "We stand in the gate, the archway, and remember a war that divided houses." King David had both won and lost in his divided house and he wailed of his pain. Reverend Pinckney pushed on with the image of "divided houses," but to remind us that from such depths of agony can come a dawn of knowledge, understanding, and even-tempered healing. Pinckney was suddenly the voice of reconciliation for the vast chasms left by the Civil War, not merely the sins of Christians.
Last week, The Atlantic's Matt Thompson explained Pinckney's place within the worlds of both religion and politics:
Clementa Pinckney knew the history of his own city. He probably knew the name Benjamin Franklin Randolph, another black minister and state senator from Charleston to have died at the hands of angry white men, 147 years prior.

He may not have suspected that the person who had joined his small fellowship of believers at Mother Emanuel that night would sit with these few people for an hour, listen to their prayers and their blessings, then take up a gun and end their lives. But he knew that humankind had been cursed from its beginnings by hatred so potent it could be lethal—the third human mentioned in Pinckney's Bible, after all, had killed another man out of jealousy for what he had.
Kevin Sack of The New York Times offered a fuller biography:
Clementa Carlos Pinckney, who was martyred last week in the basement of Charleston's Emanuel A.M.E. Church, and who will be eulogized on Friday morning by the president of the United States, never lacked for either precocity or audacity.

He was ordained at 18, and assigned almost immediately to fill in for an ailing pastor in Green Pond, S.C. He presided over student government in high school and in college and, seeing politics as complementary to his ministry, earned master's degrees in both divinity and public administration. At 23, he became the youngest elected black member of South Carolina's legislature.
In his speech, the president added another detail: Pinckney felt called to be a pastor at the age of 13. Last week, he died at the age of 41. It is fitting that he was eulogized by a president, and it may stand to be one of the defining speeches of Obama's time in office. But the powerful speech only served as a reminder of how much the nation has lost.