A Distaste for the Memory of the Tale
Across centuries and generations, Americans have been unpleasantly surprised by the failure of our attempts to forget and transcend history.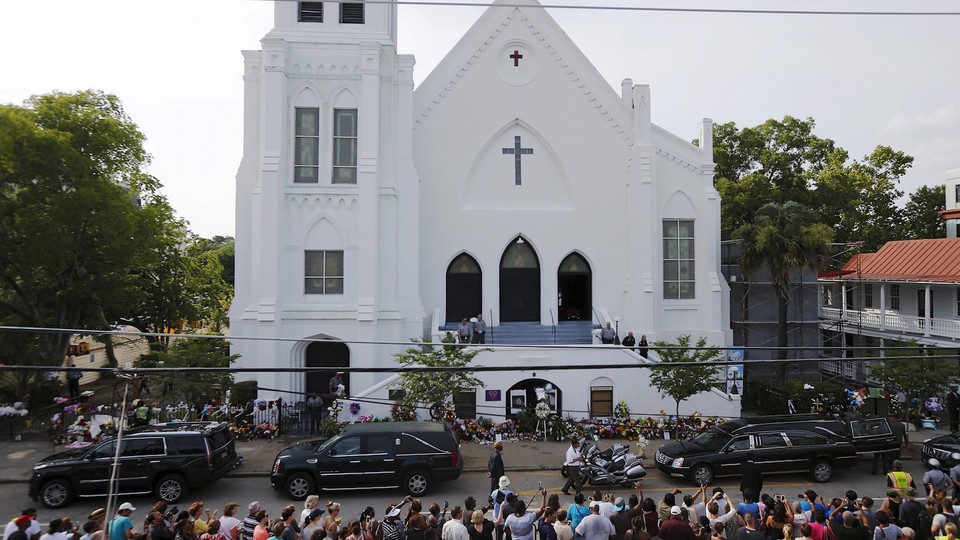 More than 150 years ago, The Atlantic published a gripping account of a slave rebellion that was planned in Charleston, South Carolina, in 1822. Our writer called it "the most elaborate insurrectionary project ever formed by American slaves." Hundreds were involved. Had they not been betrayed in the eleventh hour they may well have taken the city. They were led by a charismatic carpenter named Denmark Vesey, a man who'd bought his own freedom years earlier with $600 from lottery winnings.
At Vesey's trial, a judge expressed astonishment that a free man would risk everything. We get a clue to his thinking from one of his comrades, who quoted him as saying that he was "satisfied with his own condition, being free, but as all his children were slaves he wished to see what could be done for them."
Our writer pursued this story because it had been deliberately forgotten. Though the incident took place less than 40 years before we published the piece, it had vanished completely from official histories because of what the writer called "a distaste"––among whites––"for the memory of the tale." He wrote, "The official reports which told what slaves had once planned and dared have now come to be among the rarest of American historical documents."
Denmark Vesey was an early member and minister at Emanuel African Methodist Episcopal Church in Charleston. And Clementa Pinckney, who later led that church, would tell people Vesey's story in hopes of reminding them of this history.
As you know, Pinckney and eight of his congregants were murdered this month by someone with very different notions about the past: a man longing for the Old South and the old South Africa and Rhodesia. Because of those murders, we're now engaged in a debate about the true historic resonance of symbols of the Confederacy, a debate characterized, not just by stridence or temporizing on the part of those who defend those symbols, but surprise on the part of many of us that they are so deeply embedded in our culture. Many people find themselves asking, for the first time, questions like, "Why is Jefferson Davis, who tried to destroy the Union to perpetuate slavery, honored with a statue under the U.S. Capitol's dome?"
The story of this century so far, particularly for Americans, has in many respects been about our too-gradual awakening from a happy dream that we'd overcome our history; or that somehow, history had even ended. In the Middle East, in North Africa, in the heart of Europe, in the South China Sea, and at home, we keep discovering––and we keep being surprised to discover––that history is far from done with us.
---
This post is adapted from remarks delivered at the opening session of the 2015 Aspen Ideas Festival.