Paradise Lost: What the Texas Floods Swept Away
The Blanco River overflowed its banks in Wimberley, tearing the heart out of the community.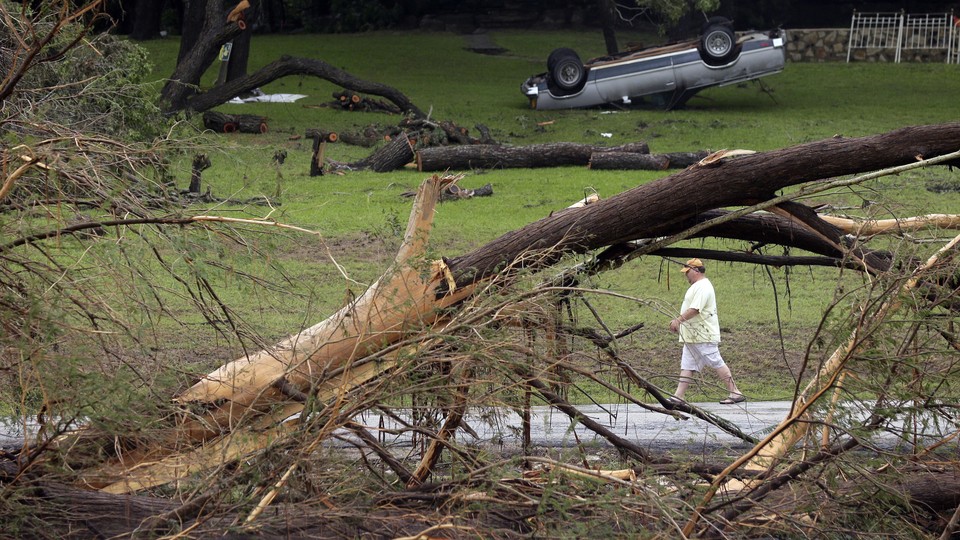 WIMBERLEY, TEXAS—The flash flood warnings kept coming in over television. That is, until the power went out. The entire valley, I could see from my home on the hill, was plunged into pitch-blackness made all the worse by the sheets of rain.
After a sheriff's deputy came to the house and told me it was finally safe to leave, I could see the damage that was done to my beloved little Texas town. Bridges were smashed. Uncounted homes—perhaps over 1,000 up and down the river—were swept away or flooded with mud and dead fish. By daybreak, the dead began to turn up amidst the debris.
The Blanco River is normally so placid and shallow that small children, toddlers even, are perfectly safe in its confines. The community along its banks has lived by those cool, clear waters—attracting first Indians, then industry, and then campers. Today it is home to hermits like me and full of getaways for city dwellers in Houston, Austin and Dallas. But over the weekend, those waters turned deadly. By 9:00 p.m. on Saturday, the television flashed storm and flood warnings. At 11:30 p.m., the power was out and there was no way to broadcast a warning. Around 1:00 a.m. a 44-foot tall wave destroyed one bridge and angrily tore the railings off another. At 2:00 a.m. I could see search lights and strobe flashes in the distance.
When the sun came up, a trio of helicopters announced what I would later learn for sure: A dozen people were swept away. A few were dead. After the helpful deputy told me I could make it across a low-water crossing, I ventured out to check on neighbors and saw furniture, clothing, memorabilia, stoves, refrigerators, and even cars ruined and stacked in sloppy piles by the road. Where I was inconvenienced and others had their homes—the very reasons they came here—destroyed.
The giant, noble bald cypress trees that sprouted when Columbus landed in the New World were either gone or stood as dead reminders of a forest now gone. They snapped or—when they refused to yield to the wall of water—were stripped bare of leaf, limb and bark. Left naked and effectively dead. It reminded me of the pictures of the eruption of Mount St. Helen's. In town, stone homes crumbled. Wooden ones toppled on one another. Streets filled with cops and crews and trucks, the feeling it left me with was surreal.
This town has epitomized a sort of ideal about Texas. A place of deep shade and cool waters, it has stood in contrast to much of the often hot and arid state. If you could afford it, a family vacation here was in order. If you could really afford it, a second home was a crowning achievement. In this vein, Wimberley has been like Ocracoke Island or Martha's Vineyard or Taos: That place where once you visit you dream of living.
Through all of its human history, the Wimberley Valley has been defined by its waters. Unlike the dark sluggish waters of East Texas or the muddy, brown ones of South Texas, the water here has run cool and clear from underground springs for tens of thousands of years. The Tonkawa and Comanche made seasonal camps here after hunting buffalo farther north.
In the winter of 1857-1858, the first Anglo settlers arrived, building a mill that relied upon the swift waters of Cypress Creek. The mill race is, in fact, still in full view. And the waters defined 20
th
century life here. A girls camp was built on the Blanco River. Kids swung from rope swings into Blue Hole. They dove, dangerously, from the rock over Jacob's Well. Cypress Creek ran right through the middle of town and the tourists would come and you could almost see what they were thinking: What if we got a place here?
For the tourists, Wimberley has billed itself as "a little bit of heaven." And finally, 10 years ago I had the chance at my place. And so I took it. My daughters grew up on weekends here, experiencing small-town rodeos, tubing the river, the simple pleasure of snow cones and the occasional sunburn. At population 2,582, full-time life here now that they're grown has been simple, certainly—even to the point of dull, actually. That's how life in paradise is, after all. I once remarked to a friend, "I need a vacation." She shot back: "Dude, you live on vacation."
That's how it looks from the outside. Yet except for the very well-off, life in any paradise has its hard, even dark, side. Slinging beers in winter to drunks in the Outer Banks or on the Gulf Coast. Juggling as many jobs as you can to stay afloat. Scratching out a long-distance living over the Internet. I've known people who came here embracing their bit of heaven very publicly—only to turn back privately when illness, personal hardship or economic reality finally set in.
On Memorial Day weekend this particular paradise showed that nearly all of them dwell—eventually—in the shadow of nature's destructive power. It was strange to have been, thankfully, an observer even in the middle of a natural disaster, but it also left me feeling a little guilty. My conversations in town with people I knew just underscored the feeling. A man in the post office asked how I had managed; I told him that really I was only briefly stranded and inconvenienced. He said the same. The pharmacist was still out of power, she said, but had water. Yet behind all these sentences was the one left unsaid: There but for the grace of God go I.
At dusk, one lane of the remaining bridge is open and I cross, headed toward home. The once placid river is still in a muddy, boiling rage. Sometimes, that's life in paradise.