The 'Depraved-Heart Murder' of Freddie Gray
Six Baltimore police officers are charged in connection with his death, including one for second-degree murder.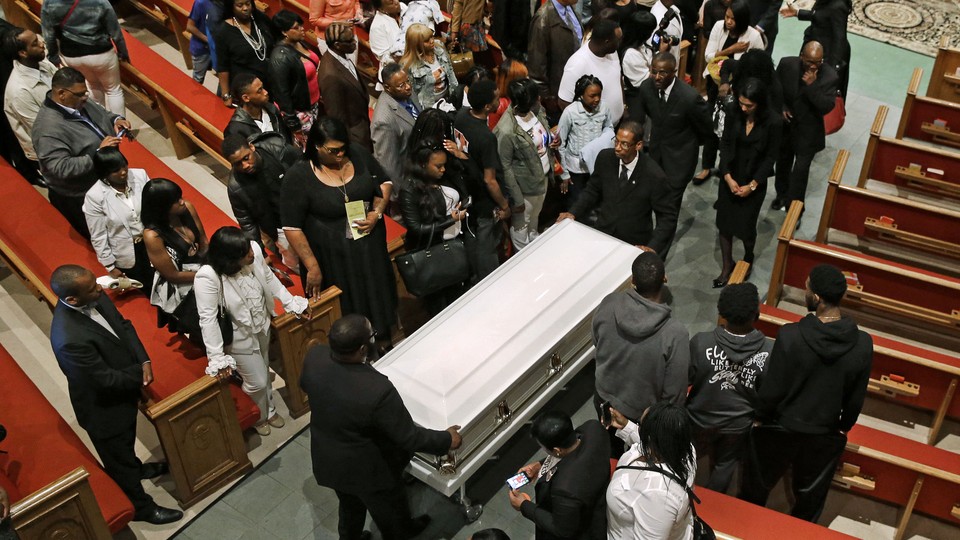 Freddie Gray was murdered by police after an unlawful arrest, the Baltimore City state's attorney said Friday.
In a press conference, prosecutor Marilyn Mosby announced 28 charges against all six officers involved in Gray's arrest, for crimes ranging from second-degree murder to manslaughter to misconduct.  Somewhat unexpectedly, Mosby chose to file the charges herself rather than seeking an indictment from a grand jury, a move that expedites the process but means that her characterization of events has not been subjected to any external review.
Mosby described the April 12 incident that led to the death of the 25-year-old black man as plagued from the start by police who abused an innocent citizen, their authority, and the law. Officers had no probable cause for arresting Gray, who reportedly ran away after making eye contact with an officer and was apprehended after a short chase. While a search turned up a knife in his pocket, that blade was legal. Once arrested, the 25-year-old black man was assaulted and ultimately killed by the negligence and malice of officers, Mosby said.
"Mr. Gray suffered a severe and critical neck injury as a result of being handcuffed, shackled by his feet, and unrestrained inside the BPD wagon," she said, adding that officers had repeatedly erred in not seeking medical treatment for Gray. Once paramedics were called, they found Gray unable to breathe and in a state of cardiac arrest. He was rushed to a hospital, where he died on April 19. His death set off two weeks of protests in Baltimore and later nationwide.
Strikingly, Mosby cited protests in her announcement, and praised those who marched peacefully—an acknowledgment that massive citizen action shaped her response and her decision to file charges so quickly. She commended those who had marched peacefully on behalf of justice, but at the same time warned that violent protests would hinder her work.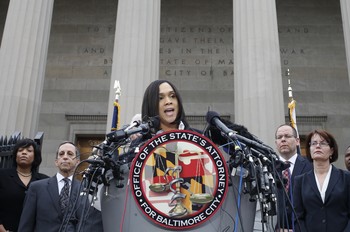 "To the people of Baltimore and the demonstrators across America, I heard your call for no justice, no peace," she said. "Your peace is sincerely needed as I work to deliver justice on behalf of this young man."
Officer Caesar Goodson Jr., who drove the police van in which Gray was fatally injured, was charged with second-degree depraved-heart murder, the only officer to be so charged. That charge carries a maximum sentence of 30 years. Goodson, Lieutenant Brian Rice, Sergeant Alicia White, and Officer William Porter were charged with involuntary manslaughter, while Goodson received two further counts of vehicular manslaughter. Rice and Officers Edward Nero and Garrett Miller, who initially arrested Gray, were charged with false imprisonment. All six officers were charged with second-degree assault and misconduct in office. All of the officers had been suspended with pay.
A textbook definition of "depraved-heart murder" in Maryland stresses that it must be a wanton act:
The term "depraved heart" means something more than conduct amounting to a high or unreasonable risk to human life. The perpetrator must realize the risk his behavior has created to the extent that his conduct may be termed willful. Moreover, the conduct must contain an element of viciousness or contemptuous disregard for the value of human life which conduct characterizes that behavior as wanton.
The charges came far faster than expected. It was only Thursday that the Baltimore Police Department turned over the results of its investigation into Gray's death. She said her staff had begun investigating Gray's death on April 13, the day after the arrest, and praised them for working long hours to gather evidence.
During the press conference, Mosby detailed the hour that led to Gray's early death in clinical but harrowing detail. First, there was no reason for him to have been stopped. Police "failed to establish probable cause for Mr. Gray's arrest, as no crime had been committed by Mr. Gray. Accordingly, Lieutenant Rice, Officer Miller, and Officer Nero illegally arrested Mr. Gray," she said. After surrendering, Gray was placed in a prone position, with his hands cuffed behind his back, and officers ignored his complaint that he couldn't breathe and his request for an inhaler. Once they found the knife, they placed him on his stomach, and he began to flail and scream. One officer then placed him in a leg lace, a restraining position, while another held him down "against his will."
Rice called for a police wagon and Gray was placed in it, without a seatbelt but handcuffed. Goodson drove the van away, and then he and the three officers met up nearby, where they filled out paperwork, replaced his handcuffs with flex cuffs, and shackled his legs. This stop is where the fateful choices were made that would kill Gray. He was placed into the van headfirst, lying on his stomach with his legs and hands both restrained. Again, he was not buckled into a seat, despite a BPD order to secure all prisoners with seat belts.
Goodson drove off toward central booking, but stopped shortly thereafter to check on Gray. He looked into the back of the van, but neither offered medical help nor buckled the young man. Several blocks later, Goodson stopped again to check Gray's status and requested backup. William Porter arrived, and the two men checked on Gray. He requested medical help and said he couldn't breathe. Porter asked him if he needed a medic, and Gray "indicated yes at least twice," according to Mosby. But they did not call a medic. Instead, they placed him on the bench, but again did not buckle his seat belt.
Rather than proceed to central booking, Goodson diverted to the site of a nearby arrest and picked up another prisoner. At that stop, Goodson, Porter, and Alicia White checked on Gray, found him unresponsive, and did nothing. Goodson finally headed to the Western District police station. Mosby noted that Goodson broke department rules by failing to restrain Gray with a seat belt on each of these five occasions.
By the time Gray arrived at the station, he was no longer breathing, and a medic found him to be in cardiac arrest. He was rushed to the University of Maryland's shock trauma center, and he died at the hospital a week later.
Mosby took a moment during her press conference to praise "the brave men and women, both in uniform and out, who have stepped up Monday night to protect our communities from those who wish to destroy it." Mentioning that her family has a long background in law enforcement and that both of her parents were officers, she said the charges did not reflect on the entire department. But Mosby made several pointed comments about the police.
Repeatedly stressing the independence of her investigation and her office from the police department, she noted that while she appreciated the information BPD delivered to her Thursday, "what we received from the police department yesterday we already had." She also called on everyone involved to "respect due process" and avoid leaking information about the case to the press. On Wednesday night, The Washington Post reported, based on a police source, that the other prisoner in the van said Gray had been trying to hurt himself. That man later came forward to dispute the report. Generally, however, police had been extremely tight-lipped about the investigation and what was known. Officials did not release the results of the BPD investigation Thursday, but they strongly implied that some of the officers involved had hidden a fourth van stop from investigators.
Mosby did not speculate on any motive the officers might have had for handling Gray roughly. When a reporter asked if race played a role, she said she could not offer her opinion. But a remarkable moment came late in the press conference, when a reporter asked what would prevent another Freddie Gray.
"Accountability," Mosby said.
How are we going to get that, he asked?
"You're getting it right now," she replied.
At 35, Mosby is the youngest chief prosecutor in a major American city. She won the office in November after upsetting an incumbent. As NBC notes, she has made the need for justice and accountability in police brutality cases a major issue since her sudden rise, despite her family roots in law enforcement. Her rapid move to bring charges will enhance her reputation for toughness. Gray's death has brought national attention to a long history of police brutality in Baltimore. In particular, Baltimore has a history of "rough rides," in which officers drive aggressively so as to toss passengers around the back of police vans.
The Baltimore police union had asked Mosby to appoint a special independent prosecutor, citing her relationship with the Gray family's attorney and implying that she might make her decision with an eye to how it would influence the political future of her husband, Baltimore City Councilman Nick Mosby. She rejected any suggestion of conflict of interest Friday, saying that they were both public servants, and that while his job was to make the law, her job was to enforce it. She also said she was preferable to a special prosecutor because she was accountable to voters. Her performance secured for her a national spotlight—barely 100 days into her term as state's attorney.
It's one thing to file charges, of course, and another thing to secure convictions. It's too soon to handicap Mosby's chances, but nationwide, prosecutors face long odds in convicting police officers for incidents on the job. As Vox notes, a recent study found that only a third of criminal cases involving officers resulted in convictions, and only 36 percent of those convicted actually served jail time.
That doesn't seem to be on anyone's minds for the moment, however. Ever since protests turned violent Monday—an episode that looks increasingly anomalous—there was concern about how the city might react if prosecutors decided not to charge the officers. A Missouri grand jury's decision not to charge Officer Darren Wilson in the death of Michael Brown set off tense protests in Ferguson, Missouri. But the reaction in the street of Baltimore Friday was jubilant. A curfew remains in effect, and National Guard troops are still in the streets, but television cameras captured scenes of people dancing and shouting and praising Mosby, as they celebrated an unusually swift move to punish officers accused of brutalizing citizens.