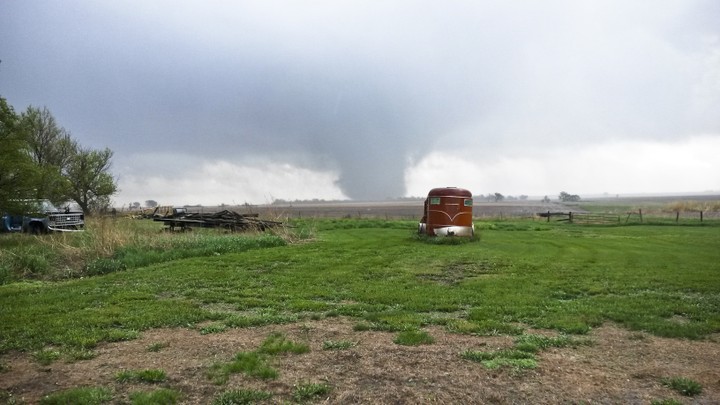 Five people have been found dead and eight others are missing after violent storms struck across the United States on Sunday. The National Weather Service reported that two dozen tornadoes hit communities stretching from Texas all the way to South Dakota. Hours later, heavy damage, power outages, and dozens of injuries were reported in four states.
The town of Van, Texas, where two people died, twin tornadoes damaged 30 percent of the buildings within the town. Meanwhile, in Iowa, video showed a tornado dramatically lifting a roof off of a high school in Lake City on Sunday. There were 150 people inside the school for an awards ceremony at the time; according to local reports, a warning reached the attendees, who found shelter in the basement just minutes before the storm hit.
How Areas Prone to Severe Weather Prepare
What might have been a colossal tragedy in Iowa instead became evidence of an increasingly effective weather alert system. Writing in The Atlantic last spring, just as severe weather season was underway, Brandon Heberton noted that "the average lead-time for tornado warnings is now 13 minutes nationally, up significantly from the 1980s when lead-times were estimated at less than five minutes."
Colleges within Tornado Alley employ a combination of internal communication systems and social media to alert students of volatile weather. "Along with OU, Oklahoma State University, the University of Kansas, Kansas State University and the University of Nebraska are among the schools that have alert systems in place that can be activated at a moment's notice," notes Trent Crabtree.
The University of Oklahoma, which is set in the center of Tornado Alley in Norman, particularly benefits from having the National Weather Service's Storm Prediction Center on its campus.
6:01pm Tornado on the ground north of @UofOklahoma in Norman. stay inside! get in get down cover up Be #OUSafe

— OU Emergency Prep (@ouemergencyprep) May 6, 2015
The university also co-hosts the National Weather Festival each spring.
What About Severe Weather Beyond Tornado Alley?
Sunday's devastation was a more forceful insinuation of severe weather already taking place in Tornado Alley. "On Saturday, there were more than 40 reports of tornadoes in parts of five states, including eastern Colorado, southwest Nebraska, northwest Kansas, central Oklahoma and north Texas," the Weather Channel reported.
But severe weather appears to be striking elsewhere in the United States. Colorado, Wyoming, and Nebraska saw nearly a foot of snowfall over the weekend. Fortunately, tropical storm Ana had reduced to a depression by the time it made landfall in the Carolinas on Sunday.
On Monday morning, the National Weather Service posted an updated map of the national tornado outlook that skewed east of both Sunday's activity and the generally agreed upon parameters of Tornado Alley .
The metropolitan areas circumscribed by that five percent section include Detroit, Columbus, Cincinnati, and Toledo. While the odds of a tornado striking remain low, according to the NWS projections, over 50 million Americans currently live in the pathway of one such severe storm.
We want to hear what you think about this article. Submit a letter to the editor or write to letters@theatlantic.com.
Adam Chandler
is a former staff writer at
The Atlantic
. He is the author of
Drive-Thru Dreams: A Journey Through the Heart of America's Fast-Food Kingdom
.