Dzokhar Tsarnaev Gets the Death Penalty
On Friday, a federal jury applied six of the 17 capital counts to the surviving Boston Marathon bomber.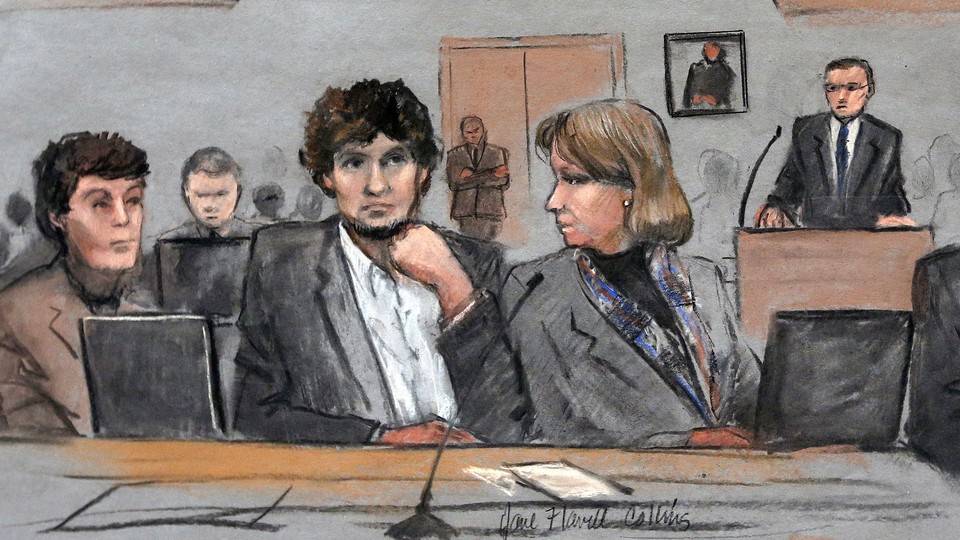 On Friday, after some 14 hours of deliberation, a federal jury sentenced Boston Marathon bomber Dzokhar Tsarnaev to death for his role in the 2013 bombing that killed three people and wounded 260 others.
Last month, the same jury convicted the 21-year-old Tsarnaev of 30 different counts, including plotting to use a weapon of mass destruction, and the murder of Massachusetts Institute of Technology police officer Sean Collier. Seventeen of those charges were potential capital crimes, and the jury applied the death penalty on six of the counts.
Throughout the penalty phase of the trial, Judy Clarke, Tsarnaev's attorney, sought to portray her client as the impressionable younger brother of Tamerlan Tsarnaev, whom she said plotted the bombing and manipulated Dzokhar Tsarnaev into participating in the attack. Tamerlan died while battling police, four days after the bombing. Ultimately, the jury of seven women and five men rejected that defense.
Tsarnaev's punishment is a historic one. "A death sentence would be the first for a federal jury of a terrorist in the post 9/11 era," The New York Times noted ahead of the verdict. Timothy McVeigh was the last federal prisoner to receive the death penalty for perpetrating the Oklahoma City bombing in 1995. McVeigh was convicted in 1997 and put to death in 2001.
Following the decision, Attorney General Loretta Lynch released a statement. In it, she offered:
We know all too well that no verdict can heal the souls of those who lost loved ones, nor the minds and bodies of those who suffered life-changing injuries from this cowardly attack.  But the ultimate penalty is a fitting punishment for this horrific crime and we hope that the completion of this prosecution will bring some measure of closure to the victims and their families.