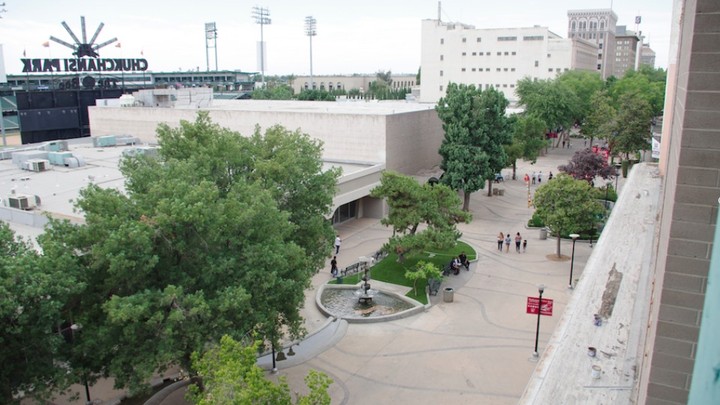 Everyone knows that cars, freeways, and automotive-borne sprawl helped kill America's traditional downtowns. That's a process we've seen in every corner of the country—for example, in Allentown, Pennsylvania. Everyone outside the city associates Allentown's travails with the Billy Joel-eulogized closure of the steel mills. But people in the city know that the shut-down mills were actually in (nearby) Bethlehem. Allentown's main problem was not overall collapse but rather suburban sprawl, which it is now working tirelessly (and inventively) to offset.
Fresno, California, as we've noted, is as stark an example of the destructive power of sprawl as anyplace in the country. This map, which I used when introducing the Fresno story, shows the city's pre-War War II, mainly downtown development in blue—and its post-war sprawl in red.
---
---
That map hangs in Mayor Ashley Swearengin's office, which is one indication of her administration's commitment to offsetting the sprawl and reviving the downtown. I've talked about that in several previous installments, especially "Stages of a Downtown Comeback," "Fresno Kicks off its Campaign," and "How Did Nice Downtowns Get That Way?"
The video below is one more tool used by the public-private pro-downtown alliance in Fresno to make its case. For me, the less interesting part of its message is the one on which it begins and ends: that is, the importance of believing that things can change. I understand that emphasis, since a self-limiting self-image of Fresno, as a loser city in a winner state, is something real (as discussed here).
But for people outside the city, the news value of this video may be its emphasis on another theme we've heard discussed by mayors, business people, city planners, and others all across the country. And it is a surprising theme. Now-struggling downtowns may need more accommodation for cars, not less, in order to revive.
I sketched out some of that argument in Item Number Two in this post. This video addresses it directly: namely, can it make sense for a city to rip out a historically important, artistically acclaimed, pedestrian-only shopping mall—and turn it into a street once again, as part of a civic "improvement" plan?
Before we began these travels, I would have assumed that the answer had to be, "No." Now I understand why cities like Fresno are saying, "Yes." This video will give you an idea of why we've changed our minds.
Update: Several readers have written in with variants on, "that video didn't tell me enough about how bringing in more cars would help," or "where are people going to park?" etc.
For as much detail as you could possibly want on the origins, pluses, minuses, and ramifications of this plan, I direct you to two previous Fresno posts by me, here and here, plus a detailed article about the plan in Landscape Architecture magazine, plus the mother lode itself, the multi-hundred-page latest Fresno General Plan. Agree, disagree, or both, but don't say we're not giving you the details!
We want to hear what you think about this article. Submit a letter to the editor or write to letters@theatlantic.com.
James Fallows
is a staff writer at
The Atlantic
and has written for the magazine since the late 1970s. He has reported extensively from outside the United States and once worked as President Jimmy Carter's chief speechwriter. He and his wife,
Deborah Fallows
, are the authors of the 2018 book
Our Towns: A 100,000-Mile Journey Into the Heart of America
, which was a national best seller and is the basis of a forthcoming HBO documentary.