A Terror Attack in Texas
Two gunmen were killed by police on Sunday night at an exhibition of cartoons of the Prophet Muhammad.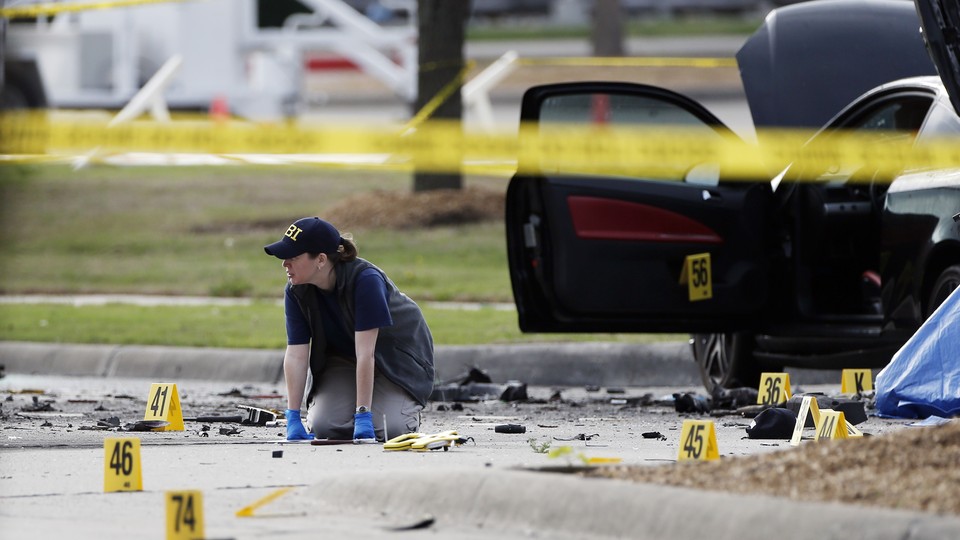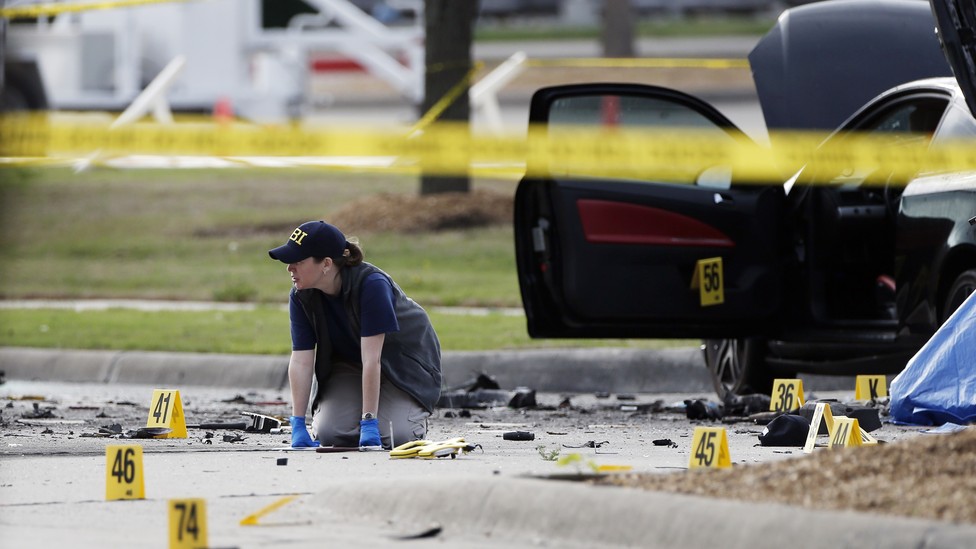 On Sunday night, two gunmen opened fire outside a complex in Garland, Texas, that was hosting a contest featuring cartoons of the Prophet Muhammad. Both gunmen were killed and one security officer was injured in the shootout.
What We Know About the Shooting
Sunday's shooting took place outside the Muhammad Art Exhibit and Cartoon Contest, which was being held in Garland, a city just northeast of Dallas. The contest, which offered a $10,000 prize, was hosted by the American Freedom Defense Initiative, a group widely characterized as Islamaphobic.
"As today's Muhammad Art Exhibit event at the Curtis Culwell Center was coming to an end, two males drove up to the front of the building in a car,"officials wrote on the the city's Facebook page. "Both males were armed and began shooting at a Garland ISD security officer. The GISD security officer's injuries are not life-threatening. Garland Police officers engaged the gunmen, who were both shot and killed."
The incident only lasted a few seconds. The first gunman was killed almost instantly, and the second gunman was fatally shot while reaching into a backpack that authorities suspected might have contained explosives.
The event was hosted by anti-Islam activist Pamela Geller, once labeled a "clinical paranoid" and a "wildly prejudiced person" by The Atlantic's Jeffrey Goldberg, and featured a speech by the anti-Islam Dutch politician Geert Wilders. The focus on drawings of Muhammad elicited comparisons to January's Charlie Hebdo massacre in Paris.
What We Know About the Shooters
Moments before Sunday's shooting, a tweet went out from an account with name "Sharia Is Light," which included "#texasattack" as the hashtag.
"The user wrote, 'May Allah accept us as mujahideen,'" according to The Los Angeles Times. "Attendees inside the conference didn't get word about the shooting until 6:50 p.m." By early Monday, the Twitter account had been suspended.
Later on Monday, a federal law enforcement official confirmed that one of the shooters was Elton Simpson, an Arizona man, who previously had been convicted on a minor charge in a broader terrorism-related case.
"Elton Simpson was prosecuted in 2010 in federal court in Phoenix for making false statements to FBI agents about going to Somalia to engage in jihad," The Los Angeles Times reported. "He was found guilty of making the false statements, but the judge ruled that there was insufficient evidence to conclude that the crime was directly involved to 'international terrorism.'"
Simpson was given a small fine and placed on three years' probation. The identity of the shooter, as of yet, remains unknown.