What Can Michael Brown's Parents Achieve by Suing Ferguson?
The lawsuit might offer a chance for former Officer Darren Wilson to be cross-examined about the August 9, 2014, shooting.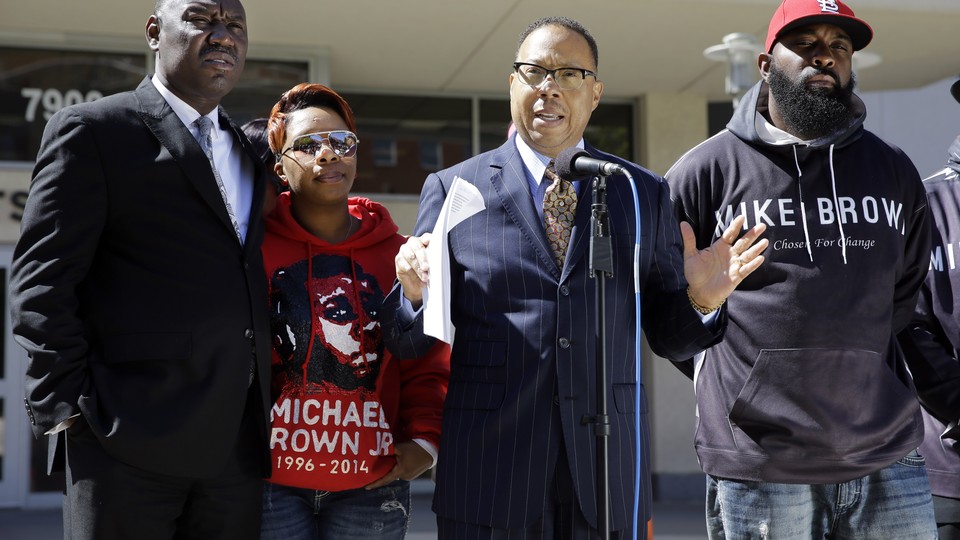 First, a grand jury opted not to charge Darren Wilson in Michael Brown's death. Then the Justice Department, having voiced concerns about the shooting and its aftermath, decided there wasn't evidence to bring charges against the former Ferguson, Missouri, police officer—though it did find a long history of racial bias and racism in the police department and city government.
So what hope is there for the civil lawsuit for wrongful death that Brown's parents filed Thursday in St. Louis County?
There's one potential legal motivation and one larger motivation. The first is that because this is a civil suit, the burden on the plaintiffs is only to produce a preponderance of evidence backing their assertion, rather than to prove it beyond a reasonable doubt. While the grand jury didn't vote to indict, it's become clear that there was some dissension among the jurors, and critics have complained about the manner in which prosecutors ran the grand-jury process. The threshold for bringing a federal civil-rights complaint is even higher. So while the track record might suggest an uphill battle for the plaintiffs, there is still some legal terrain for them to mine.
The second motivation, and perhaps the one that has the most interest for the general public, is one that Anthony Gray, a lawyer for Michael Brown Sr. and Lesley McSpadden made at a press conference Thursday: No one has cross-examined Darren Wilson.
For Gray that matters because he believes there are inconsistencies in the testimony Wilson gave to the grand jury, and he complains that Wilson was able to carefully plan how he described the incident. For everyone else, that might provide one last chance to get details about Brown's death that aren't clear yet. Putting Wilson on the stand, under oath, with a more hostile questioner than the district attorney, might produce new information about what happened on August 9, 2014.
But the suit might also produce little of note. Brown's parents aren't seeking a huge payout—$75,000 plus attorney's fees. In addition to Wilson, the suit names the city and former Police Chief Thomas Jackson. The Los Angeles Times has the full document here.