The Rolling Stone Retraction
A lengthy report by the Columbia Journalism Review cites "systematic" failures in the magazine's article about alleged rape at the University of Virginia.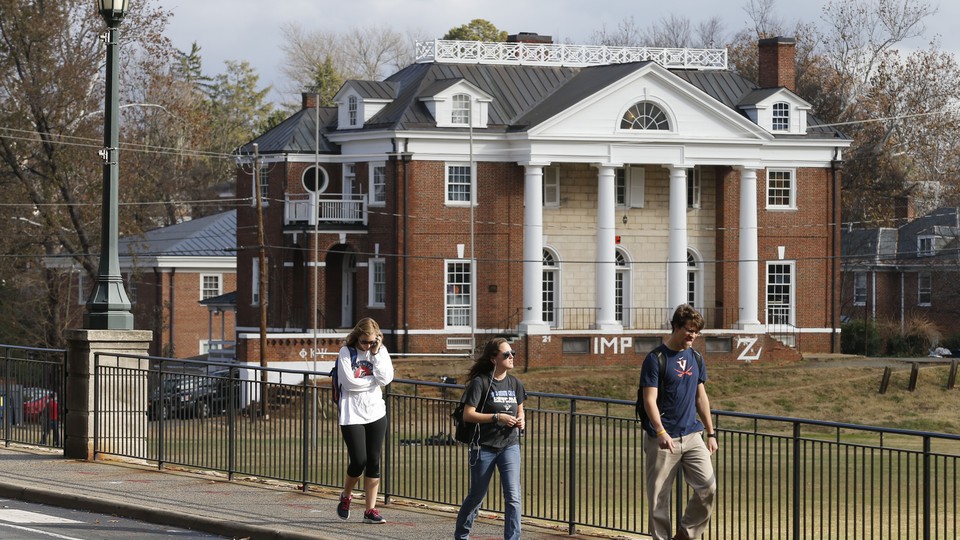 Last December, on the day a Washington Post article cast doubt over Rolling Stone's sensational exposé of a rape at a University of Virginia fraternity, the magazine issued an apology. Its faith in the alleged victim, the publication said, had been "misplaced." But an exhaustive Columbia Journalism Review report on the article, commissioned by Rolling Stone and published on Sunday, has instead placed blame on the magazine.
"The failure encompassed reporting, editing, editorial supervision and fact-checking," the report's authors, Steve Coll, Sheila Coronel, and Derek Kravitz, wrote. "The magazine set aside or rationalized as unnecessary essential practices of reporting that, if pursued, would likely have led the magazine's editors to reconsider publishing Jackie's narrative so prominently, if at all."

Following the publication of the report, Rolling Stone issued a full retraction of the article but said it would not dismiss any personnel responsible for the failure.
Entitled "A Rape on Campus: A Brutal Assault and Struggle for Justice at UVA" and written by Sabrina Rubin Erdely, the article caused an immediate sensation after its publication in the November 19, 2014, ultimately attracting 2.7 million page views. The narrative centered around Jackie, a third-year UVA student who alleged that members of the Phi Kappa Psi fraternity raped her at an event hosted at their on-campus house on September 28, 2012. The attack—which Jackie recounted in vivid detail—was orchestrated by "Derek," a student with whom she had worked at the school's aquatics center and who had invited her to the party. The brutal, violent sexual assault, in which Jackie was forced to perform oral sex on several fraternity members, deeply traumatized her. But when she told three friends—identified as "Randall," "Andy," and "Cindy"—about the experience the next day, they dismissed her concerns and openly feared that involving themselves would jeopardize their social standing. According to Jackie, the university's administration proved similarly unhelpful.
The publication of "A Rape on Campus" had an immediate effect on UVA, which immediately suspended fraternity activity on the campus. But problems with the story soon emerged. A Washington Post article published on December 5 found that Phi Kappa Psi did not host a party on the night Jackie claimed she was raped, and that no student matching Drew's description had worked at the aquatics center. That day, Erdely told Rolling Stone she had lost confidence in her sourcing for the article, prompting the magazine to issue an apology.
Subsequent revelations continued to undermine her story. In a Post article from December 10, Randall, Andy, and Cindy disputed Jackie's account of their conversation and claimed they had reacted to her plight with appropriate concern. The three also said that the description of Drew in the Rolling Stone story differed greatly from what Jackie herself had told them. Last month, police in Charlottesville, Virginia, concluded that they could not prove Drew's existence at all.
Who is responsible for this mess? In remarks issued after the report's publication, longtime Rolling Stone publisher Jann Wenner blamed Jackie, characterizing the student as "really expert fabulist storyteller." But CJR reserved its harshest judgment for the magazine, which it said failed to exercise "basic, even routine journalistic practice" in reporting, editing, and publishing the article. The CJR report took issue with the following mistakes:
Erdely never personally spoke to Randall, Andy, and Cindy. Instead, she relied entirely on Jackie's account of her conversations with her friends—even though the account portrayed the three in a callous manner.
When Erdely called Phi Kappa Psi for comment, she did not specify the specific allegation against the fraternity, depriving the organization an opportunity to defend themselves. Stephen Scipione, Phi Kappa Psi's chapter president, said Erdely's article "completely tarnished [their] reputation."
Jackie refused to help Erdely track down Drew, citing a fear of reprisal. But when Erdely attempted to locate Drew on her own just weeks before publication, Jackie cut off communication, causing Erdely to fear that her primary source would drop out of the project. Erdely only secured Jackie's cooperation after agreeing to give up searching for Drew.
The editors responsible for the article—Sean Woods and managing editor Will Dana—did not insist that Erdely get in contact with either Jackie's friends or her attacker. Dana did not even know, prior to publication, that Drew's very existence had not been verified. Lengthy phone conversations between Rolling Stone's dedicated fact checker and Jackie also failed to bring the subject's veracity into question.
Rolling Stone did not disclose that they had not confirmed significant details about the story prior to publication.
Had Rolling Stone taken care to avoid these missteps, CJR wrote, the magazine would have pulled the story. Instead, Erdely's story has significantly damaged the 48-year-old publication's reputation.
Despite the high-profile scandal caused by "A Rape on Campus," Rolling Stone insisted after the report's publication that the errors did not result from systematic error, and thus would require no change to operating procedure. The magazine also announced that Erdely, Dana, Woods, and other personnel responsible for the article would not be fired. Dana also said that the story would have not have broader consequences for media coverage of rape.
"In the long term I don't think people are going to look back at this story and say, 'This is why women are not coming forward,'" he said. "At the same time it's certainly not helping things immediately."