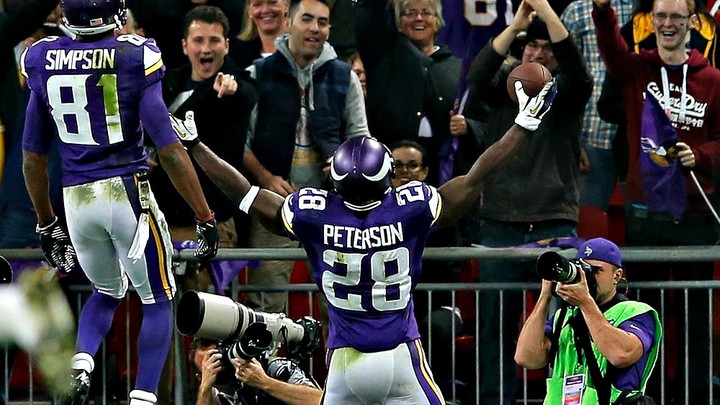 Adrian Peterson, the star NFL running back who missed nearly the entire 2014 season while facing child-abuse charges, is set to be reinstated by the NFL on Friday. The league announced that Peterson has been approved to participate in all team activities.
The Terms of Reinstatement
Peterson was suspended for the season in mid-November of last year after reaching a plea agreement with Texas prosecutors in a child-abuse case. The former league MVP had been indicted on charges stemming from an incident in which Peterson used a switch to discipline his four-year-old son. Peterson initially appealed the league's suspension in December and was denied.
Wednesday marked the first day that Peterson became eligible for reinstatement, a deadline that followed a meeting between Peterson and NFL commissioner Roger Goodell last month.
In announcing Peterson's reinstatement, "Goodell wrote that Peterson will have to fulfill all the obligations of his plea deal with authorities, including participating in counseling, and that any other violations of the personal conduct policy by Peterson would result in additional discipline, including possible suspension without pay or banishment from the NFL," ESPN reported.
A Difficult Year for the NFL
Peterson's suspension was no doubt hastened by a blitz of public relations troubles involving prominent players and domestic-violence scandals. Former Baltimore Ravens running back Ray Rice was suspended indefinitely after video footage showed him knocking his fiancée unconscious in an Atlantic City elevator. (Rice is still trying to return to the league.) And on Wednesday, former NFL stand-out Aaron Hernandez was sentenced to life in prison without parole for first-degree murder.
We want to hear what you think about this article. Submit a letter to the editor or write to letters@theatlantic.com.
Adam Chandler
is a former staff writer at
The Atlantic
. He is the author of
Drive-Thru Dreams: A Journey Through the Heart of America's Fast-Food Kingdom
.