Aaron Hernandez Gets Life
A Massachusetts jury found the former NFL star guilty of first-degree murder on Wednesday.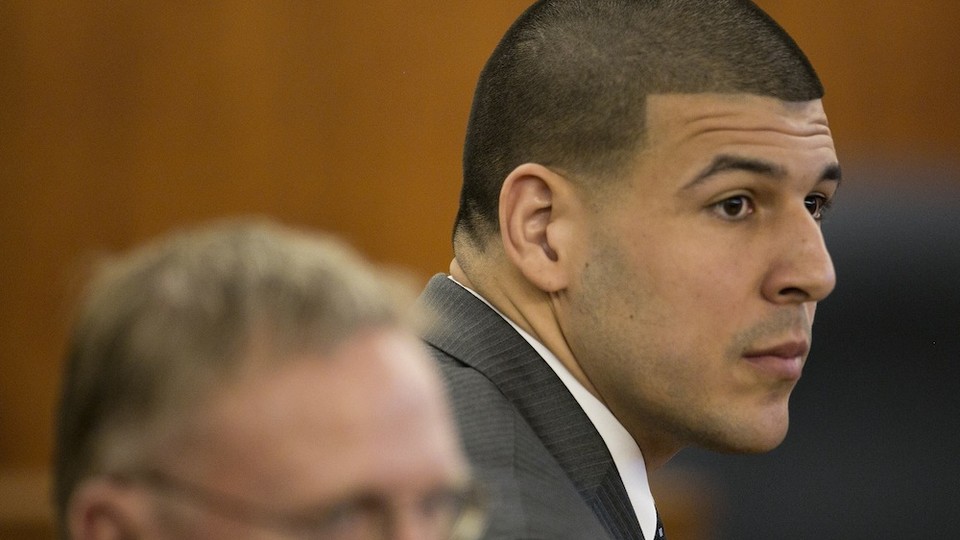 On Wednesday, former NFL star Aaron Hernandez was found guilty of first-degree murder by a Massachusetts jury. Hernandez, who had signed a five-year, $40 million contract with the New England Patriots in 2012, will face now life in prison without parole for fatally shooting Odin Lloyd, a semi-pro football player, in an industrial yard near Hernandez's home in the summer of 2013.
How Hernandez Was Convicted
Hernandez's case was rare in that it was based on a slew on circumstantial evidence. Lacking both eyewitnesses and a murder weapon, prosecutors called over 130 witnesses to testify—including Patriots owner Robert Kraft. According to Kraft's testimony, Hernandez said he had been in a club when the shooting occurred. (Hernandez's claim was later contradicted by evidence presented in the trial, which, coincidentally enough, started just days before the Patriots' most recent Super Bowl win.)
"Prosecutors presented a wealth of evidence that Hernandez was with Lloyd at the time he was killed, including home security video from Hernandez's mansion, witness testimony and cellphone records that tracked Lloyd's movements," Fox reported.
The lawyer for the defense waited until closing arguments to admit that Hernandez had been at the scene of the crime. The jury reached their verdict after about 36 hours of deliberation.
Two Other Murder Charges Emerge
Making matters worse for Hernandez, evidence emerged during the course of the trial that implicated him in a double homicide. Prosecutors allege that Hernandez participated in a drive-by shooting that killed two men near a Boston nightclub in 2012. According to reports, the shooting stemmed from a dispute over a spilled drink.
Following the 2012 shooting, Hernandez went on to have a productive season with the Patriots, who made a deep playoff run that year. He has already pleaded not guilty for in that case and will stand trial in the coming weeks.