A Tale of Two Trials
As the case of former NFL star Aaron Hernandez wraps up in Massachusetts, another jury has begun deliberations in the case of Boston Marathon bomber Dzhokhar Tsarnaev.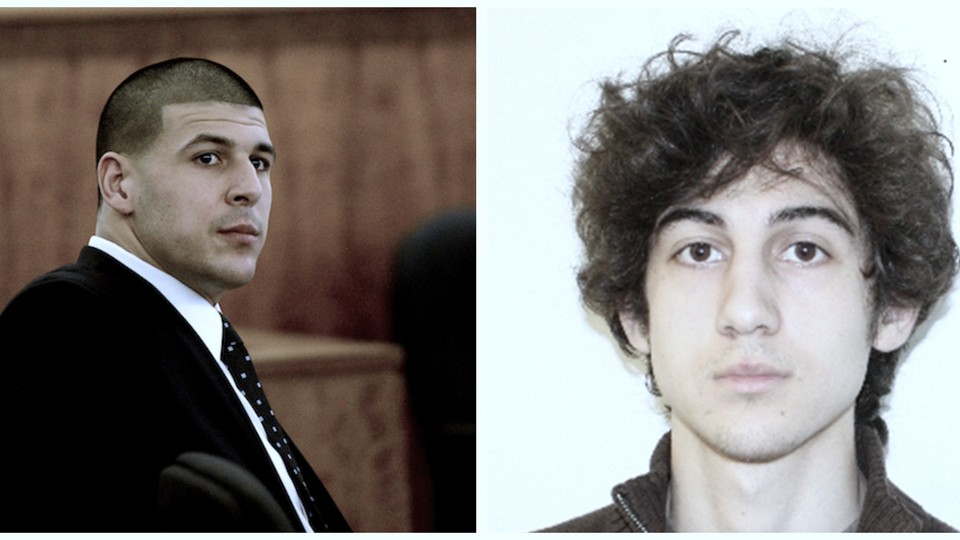 In two courtrooms separated by some 60 miles, the high-profile cases of former NFL star Aaron Hernandez and Boston Marathon bomber Dzhokhar Tsarnaev both appear to be nearing their conclusions.
On Tuesday, closing arguments started in the Hernandez trial while in Boston, jury deliberations began in the Tsarnaev case. Here's how the two trials appear to be shaping up.
Dzhokhar Tsarnaev Trial
Status: Jury in deliberations.
Details: While the deadly circumstances of the 2013 Boston Marathon Bombing are well known, the specifics of the case are peculiar in that Tsarnaev, 21, has pleaded not guilty for crimes that his lawyer admits he participated in.
In her closing statement on Monday, Tsarnaev's attorney Judy Clarke said she was in agreement with the prosecution on "the who, what, where, and when" of the infamous attack, but with the motive in mind, she added, "We very much disagreed on the why." Her contention and Tsarnaev's case is predicated on the idea that he had fallen under the sway of his deceased older brother Tamerlan, who had masterminded and purchased the material for the attack.
In addition to calling over 90 witnesses, many of whom delivered emotional testimony, the prosecution has pointed to a manifesto scrawled out by Tsarnaev inside the boat where he was found by police to cast doubt on that narrative.
The US Government is killing our innocent civilians but most of you already know that ... we Muslims are one body, you hurt one you hurt us all.
Possible Outcomes: With a guilty verdict all but certain, and with 17 of the 30 counts Tsarnaev faces carrying either the death penalty or life in prison, the saga won't end upon conviction.
"If Tsarnaev is found guilty of at least one of the 17 capital counts," writes Ann O'Neill, "the trial will proceed to a second phase, the so-called penalty phase." His punishment will then be decided by the same jury that is currently deliberating on his case to determine whether there are enough mitigating factors to spare Tsarnaev the death penalty. If they find the mitigating factors sufficient, he will face life in prison instead.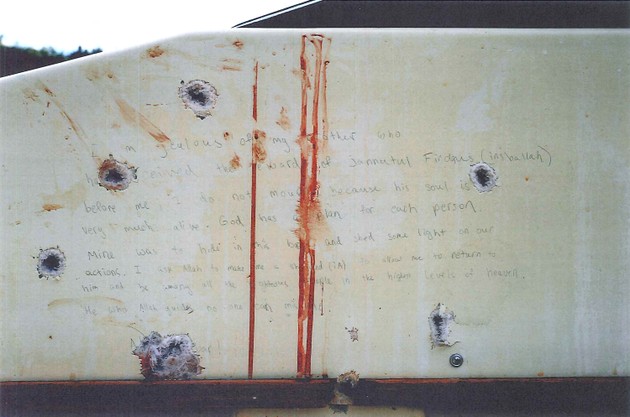 Aaron Hernandez Trial
Status: Closing arguments.
Details: How Hernandez, 25, went from rising NFL star to defendant in a first-degree murder case has confounded and captivated observers of the case.
The former New England Patriots player (and two other accused accomplices who will be tried separately) is accused of murdering Odin Lloyd, a semi-pro football player, at an industrial park near Hernandez's home in North Attleborough, Massachusetts, in the summer of 2013.
The case against Hernandez is largely comprised of circumstantial evidence⎯footprints, video footage of Hernandez possibly carrying a gun, and shell casings from the shooting⎯since a murder weapon was never found and there were no eyewitnesses. The prosecution has called over 130 witnesses to make up for a lack of conventional evidence while Hernandez's defense team has sought to use the dearth of physical evidence and the lack of one salient motive to discredit the case against him.
Some of the most damning evidence may have come from Hernandez's former employer, Patriots owner Robert Kraft, who testified that Hernandez told him that the athlete had been out partying when the murder happened. Kraft said:
He said he was not involved. He said he was innocent, and that he hoped that the time of the murder incident came out because he said he was in a club.
Witness testimony and video evidence later contradicted Hernandez's claim that he was in a club at the time of Lloyd's death.
Possible outcomes: The jury will almost certainly find Hernandez either guilty of first-degree murder or not guilty. Given the particulars of the case, other outcomes are not anticipated. "The legal test of second-degree murder doesn't make sense with the facts presented," writes Bob McGovern at the Boston Herald, "and manslaughter isn't really on the table."
Regardless of the verdict, evidence discovered in the Lloyd case has made Hernandez a suspect in a double homicide shooting, which apparently took place in 2012. He'll face those two trials after this one ends; he has already pleaded not guilty to both.