When Is It Domestic Terrorism, and When Is It Uncontrolled Anger?
The tough questions about mental health and guns raised by shootings in Arizona and North Carolina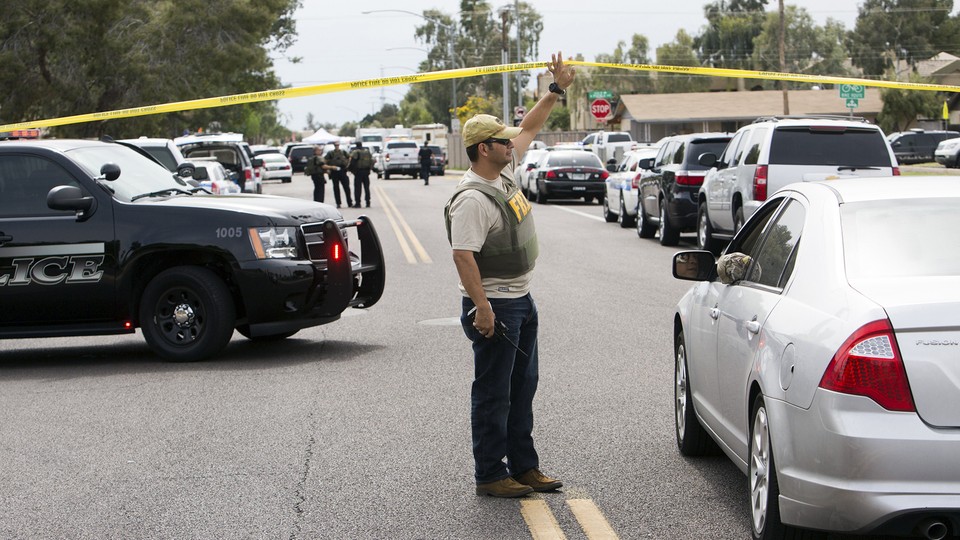 Every mass shooting is shocking, but some are more shocking than others. While the proximate cause of an incident in Mesa, Arizona, that left one dead and five others wounded seems to have been a simple disagreement, the suspect is a man with a long rap sheet and a history of ties to violent, racist organizations. Ryan Giroux might seem like the classic culprit of such a rampage.
But Giroux's case doesn't obviously fit in the domestic-terrorism box, despite some tempting reasons to put it there. On the one hand, he had ties to extremist groups that foster hatreds. But his spree Wednesday seems to have been neither premeditated nor triggered by any sort of racial incident, but instead sparked by an argument. How do we think about such cases? As manifestations of extremism? As domestic terrorism? As simple, horrifying murder?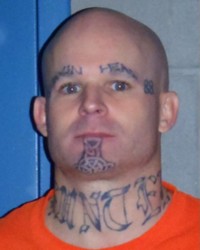 The shooting apparently began after an argument at a hotel in the Arizona suburb, and Giroux apparently knew the first three people he shot, including the one who was killed; the other three appear to have been in the wrong place at the wrong time. Somewhat miraculously, Giroux was arrested without being shot himself—police used a stun gun to subdue him.
The Arizona Republic details Giroux's long arrest history: drug possession, theft, assaulting police officers, violating probation. Seven and a half years in prison. Seven felony convictions. His mugshots add some extra dimensions to the story, especially the "SKIN HEAD" tattoo over his eyebrows. The Southern Poverty Law Center, which tracks hate groups, reports:
A retired Mesa Police detective who once infiltrated local skinhead groups told Hatewatch that he knew Giroux from previous encounters, and that Giroux was a member of Hammerskin Nation, a notoriously violent racist skinhead group, and an associate of the Aryan Brotherhood, a national prison gang with a long list of murders to its credit. "He's a violent guy," said the former detective, who knew Giroux as a young skinhead in the 1990s and early 2000s. "I think his time in prison contributed to that."
It's people like Giroux who worry federal law-enforcement officials. Eric Holder told CBS in January that it was lone-wolf figures who kept him up at night. According to a tally by New America last year, right-wing extremists have killed 34 people in the United States since 9/11, compared to 21 fatalities for Islamic terrorists stateside over the same period. SPLC's numbers find that while the number of hate groups in the U.S. expanded quickly after Barack Obama's election, it has since shrunk, with the people who were drawn to them splintering away from organizations but remaining tied to the ideologies.
In June 2014, the Justice Department revived a task force on domestic terrorism created after the Oklahoma City bombing but mothballed in the wake of September 11. Giroux seems like just the sort of person federal officials would have been keeping an eye on.
And yet nothing about what happened Wednesday seems to have had to do with this, except insofar as hate groups speak to the overwhelming sense of rage that many shooters exhibit.
A forthcoming study focuses on the big risk of violence: the intersection of young to middle-aged men with serious anger issues and access to guns. (How Giroux got a firearm is unclear; as a felon, he would not be able to buy one legally, though many felons access guns without great trouble.) These men are clearly not thinking quite right—no one who opens fire on other human beings like this is—yet they've also not been diagnosed with mental illness, and may not fit into any diagnosis. Would Giroux have been similarly filled with rage if he hadn't been involved with skinhead groups? Or was his membership there just a channel for already existing rage?
The shooting of three young Muslims in Chapel Hill, North Carolina, in February provides a different angle on the same issue. Initially, reports suggested it might have been a straightforward hate crime against Muslims. Then there were suggestions it was a dispute about a parking space. Jonathan Katz's reporting on the case since shows that neither explanation really captures what happened, and that finding a single, definitive reason is likely impossible and irrelevant. Craig Stephen Hicks, who turned himself into the police after the crime, had vocal objections to religion. He was clearly an angry man, easily provoked and obsessed with parking spaces at his apartment complex. And he had access to guns.
The two cases point to another result of this kind of anger: Once it breaks out, the victims vary widely. They might be friends and family, they might reflect prejudices or hatreds, or they might be complete strangers.
Naturally one solution to this would be to try to limit access to guns. But in the present moment, American politics has made an unambiguous statement that almost no limitations on gun rights are tolerable. That means society can focus more on anger, or else, resign itself to more incidents that are shockingly predictable.