The Gunfire in Ferguson
Two officers were seriously injured after a shooting at a protest in front of police headquarters.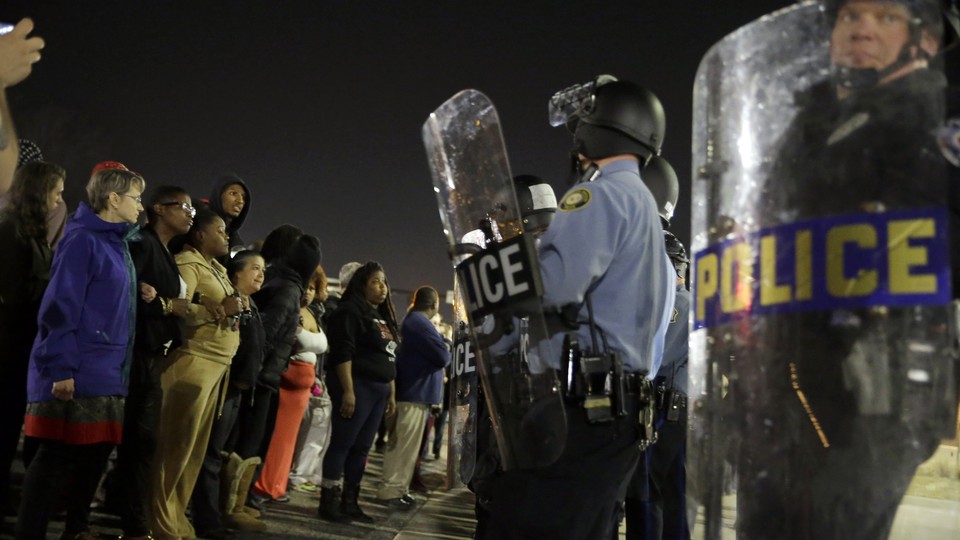 Shortly after midnight in the waning moments of a protest at the Ferguson Police Department in Missouri, at least three gunshots were fired from beyond the crowd. Two police officers, each from neighboring departments, were struck and seriously injured, one in the head and the other in the shoulder.
What We Don't Know
Addressing reporters at a press conference outside of the of Barnes-Jewish Hospital, where the two officers were being treated, St. Louis County Police Chief Jon Belmar said simply, "I don't know who did the shooting, to be honest with you." Belmar did gesture in the greater direction of a motive, offering that "these shots were directed exactly at my police officers."
Some witnesses described a scene not unlike many shootings: seemingly harmless loud noises, followed by a crowd hitting the deck en masse. "We saw the muzzle fire from a gun up top of the street," Bradley Rayford, a freelance photographer, told the AP. "Once we ducked down, we saw a cop was shot right next to us."
The Context
Thursday's shooting comes just hours after Ferguson Police Chief Thomas Jackson, one of the most visible figures in the unrest that followed the shooting of Michael Brown in August, resigned.
His departure, while anticipated since October, follows last week's release of an appalling 102-page Department of Justice report, which characterized the Ferguson Police Department and its courts as beset by systemic racial bias and dedicated to raising revenue for the city. Jackson was the fourth major city official to leave, following a municipal judge, city manager, and county clerk.
Possible Implications
"I've said all along that we cannot sustain this forever without problems," Chief Belmar told reporters after Thursday's shooting. "That's not an indictment of everybody that's expressing their First Amendment rights but we have seen in law enforcement that this is a very, very dangerous environment for officers to work in regarding the amount of gunfire that we have experienced up there."
While Belmar's statement speaks to the blurry divisions between protest, calls for reform, anger, and violence that are commingling in the ongoing fallout from Michael Brown's death and the Department of Justice report, it misses a particularly tragic irony. Belmar, along with the officers wounded in Thursday's horrifying shooting, are not representatives of the Ferguson Police Department; they are from nearby municipalities. As David Graham noted on Wednesday, the DOJ report appears to have elicited limited concern from neighboring communities, despite accounts of similarly pernicious practices by the law enforcement and courts there.
According to one observer, there were two sets of protesters in Ferguson on Wednesday night. "The first were there to make a point that they weren't satisfied with the resignations of City Manager John Shaw and Police Chief Thomas Jackson. They were chanting in unison," wrote Susan Weich of The St. Louis Post-Dispatch. "The other one was volatile, angry, hurling profanities at the police, media and other protesters."
As the movement toward reform lurches slowly forward, what impact Thursday's shooting will have within Ferguson, and on the larger stage, remains an open question.