The Economics of Religious Freedom Bills
Legislation signed in Indiana this week could allow businesses to discriminate against same-sex couples. Other companies are hitting back.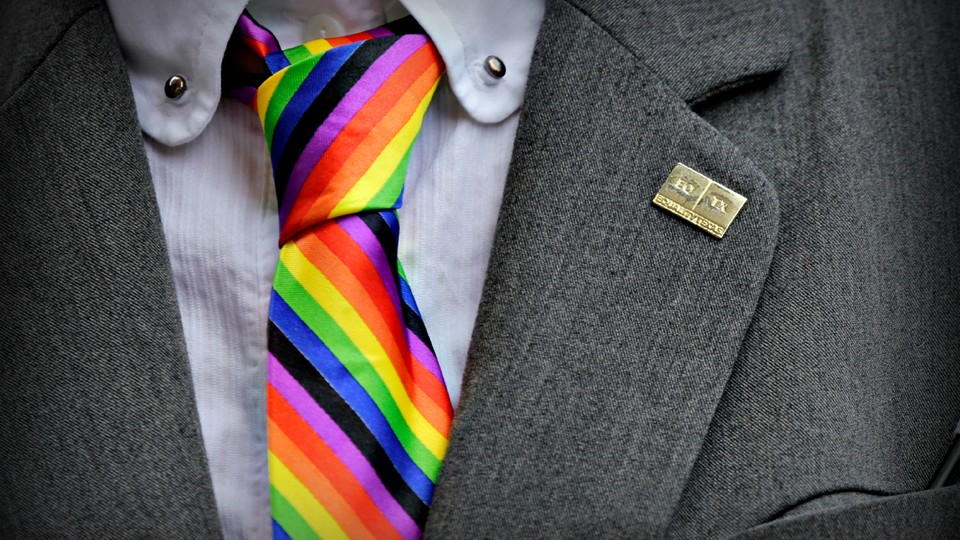 Now that Indiana Governor Mike Pence has signed his state's controversial Religious Freedom Restoration Act (RFRA) into law—days after the bill overwhelmingly passed the Indiana House and Senate—business leaders and others are trying to figure out what the impact of the law will be. The fear among its many opponents is that the bill codifies the right for businesses, individuals, and groups to discriminate against same-sex couples and others.
Choosing between belief and business
"This bill is not about discrimination," Pence said, "and if I thought it legalized discrimination I would have vetoed it."
Some businesses, however, aren't interested. On Thursday, Marc Benioff, the CEO of the cloud computing juggernaut Salesforce, announced that he was cutting Indiana off. "Today we are canceling all programs that require our customers/employees to travel to Indiana to face discrimination," he tweeted. Executives at Yelp and the NCAA were also among those issuing condemnations.
The implications of the bill's enactment, however, remain unclear. As the Indy Star pointed out, Salesforce "acquired Indianapolis-based marketing software company ExactTarget last year for $2.5 billion." (The company would not clarify exactly how Benioff's statement would affect its interests in Indiana.)
And, while the NCAA's wildly popular March Madness tournament will conclude in Indianapolis next week, NCAA President Mark Emmert only implied that the signing of Thursday's bill "might affect future events as well as our work force."
Religious Freedom Restoration Acts not only exist in nearly 20 other states, but on the federal level as well. Breaking down the components of Indiana's RFRA law, Josh Blackman, a constitutional law expert, found it to be more similar to its federal counterpart than other RFRAs like Mississippi.
Indiana, as well as Arizona's RFRAs are very similar to the Federal RFRA. In contrast, Mississippi's RFRA, which only requires a "burden," not a "substantial" one, deviates significantly from the federal statute.
Blackman went on to stress that "RFRA is not a blank check to discriminate."
One extreme example: Earlier this week in California, State Attorney General Kamala Harris signaled that she would seek to fight a ballot initiative that calls for the execution of gays and lesbians by "bullets to the head." Harris, who is running for the Senate in 2016, has taken some criticism for announcing that she would fight an initiative that likely would have gone away on its own.