Ajo, Arizona: A Small Town Pushed to the Brink, and Coming Back
What does a town do when most of its people lose their jobs nearly overnight? For the people of this small town, the surprising answer places heavy emphasis on the arts.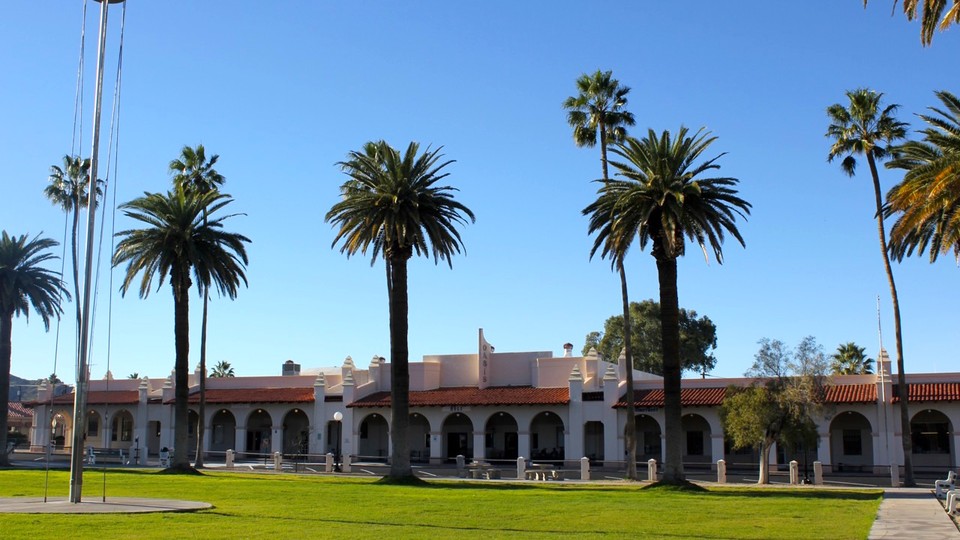 It's time for next stop on the western swing of our American Futures journeys. This brings us to Ajo, a tiny, struggling, but hopeful town in far southwestern Arizona.
Through our travels we've been looking for communities that have suffered some kind of reverse—economic, environmental, cultural, or otherwise—and have found a way to respond. This first post will describe the nature of Ajo's challenge, which was as dramatic as they come.
Until 1985, nearly everyone in town worked, as their forebears had for three generations, at an enormous copper mine less than a mile from downtown. The mountain of its waste material and tailings, accumulated through most of the 20th century, are a landmark visible from many miles away. The open-pit crater, now abandoned, from which the ore was brought out is as deep as the Empire State Building is tall.
Thirty years ago, the mine closed suddenly, putting nearly everyone in town out of work. It's a classic boom-and-bust story, familiar from company towns and mining areas around the world. What's unusual in Ajo's case is the path toward survival and renaissance that groups of local citizens are undertaking. That's the story we'll explore in our next series of posts, starting with this one that lays out the severity of Ajo's challenge. Now, let's set up the story:
* * *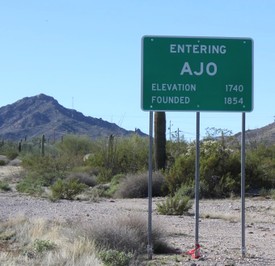 Ajo, Arizona (pronounced AH-ho) is a tiny town in the Sonoran Desert, far from everywhere. Ajo thrived as a copper mining town for most of the 20th century. This history of copper in the area went as far back as the Native Americans, followed by the Spanish, and a few hard-luck Anglos in the later 19th century.
Then around 1911, the Calumet and Arizona Mining Company arrived. It confirmed a large high-grade copper carbonate orebody, located a nearby water well, developed a way to process the ore, and built a railway from Ajo north to Gila Bend, where it connected with the Southern Pacific Sunset Route. By 1917, Ajo's open-pit copper mine was in full production. At its largest, the oval-shaped mine was a mile and a half across and over 1,000 feet deep.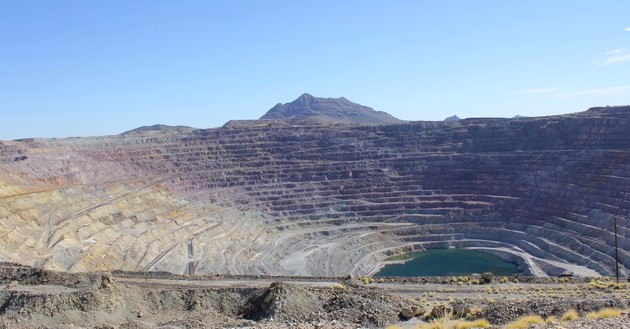 Nearly seven decades later, the New Cornelia mine suffered from bitter miner-union disputes and the diving price of copper. The owners shut down the mine in 1985. What followed was a brutal and humbling collapse for the showpiece desert town.
The population plummeted. Houses that had been mass-produced for generations' worth of mining families, in separate sections known as Indian Village, Mexican Town, and the rest of Ajo for the white families, were abandoned and left to sit in the sun.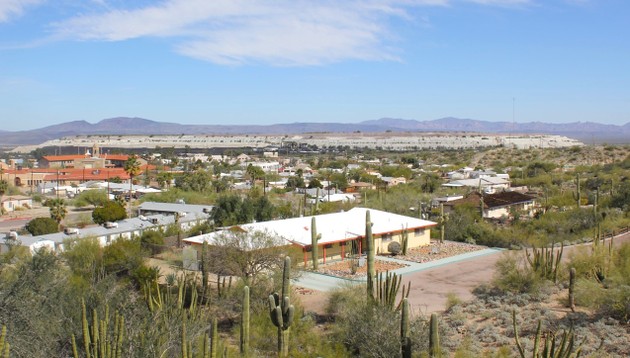 The new business of the town mainly involved bargain-seeking retirees, who often came in campers or RVs, plus some traffic headed southward on Highway 85 toward the Mexican border or Organ Pipe National Monument. The tourist season was roughly six months a year, since the heat became so intense in the summer.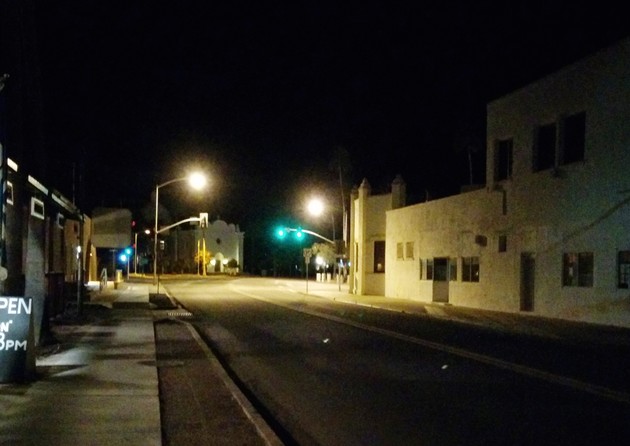 Where could Ajo's hopes lie? The unexpected answer is anchored in the arts.
* * *
Last year, we heard from our friends at ArtPlaceAmerica, who are funding a series of arts and architecture projects in Ajo, that the town was on a comeback. Arts projects and microbreweries, as we have learned from our travels around America, are often proxies for a new spirit and a new life come to hard-times towns. Ajo has the first, the arts projects. But would that be enough? How on earth, we wondered, could a mining town reinvent itself in the middle of a desert?
Last month, we flew our small plane from Southern California, east through the Banning Pass, over Palm Springs and into Arizona. We left behind the bleak Mojave for the mesas and mountains of Arizona and then the beginnings of the vegetation-rich Sonoran desert. We landed in Gila Bend, 40 miles north of Ajo, to avoid the last stretch that traversed the A-10 practice routes inside the Barry Goldwater Bombing Range, as locals call it. (Last month Jim described why we decided not to risk the flight.) A good decision, we decided, watching the fighters crisscross the highway to Ajo at 800 feet. We felt so much farther away than 90 minutes of flying had taken us from the freeways and subprime housing tracts of Southern California.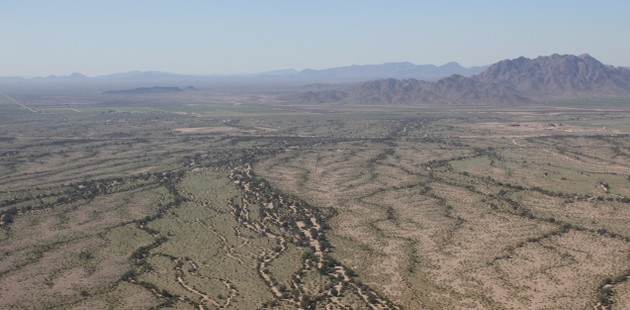 About 2,300 people live in Ajo year-round, and about double that number during the winter months, when the snowbirds find their way to the desert from Rochester or Seattle or Chicago. Now, streams of truly gigantic RVs and SUVs drive the AZ-85 south through Ajo, on their way to camp or to tour the Organ Pipe National Monument, the stunning 330,000 acre park opened in 1937 under Franklin D. Roosevelt. A piece of Ajo's master plan for development is for lots of those tourists to actually stop in Ajo for lunch or even to stay a while.
Ajo's reinvention is driven by an ambitious, multi-tasking non-profit group, the International Sonoran Desert Alliance (ISDA). ISDA is a small venture with a big vision—to revitalize life in this area of the Sonoran Desert culturally, environmentally, and economically. The "International" in the name refers to the tri-national faces of ISDA, involving Mexico, the United States, and the Tohono O'odham Native American tribe.

Piece by piece, ISDA is constructing the dream for Ajo and the surrounding area through projects that focus on the arts, real estate, the environment, and business development. These projects include everything from building renovations, to arts activities, to community gardens, culinary projects, cross-border networking, worker and artisan training, desert conservation and recreation, festivals, adult education, and on and on through an exhaustive list.
Two projects which are cornerstones of these efforts are renovations of original elegant architectural achievements in Ajo: the early 20th century palm-lined town plaza and close by, the stately Curley School campus. Both these projects are reaching milestones in their changeover right now and suggest that the far-reaching plan for Ajo's revival just might work.
That is where our story will pick up in Part 2.