A Horrific Building Collapse in New York
An East Village building exploded and erupted in flames Thursday afternoon, quickly spreading to nearby structures.
Updated at 5:50 p.m.
More than a dozen people have been injured in New York City after an East Village building exploded and erupted in flames Thursday afternoon.
What we know
The fire originated at 121 Second Avenue, according to DNAinfo, a mixed-use building with a discount sushi restaurant on the bottom floor. It then spread to 123 Second Ave and 119 Second Ave, engulfing both structures in flames including Pommes Frites, a well-loved Belgian fry restaurant.
Firefighters blocked the scene off around 3:30 p.m., according to news reports, and said they thought there might be 30 injuries, though reliable information remains sparse. The New York Daily News reported that at four people were rushed to the hospital in critical condition.
Pictures on social media showed charred debris and aggressive flames licking out of windows up to the top of the five-floor building and an adjoining building. According to some reports, people may be trapped inside.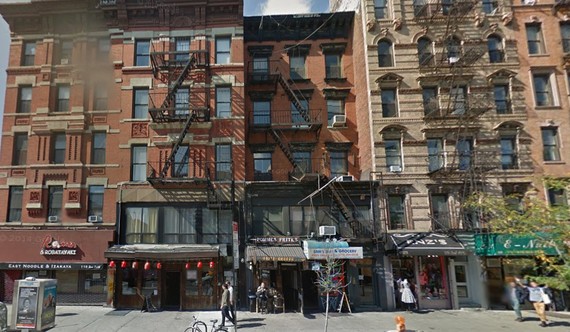 What caused the fire?
It's too soon to know what happened, but witnesses reported hearing an explosion, leading to immediate speculation that a gas leak might be to blame. DNAinfo reported that gas service to the area was shut down. In March 2014, a gas leak in East Harlem destroyed two buildings and killed eight people. Experts warn that deteriorating and ill-maintained gas lines pose a lethal threat.