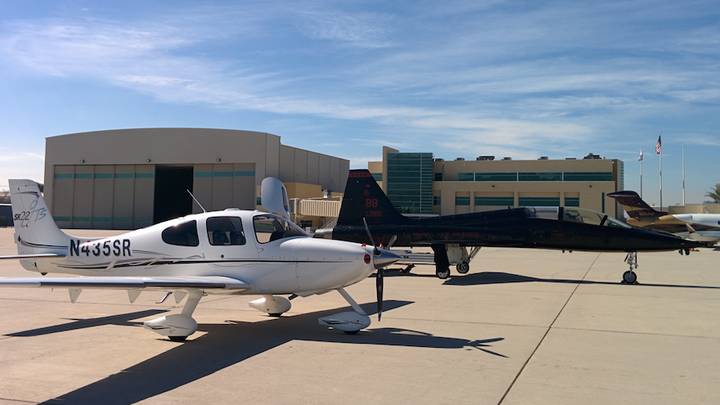 I was traveling by small airplane in Southern California today, in preparation for an upcoming series of reports in our American Futures project. I was feeling like Mr. Cool as I brought in my beloved Cirrus SR-22, after a landing, toward the elegant Luxivair terminal at the former Norton Air Force Base, now San Bernardino International.
And then I pulled up next to ... this craft, the Darth Vader-looking thing above. (Next to which mine looks like Casper the Friendly Ghost. I will have to paint some shark teeth on it.) This ominous other plane said "U.S. Air Force" on the side, yet in hipster black-on-black lettering that made me wonder.
That is all. Tomorrow back to "Chickenhawk" updates from the news and from reader mail.
We want to hear what you think about this article. Submit a letter to the editor or write to letters@theatlantic.com.
James Fallows
is a staff writer at
The Atlantic
and has written for the magazine since the late 1970s. He has reported extensively from outside the United States and once worked as President Jimmy Carter's chief speechwriter. He and his wife,
Deborah Fallows
, are the authors of the 2018 book
Our Towns: A 100,000-Mile Journey Into the Heart of America
, which was a national best seller and is the basis of a forthcoming HBO documentary.