America Is Still a Labrador Nation
The quintessential family dog is the country's most popular breed for the 24th straight year, but the bulldog is giving chase.
Author's Note: All dog puns have been effaced by The Atlantic's merciless editors.
---
The results are back from the lab and they shouldn't give you paws.
On Thursday, the American Kennel Club released its annual rankings of the most pupular popular dog breeds in the United States and make no bones about it, the Labrador Retriever fetched scored top dog honors for the 24th consecutive year.
"Originally bred to fetch game," the AP notes, "Labs have proven able and willing to play virtually any canine role: search-and-rescue and police work, agility and other dog sports, guide and therapy dog work, and sensitive family companion." Talk about a leash on life!
There is no pawcity paucity of the breed in American culture. From Family Guy's Brian Griffin and Marley of Marley and Me to Little Boo, the prison therapy dog in Orange Is the New Black, Air Bud, and Spike from Old Yeller, it wouldn't be far-fetched unreasonable to suggest that Labs remain the pick of the national litter popular across a broad spectrum.
Possibly more momentous, however, is the degree to which Americans are now hounding seeking out bulldogs more than ever before. The brooding breed came in fourth place this year, based on the number of new registries, its highest-ever showing. The breed's French cousin also continued its mutteroic meteoric rise, landing in place after being 49th just a decade ago.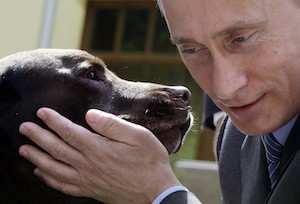 The bulldog also pooched poached the fourth spot from the beagle, which had been over the roof enjoying some momentum after the breed won the coveted Westminster Kennel Club crown last week.
In the meantime, it may not just be a Lab country, but a Lab world. If there's any hope for smoothing over the ruff patch detente between the United States and Russia, it could come in the form of Koni, Vladimir Putin's pet Black Labrador.