Man Versus Snow
The blizzard of 2015 is expected to last at least 36 hours, with warnings of black ice, low visibility, flooding, and who knows what else.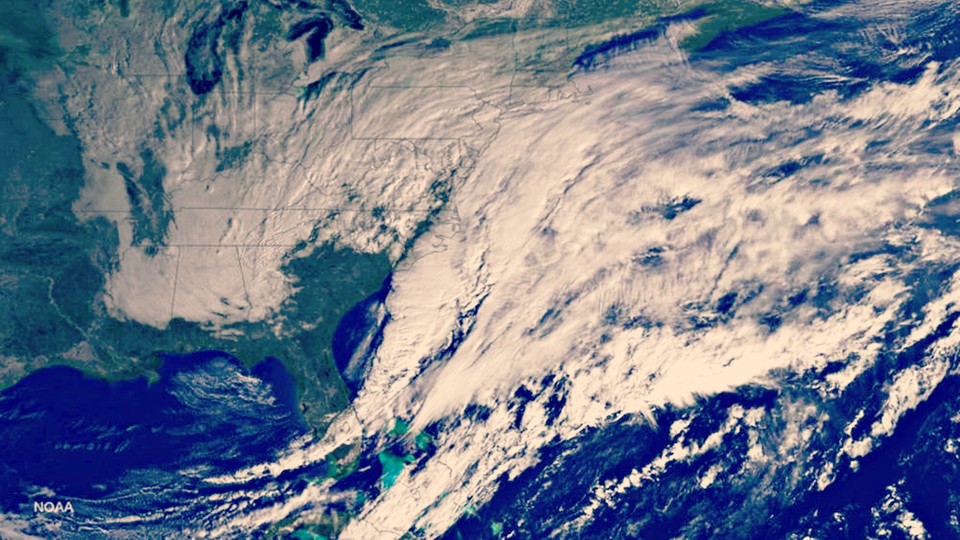 There are no shortages of warnings ahead of a blizzard that could drop as much as 30 inches of snow on a 250-mile stretch of the American Northeast. According to Weather.com, the region is also looking forward to "2 to 4 feet of storm surge flooding."
Language in the official pronouncements from Philadelphia and New York to Providence and Boston have included the words "historic" and "life-threatening." While we're on the semantics, the National Weather Service has officially dubbed the incoming weather not just a snowstorm, but a blizzard. "A blizzard includes sustained or frequent wind gusts of 35 mph or greater and considerable falling snow that lasts for at least three hours."
In some quarters, the blizzard of 2015 is expected to last at least 36 hours, roughly six times the average length it takes a first-time mother takes to give birth. Does this mean we get to give our blizzard a name?
The Weather Channel has christened this winter storm "Juno" even though the National Weather Service vehemently objects to the outlet's naming of storms and most major media outlets tend to refrain from adopting the name.
"The National Weather Service does not name winter storms because a winter storm's impact can vary from one location to another, and storms can weaken and redevelop, making it difficult to define where one ends and another begins," an NWS spokesperson told The Atlantic Wire back in 2013. Others yet have accused The Weather Channel of naming storms as a ratings ploy.
As prognosticators warn of record-breaking snowfall, the (literal) yardsticks for precipitation are coming into play. Will this trump The Great Blizzard of 1888, which dumped 50 inches of powder on Connecticut and Massachusetts, sunk 200 ships, and managed to shut down Wall Street?
Or is it looking more like 1947 Blizzard, which snuck quietly (no heavy winds and without prediction) across the Northeast just days after Christmas and dropped nearly 27 inches of snow. As Andy Newman pointed out in 2006, following the biggest snowfall in New York City's history, all the storms look different over time.
In 1947, New Yorkers were, on average, more than an inch shorter than they are today. In 1888, when the blizzard that is branded on the city's collective memory as the Greatest of All Time hit New York, people were, on average, about three inches shorter.
To that, Newman added, "Also, back in 1888, the tallest building in the city was 11 stories."
Now, as they say, the sky's the limit. Speaking of which, shortly before 1:00 pm (EST) on Monday only about 90 flights had not departed according to schedule, but with mass cancellations set for the next 36 hours, more than 4,000 flights are expected to be scrubbed by the end of Tuesday. Meanwhile, the highway travel in the entire state of Connecticut has been banned, starting at 9 pm (EST).