After the Spill: Life in West Virginia's Coal Country
One year after the Elk River chemical disaster, has the Mountain State's approach to mining changed?
CHARLESTON, W. Va.—At 8:16 a.m. on the morning of January 9, 2014, the West Virginia Department of Environmental Protection received the first of what would quickly become an avalanche of complaints. A man in Charleston, the state's capital, called to report that there was "something in the air" and it was irritating his wife's throat. Two-and-a-half hours later, the first media report of the incident surfaced on a local NBC affiliate's Facebook page: "BREAKING: Firefighters are investigating a strong smell in the Kanawha Valley." "Is it safe to go out?" asked the first commenter on the post.
DEP inspectors arrived at the Freedom Industries Charleston plant, which sits along the Elk River on the edge of town, at 11:15 a.m. They quickly discovered the source of the smell was 4-methylcyclohexane methanol, or MCHM, an industrial chemical used for purifying coal before it is burned. The toxic substance was pouring from two small holes, one about the size of a penny and the other half as big, on the bottom of a single storage tank at the Freedom Industries facility, which had not been inspected since 1991. Over a span of at least 20 hours, approximately 10,000 gallons of the MCHM chemical mixture leaked out of Tank 396 and into the Elk River, eventually finding its way to Charleston's main water treatment plant.
At 5:36 p.m., Governor Earl Ray Tomblin finally issued a statement, an ominous message posted to his Twitter page: "EMERGENCY: Do NOT use tap water for drinking, cooking, washing, or bathing in Boone, Lincoln, Kanawha, Jackson, Putnam counties." By the end of the day, Tomblin declared a state of emergency and deployed the National Guard. A do-not-use order commanded that the contaminated water only be used for flushing toilets and extinguishing fires. The spill left more than 300,000 West Virginians, about one-sixth of the state's total population, without access to potable water. Schools were closed. Restaurants, bars, and hotels were also shuttered. Residents scrambled to supermarkets, gas stations, and even vending machines to secure bottled water, which quickly sold out everywhere. Hospital emergency rooms were overwhelmed with hundreds of patients who all exhibited the same pattern of symptoms, including diarrhea, nausea, headache, itching, rash, vomiting, and stomach pain.
Forty-two miles from the Freedom Industries facility, Junior Walk, a 24-year-old lifelong West Virginia resident, first learned about the spill on the radio while at the makeshift office for the Coal River Mountain Watch, a local environmental watchdog where he works. Walk wasn't surprised. As soon as he discovered the magnitude of the spill, he loaded up the bed of his red 1991 Ford Ranger with two 55-gallon barrels full of water and delivered them to fire departments and other distribution centers in the nearby areas that were hit.
Walk grew up in the coal town of Whitesville in Boone County, one of the nine counties affected by the leak. When he was twelve years old, his family moved from a remote area, what he describes in his energetic Appalachian accent as "the head of a holler," closer to town. "Our water used to be pristine before we moved," Walk recalls. But their new home was close to a site used by nearby mining operations to deposit coal slurry—a thick, black sludge comprised of waste fluid produced in the coal preparation process.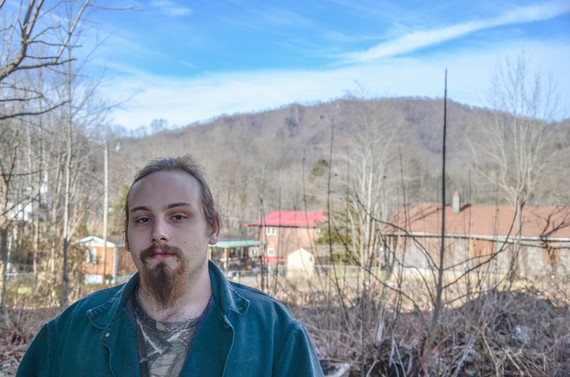 This toxic waste is often injected underground into abandoned coal mines, a process that can easily result in the leaching of slurry into nearby groundwater. It wasn't long before contaminated well water in their new home came out of the faucet, discolored and fetid. "I can't even describe the stench. We didn't drink it, but I had to shower in it." For five years, until their home was hooked up to a municipal water supply, Walk says he went to school smelling like the contaminated water every day, and his family could not use tap water for drinking or cooking.
West Virginia's economy has heavily relied on the coal industry for decades. In the 1950s, the industry employed some 125,000 people. Today, mechanization and the rise of natural gas have driven that number down to anywhere from 20,000 to 30,000. Wal-Mart, not the coal industry, is now the state's leading employer. Like many West Virginians, Walk's family members have been employed by the coal industry for generations. His father worked at a coal prep plant until he was recently laid off.
"When I was getting ready to graduate high school, I realized that I didn't have the grades nor the money to go to college, so I was kind of stuck here," Walk says. "Like everybody else in that situation around here, I only had a few options: go to work for the coal industry, sell prescription drugs, or join the military." West Virginia has the highest drug overdose mortality rate of all fifty states. It also has one of the largest veteran populations per capita, and the lowest rate of adults with college degrees.
For Walk, the decision seemed simple. "I went to work for the coal industry." However, within months of working at a coal prep plant in the nearby town of Sylvester, he began having second thoughts.
"Some days I would be in the plant basement waist deep in this coal sludge, the same stuff that contaminated my water when I was a kid, preparing it to be pumped up to a slurry dam." He feared prolonged exposure to the slurry would be harmful to his health. Walk also says he was asked to violate safety regulations on a regular basis, except when the state inspectors were coming. "We always knew when the inspectors were coming," he alleges. "They always called ahead."
After six months, the combination of concerns for his personal health and a guilty conscience led Walk to quit his job. He began anonymously writing about what he had seen for an environmental newsletter and was eventually hired by the Coal River Mountain Watch.
"My whole life, I've seen this pattern of industry being allowed to do what it wants in this state," Walk says, reflecting on the Elk River spill one year later. "My first reaction when I heard about it was that this is business as usual for West Virginia."
To Walk, the Charleston spill was just the latest symptom of a deep-seated problem in the Mountain State. Throughout his life, from his time attending a now abandoned elementary school that was situated a few yards from a coal processing plant and slurry impoundment to his experience working for a coal company, Walk has lived through many of these symptoms, though he didn't always realize there was anything extraordinary about them. "I thought everyone had big piles of coal right next to their playground at school. I thought it was normal not to be able to drink your own tap water."
Other symptoms can be more catastrophic. On the afternoon of April 5, 2010, the Walk family home was shaken by an explosion at the nearby Upper Big Branch coal mine. Twenty-nine miners died in what was the deadliest American mining disaster in decades. A federal investigation found the explosion was the direct result of Massey Energy executives willfully and systematically skirting safety regulations.
"These aren't all isolated incidents. They're interconnected," Walk insists. "The same loose regulatory environment that produced Upper Big Branch, that poisoned my well water growing up, that poisons the air surrounding these surface mines everyday also gave us the Elk River spill."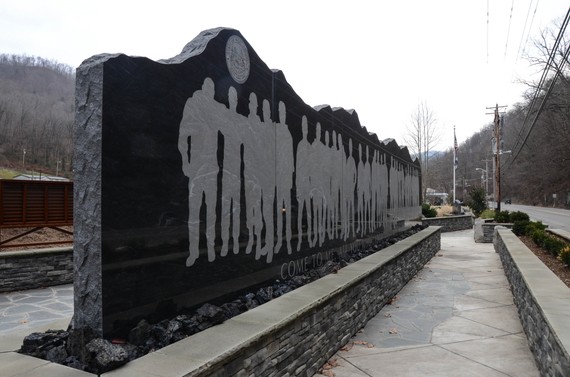 Michael Hendryx, a public health researcher at Indiana University who studies the health effects of coal mining in West Virginia, also wasn't surprised when he heard about the spill. Hendryx co-authored a series of studies that linked a number of troubling health outcomes to the areas with heavy coal mining. His research found that residents of West Virginia's mining counties were more likely to suffer from kidney disease, obstructive lung diseases, and high blood pressure than their counterparts in non-mining counties. Other studies found higher rates of mortality, cancer, birth defects, total poverty, and child poverty in the areas surrounding mountaintop-removal coal mining sites.
Critics have often dismissed these studies for failing to demonstrate that these negative health effects are caused directly by mining. Hendryx's most recent study, published last October, established that direct link by showing that the coal dust emitted into the atmosphere at mountaintop mining sites is carcinogenic.
"I entered this area of research with no preconceptions about whether or not I'd find evidence for health problems, but as the evidence has mounted, I am completely convinced that [mountaintop removal mining] is harmful to the health of people who live nearby," Hendryx says.  "It causes air, water and soil pollution in residential communities close to mining. It is not an environment conducive to good health."
Although the number of jobs the coal industry provides is dwindling, they remain some of the best-paying jobs for the state's largely uneducated workforce, with an estimated average salary of $68,500. The median household income in the state is $41,043, over $12,000 less than the national median. The industry also provides nearly half a billion dollars in tax revenue each year to the state's budget. These economic factors, along with the pride many West Virginians feel about a profession that runs in their families, make it difficult to criticize the industry in the state.
Walk, who now spends much of his time traveling the country to spread awareness on the dangerous effects of mining, did not endear himself to his community when he began speaking out. As soon as he decided to take a job with the Coal River Mountain Watch, his father, who was still employed by the coal industry at the time and feared the potential backlash, asked him to move out.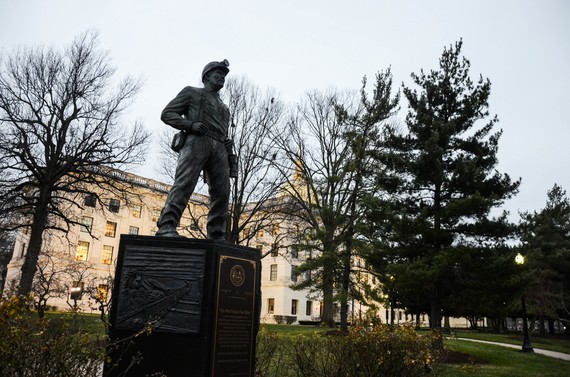 "Because I'm a local, many view me as a Benedict Arnold," he says. "I should know better because coal put food on my table, they tell me." He says he's been shot at numerous times and the brake lines in his truck were cut in what he believes was an attempt on his life. Walk keeps a bulletproof vest in his pick-up truck and his gun is always nearby.
These types of incidents aren't unprecedented in the area. One of Walk's mentors, the late Larry Gibson, was profiled in Pulitzer Prize winning journalist and social critic Chris Hedges' most recent book. After becoming a prominent anti-mountaintop removal activist and testifying at the United Nations, Gibson was the target of an intense intimidation campaign. According to Hedges, Gibson's cabin was burned down, two of his dogs were shot, trucks routinely tried to run him off the road, and he "endured drive-by shootings."
Activists aren't the only critics of the industry who are targeted for speaking out. Hendryx, who taught at West Virginia University before taking his current job at Indiana, says the coal industry has gone after his work with negative editorials in friendly newspapers and by funding its own research to dispute his findings. While at WVU, which accepts millions in donations from the coal industry, Hendryx says he had to tread carefully.
"I felt that I was carefully watched and had to be extra cautious in anything I said in an interview or paper," he says. In one strange instance, a WVU spokesman issued a request to the press to refrain from using the phrase "WVU study" to describe research conducted by faculty members at the university. "The findings of any particular research project do not reflect—nor should they—any particular opinion or position of the university itself," read the university's statement. Many, including Hendryx, interpreted the unprecedented request as WVU's attempt to distance itself from Hendryx's work, which was garnering national attention. WVU's own public-relations arm, WVU Today, continues to use the phrase "WVU study" to describe a wide variety of research conducted at WVU. Despite this incident, Hendryx insists he left WVU voluntarily and there were never any direct attempts to interfere with or block his research while he was there.
If one were passing through Charleston today, it would be hard to tell that one of the worst water contamination incidents in U.S. history occurred here just one year ago. The site of the spill at 1015 Barlow Drive sits inconspicuously along the Elk River, blending right in with other abandoned industrial structures in its vicinity. The Freedom Industries sign has long been removed. Though many residents continue to drink bottled water, you won't hear many people talking about their lingering suspicions regarding the safety of their tap water. Most of them have accepted these doubts as a fact of life and are moving on.
Last month, six employees and executives from Freedom Industries were indicted for failing to meet "a reasonable standard of care" in managing their company. In a statement, U.S. Attorney General Eric Holder said "the conditions at the Freedom Industries facility were not only grievously unacceptable, but unlawful. They put an entire population needlessly at risk."
In November, federal prosecutors charged former Massey Energy CEO Don Blankenship for his role in the violations of safety regulations at the Upper Big Branch mine precipitating the disastrous explosion in 2010. "Blankenship knew that UBB was committing hundreds of safety-law violations every year," reads the damning indictment. "He had the ability to prevent most of the violations that UBB was committing. Yet he fostered and participated in an understanding that perpetuated UBB's practice of routine safety violations, in order to produce more coal, avoid the costs of following safety laws, and make more money."
For Walk, who attended Blankenship's arraignment, these indictments are a positive development, but they don't go far enough. "These guys are scapegoats," he says. "They're just the ones that got caught."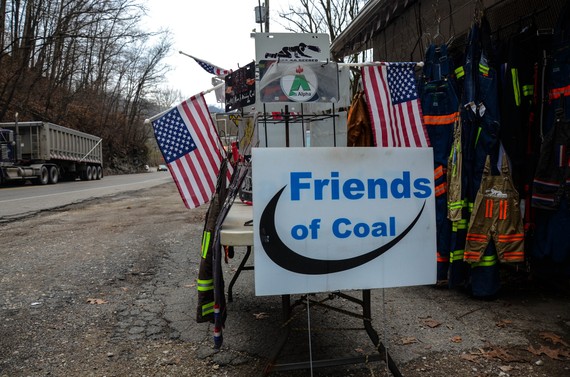 "The industry and its proponents in our government want us to believe these guys are just a few bad apples, that these are all isolated incidents. Well, they're not. The whole damn system is guilty."
Neil Berch, a political science professor at West Virginia University, agrees state officials made a conscious effort not to associate the Elk River spill with the coal industry as a whole.
"The chemical leak wasn't even an issue in the midterm elections a few months ago," Berch says. Instead, the typical pandering to the coal industry and anti-regulation rhetoric from the state's political candidates were even more pronounced as vulnerable Democrats tried to shake the perception that they were a part of what the industry alleges is President Obama's "war on coal."
"If anything, the Democrats were downplaying the spill," Berch says. "Just like with Blankenship and the Upper Big Branch tragedy, they turned it into a 'this guy is the evildoer and we are going to get him' instead of tying it to a pattern of behavior."
The Democrats' strategy didn't work. Congressman Nick Rahall, who had been in office since 1977, lost to a former Democratic state legislator who had switched parties so he could run against him. Republicans also captured outgoing Senator Jay Rockefeller's open Senate seat and an open House seat. At the state level, Republicans now control both houses of the legislature; a Republican now serves as president of the state senate for the first time since Herbert Hoover occupied the White House. "Obviously, the Republicans are going to be more pro-industry and anti-regulation than the Democrats ever were," Berch says.
Despite the seemingly impossible odds Walk finds himself up against, he's not going anywhere. He recently proposed to his girlfriend and plans on buying a house near Whitesville.
"This is my home. This is where my whole family is," he says. "It's beautiful. I love to hunt, I love getting in the woods. It's part of my culture. It's in my blood. I can't just back down and let them take it. It would feel too much like losing—too much like letting them win."