Cold War Echoes in a New Russian Spy Ring
The charges against three suspected spooks sound like a thriller, except it was all happening over the last three years in New York City.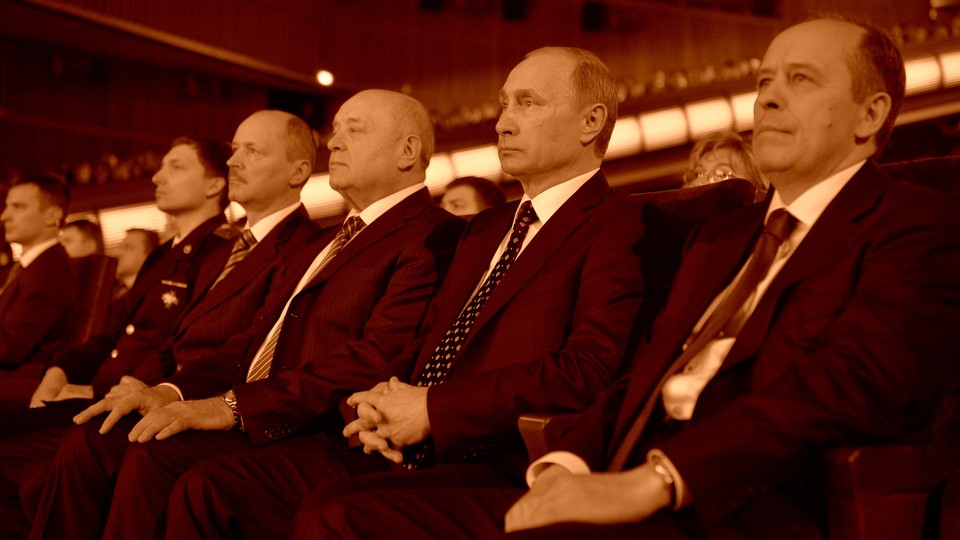 Secret rendezvous and document handoffs. Coded messages. Using money and sex as recruitment tools. A trip to Atlantic City to scout out a casino deal that turned out to be bogus.
The charges that the Justice Department unveiled against a suspected Russian spy ring on Monday sounded like a Cold War thriller, except it was all happening over the last three years in New York City—just as tensions between the U.S. and Moscow have risen to levels not seen in more than 25 years. In a 26-page complaint, the government is alleging that Evgeny Buryakov, known as Zhenya, worked as an undercover spy for Russia's intelligence service and plotted with two other Russia citizens to collect economic intel and recruit more spies from a university in New York.
The two other Russians, Igor Sporyshev and Victor Podobnyy, have left the country and remain at-large, while Buryakov was arrested Monday in the Bronx, prosecutors said. The spy ring is believed to have sprung up from a much larger espionage operation known as "The Illegals" that the FBI took down in 2010 with the arrest of 10 covert Russian agents. (That episode served as an inspiration for The Americans, the popular FX series about to begin its third season.)
While the 2010 bust occurred while the Obama administration was pursuing its now-infamous "reset" with Russia, the more recent operation took place in a much different geopolitical climate, and is perhaps less surprising. The government says the three Russians were seeking intelligence both about the energy industry and about sanctions that the U.S. was planning to hand down in response to President Vladimir Putin's annexation of Crimea and the Russian military's incursion into eastern Ukraine. "More than two decades after the presumptive end of the Cold War, Russian spies continue to seek to operate in our midst under cover of secrecy," U.S. Attorney Preet Bharara said in a statement announcing the charges.
According to the complaint, Buryakov posed as an employee at a Manhattan bank and would meet Sporyshev, an official Russian trade representative, at outdoor locations to avoid detection, where he'd pass him "a bag, magazine, or slip of paper." Sporyshev and Podobnyy would then analyze the information and transmit it back to Moscow headquarters of the Russian Intelligence Service (SVR). The documents were referred to as a "list," "ticket," book," "umbrella," or "hat" in phone calls that preceded the meetings, the FBI said.
Sporyshev and Podobnyy were not always happy spies, apparently. At one point, the FBI overheard them complaining about their unglamorous assignments. They didn't even get new identities or new passports, like in James Bond, Podobnyy complained. "Of course I wouldn't fly helicopters, but pretend to be someone else at a minimum," he said. The two men also talked about their efforts to recruit female university students as spies, with Sporyshev explaining that in his experience, "in order to be close you either need to [sleep with] them or use other levers to influence them."
Another time, Sporyshev wanted Buryakov's help planting questions with a Russian state news agency to get information about the New York Stock Exchange, including about high-frequency trading and "mechanisms of use for destabilization of the markets." The FBI later sent an undercover agent to pose as a wealthy investor trying to arrange a deal involving Atlantic City casinos. Even though a suspicious Sporyshev worried that the offer was "a trap of some sort," they went ahead with the meetings, during which the government allegedly caught Buryakov seeking access to documents about the Obama administration's plans for sanctions against Russia.