New York's Unfinished Tale of Two Cities
After a year in office, has New York City Mayor Bill de Blasio lived up to expectations?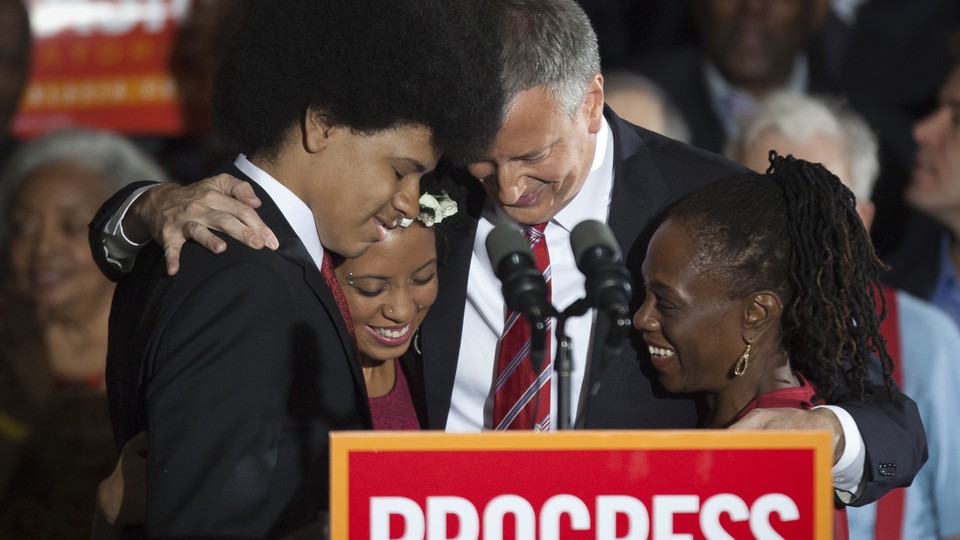 Since he announced his candidacy for Mayor of New York City on January 27, 2013, Bill de Blasio has faced a flurry of extreme and unrealistic expectations. His campaign portrayed the city's former Public Advocate as a strong-willed populist ready to bridge what he called "the tale of two cities" with ambitious progressive reforms. De Blasio spoke frequently and passionately about growing inequality, promising to end economic policies that favored the rich and decades of police practices that unfairly targeted people of color.
Joe Lhota, his Republican opponent in the general election, characterized de Blasio in similarly strong terms. The former deputy mayor claimed that the liberal Democrat would return the city to the crime-ridden days of the 1970s and 80s by gutting the police department, presiding over an ineffectual administration, and driving businesses from the city. De Blasio may look good on paper, Lhota warned, but his policies would fail and New York would suffer.
Ultimately, de Blasio—whose real electoral challenge came in a tough primary race against City Council Speaker Christine Quinn and City Comptroller Bill Thompson—cruised to victory in the general election with over 73 percent of the vote. When he was sworn in on New Year's Day 2014, de Blasio became the city's first Democratic mayor since 1990.
"When I said we would take dead aim at the tale of two cities, I meant it," the 52-year-old told supporters at his inauguration. "I will honor the faith and trust you have placed in me. We will succeed as one city. We know this won't be easy." Standing beside his wife Chirlane, who is black, and their two children Dante and Chiara, the Brooklyn family looked and sounded like change.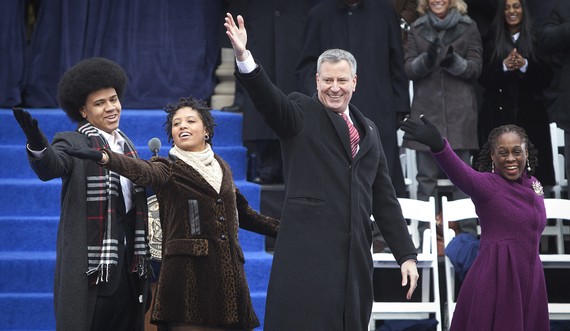 Today, a year after de Blasio was sworn in, New York City has become neither a progressive Mecca nor Castro's Havana. While the mayor has implemented substantial aspects of his progressive agenda, he has also faced the limits of his position and many opposing interests. Despite the near-doubling of the City Council's progressive caucus during the 2014 elections, the new mayor quickly learned that he would need the approval of the state capital in Albany for many of his legislative accomplishments.
"New York City's daily operations may belong to it but its ability to enact major legislation does not rest with it," said longtime New York City political analyst Hank Sheinkopf. "Mayors generally have unrealistic expectations about what they can accomplish."
Perhaps de Blasio's greatest legislative accomplishment, the passage and implementation of a universal pre-kindergarten program, underscored the limits of his power. Pushing to fund the program through a tax on those making over $500,000 a year, de Blasio quickly ran into opposition from New York Governor Andrew Cuomo. The moderate Democrat with his eye on a potential presidential run bristled at the idea of raising taxes in an election year. After months of negotiations between the state capital and city hall, the governor ultimately approved the program but rejected the tax. Instead, funding would come in the form of $300 million from the state's budget.
"[Universal pre-k] is one of the areas where he's had his cake but he wasn't able to eat it," said Baruch College political science professor and New York City political expert Doug Muzzio. "His major programmatic and fiscal accomplishment was getting universal Pre-K [but he didn't] get the millionaires tax. In my mind getting the program was more important than the tax."
The New York Times editorial board, which endorsed de Blasio's rival Christine Quinn in the mayoral primary, praised the new mayor as 53,200 four-year-olds (200 more than the administrations target) entered pre-k classrooms as part of the new program. "It's worth pausing to note what an accomplishment this is," the board wrote in a September 1 editorial. "No other city has done something so big, so quickly, and it would not have happened but for Bill de Blasio."
Despite the significant victory, political strategist William Cunningham, who advised former Mayor Michael Bloomberg, emphasized that the ultimate success of the program won't be known for some time. "Universal pre-k will take seven or eight years to see if it really has the impact the way a lot of academics think it will," he said. "But it should be considered a very big accomplishment for him."
While universal pre-k was de Blasio's major legislative accomplishment, no issue dominated the mayoral campaign more heavily than police reform, specifically a fierce debate over New York City's controversial stop-and-frisk law and the increasingly tense relationship between people of color and the NYPD. The policy, which had been utilized at record rates during the Bloomberg administration, allowed police to detain, question, and potentially search pedestrians if they suspected that the person had committed a crime. While advocates maintained that stop-and-frisk lowered crime rates, civil liberties groups including the New York Civil Liberties Union, Al Sharpton's National Action Network and Jessie Jackson's Rainbow PUSH Coalition decried the law as discriminatory, pointing to a significantly higher number of stops among African Americans and Latinos.
"We will reform a broken stop-and-frisk policy, both to protect the dignity and rights of young men of color, and to give our brave police officers the partnership they need to continue their success in driving down crime," the mayor promised in his inaugural address.
By January 30, de Blasio had made good on his pledge, withdrawing a lawsuit filed by the Bloomberg administration to keep stop-and-frisk alive (a federal judge had ruled the policy unconstitutional in 2013). To lead the NYPD and oversee the implementations of his reforms, de Blasio tapped William J. Bratton, who had previously served as police commissioner under Rudy Giuliani. Many of de Blasio's liberal supporters were wary of Bratton's nomination because of his role in implementing the controversial broken-windows policing theory. But choosing a police commissioner with a prestigious and tested national reputation helped shield de Blasio against critics who claimed the new mayor's naiveté and inexperience would lead the city down a dangerous path.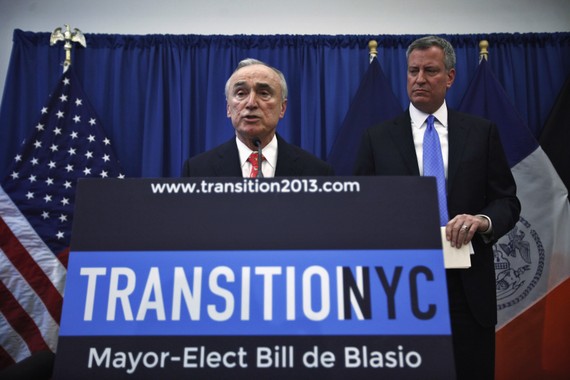 "I think his decision to choose Bill Bratton as Police Commissioner was smart politically and in terms of policy," Muzzio said. "Politically, it covered his flank against critics saying the city was going to go to hell in a hand basket. Bratton brought in CompStat, the broken-windows policy, and previously reduced crime. So he comes in and politically gives him some cover," he continued.
After 12 months at the helm of the NYPD, Bratton has not only presided over a 79 percent reduction in stop-and-frisk cases but also a reduction in overall crime: After 335 homicides in 2013, the city had just 290 killings in the first 11 months of 2014. This can be partially attributed to the previous administration, but de Blasio has answered his critics by keeping crime rates low while presiding over the removal of stop-and-frisk.
Perhaps de Blasio's most ambitious action was the allocation of $41 billion for a housing program, which aims to create 200,000 low- and moderate-income units over the next ten years. While it's unclear whether or not de Blasio can meet this lofty goal, the administration has shown itself willing to stand up to developers in a way previous administrations were not. In March, de Blasio negotiated to secure 700 units for affordable housing in a redevelopment project in Brooklyn. After the deal was reached The New York Times noted that the new mayor was "keen to demonstrate that he takes a different attitude toward real estate from his development-oriented predecessor."
De Blasio's first year also saw progress on other less-discussed progressive reforms. These include passing a law that extended paid sick leave, hiring a new corrections commissioner to take on prison reform at Rikers Island, and committing to an 80 percent reduction in greenhouse gas emissions by 2050.
* * *
Although the mayor scored a substantial victory on universal pre-k and set the wheels in motion to deliver on many of his other campaign promises in the coming years, his first 12 months in office haven't come without missteps.
Despite the end of stop-and-frisk and the reduction in crime, when it comes to race relations, the two-city divide is arguably wider than ever. Last month's decision by a Staten Island grand jury not to indict Officer Daniel Pantaleo for the chokehold death of Eric Garner angered the city's black population and sparked nationwide protests. The murder of NYPD officers Wenjian Liu and Rafael Ramos two and a half weeks later further fanned the flames inside the NYPD.
The growing national anger over policing is not unique to New York City, but de Blasio has often struggled to juggle his populism with the realities that he faces as chief executive. The mayor's comments about the cautionary way he teaches his black son to interact with police were used to rally support among liberal audiences and empathize with victims, but his remarks also alienated and angered many in the NYPD. Speaking on December 20, police union president Patrick Lynch went so far as to blame the mayors' rhetoric for the two officers' deaths. "There's blood on many hands," Lynch said. "That blood on the hands starts on the steps of City Hall in the office of the mayor." In response to this perceived lack of support, the NYPD has significantly reduced the number of low-level arrests made in the past week.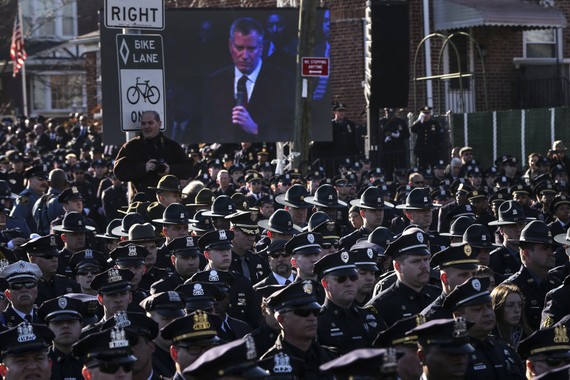 "I think he has some hits, some misses and the normal misses that go with being a first-time, brand-new mayor," Cunningham said. "There are very few places where you can be trained to be mayor of New York City, and being a member of the City Council and Public Advocate is not being trained to be mayor of New York."
Another "miss" has been the mayor's effort to ban carriage horses from Central Park. De Blasio promised to tackle the issue upon taking office after heavy lobbying from NYCCLASS, an animal-rights group with close ties to his campaign. But the proposed ban faced staunch opposition from the New York Daily News, the Teamsters union, and some members of New York's congressional delegation. A December Quinnipiac poll found that 67 percent of city residents didn't want the policy changed.
"The carriage horse issue is a policy mistake that makes the mayor look beholden to special interests. To get rid of the carriage horses, which are part of the culture of the city and by all accounts are well taken care of, it looks like a special interest deal. The fact that he's going to have cars replacing the horses seems nonsensical. Overall it looks like there is political deal making going on there," said Muzzio.
Whether or not the mayor's proposed ban passes in a vote scheduled for early this year, de Blasio will face political consequences. Should a majority of the city council vote for the ban, the mayor would anger the Teamsters and other labor unions and go against public opinion. Should it not pass, it would be both a political failure for the administration and a blow to some of de Blasio's key supporters and donors.
De Blasio has made similar missteps in dealing with the powerful charter school network, the Success Academy, and its popular CEO Eva S. Moskowitz. In contrast to his predecessor, de Blasio has been less willing to allocate public space for Moskowitz's growing network of publicly-funded but privately-run charter schools. Moskowitz challenged the mayor in March by organizing a series of protests when de Blasio withdrew previously allocated space for three of her schools. Cuomo, a supporter of charter schools, joined Moskowitz to denounce de Blasio's snub. After meeting with the Governor, the mayor backed down.
"The governor pulled the rug out from under him," Muzzio said. "[The de Blasio administration] had a faulty strategy."
As Moskowitz's political power and her charter school network continues to grow—she has already has approval by the state to open 10 more schools in the coming years and has openly talked about running for mayor herself in 2017—de Blasio will likely face opposition from the Success Academy CEO for the foreseeable future. And while public opinion is largely split on whether to expand New York City's charter schools, a vast majority do not want to see the current number of schools reduced, according to a November 19 Quinnipiac poll.
Looking ahead to 2015, it remains uncertain whether de Blasio can effectively finish the tale of two cities he pledged to end. What seems clear is that the new mayor's first year has been a relatively steady start amid extreme expectations. Thus far, de Blasio has proved to be a reform-minded leader, although less recklessly than his critics warned and less sweepingly than his supporters hoped. Instead, the new mayor has faced the realities of his job, which have included dealing with a more moderate governor, an openly hostile relationship with the NYPD, tension from the Teamsters union, and pushback from Eva Moskowitz. Following his agenda through to completion will require working with—or around—his growing list of adversaries. That is no easy task.
"Has New York City been a bastion of social democracy? No. But he has created a new aura and dealt more with a majority of his population." Sheinkopf said, summing up the new mayor's first 12 months. "Is that good long term?" he asked. "Who knows?"