How Many Cops Die in the Line of Duty Each Year?
A new report shows that the number of shooting deaths of American police has increased.
The recent shooting deaths of New York Police Officers Rafael Ramos and Wenjian Liu not only reinforced both local and national rifts, but also rounded out a particularly bloody year for law enforcement officers in America.
On Tuesday, the National Law Enforcement Officers Memorial Fund, a pro-police nonprofit, released its preliminary 2014 report on officer deaths, which listed the total number of fatalities at 126. Most striking was the number of firearms-related deaths in 2014 (50), which was a 56 percent jump from 2013 (32).
The second-leading cause of death for police were traffic-related fatalities (49), an increase from last year (44), when it was the year's leading cause, according to the group's data. NBC added that, despite the increase, 2014's total of 126 is well below the average of 151 for the past decade.
Annual U.S. Police Fatalities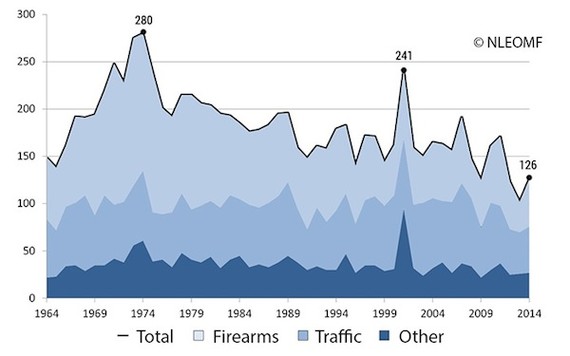 The report also covered the distribution of police fatalities by state, which seemed to track pretty closely with state size by population. "California led the nation in officer fatalities, losing 14 officers in 2014. Texas lost 11 officers, New York lost nine officers, Florida lost six officers and Georgia lost five officers."
For an admittedly contentious contrast, while the government doesn't keep track of the number of Americans killed by police, some efforts have been made by others to find a reliable number beyond the justifiable homicide figures put forth annually by the FBI.
Back in August, 538 touted the work of "Killed by Police," a site that tallies death totals from news stories about police-related deaths. By late August, the site "had listed more than 1,450 deaths caused by law enforcement officers since its launch, on May 1, 2013, through Sunday. That works out to about three per day, or 1,100 a year."
That number seems to be pretty fixed. A more recent look at the site shows the total number of deaths by police for 2014 (as of Sunday) to be 1,089.