Eric Garner and the NYPD's History of Deadly Chokeholds
The context for another officer-involved homicide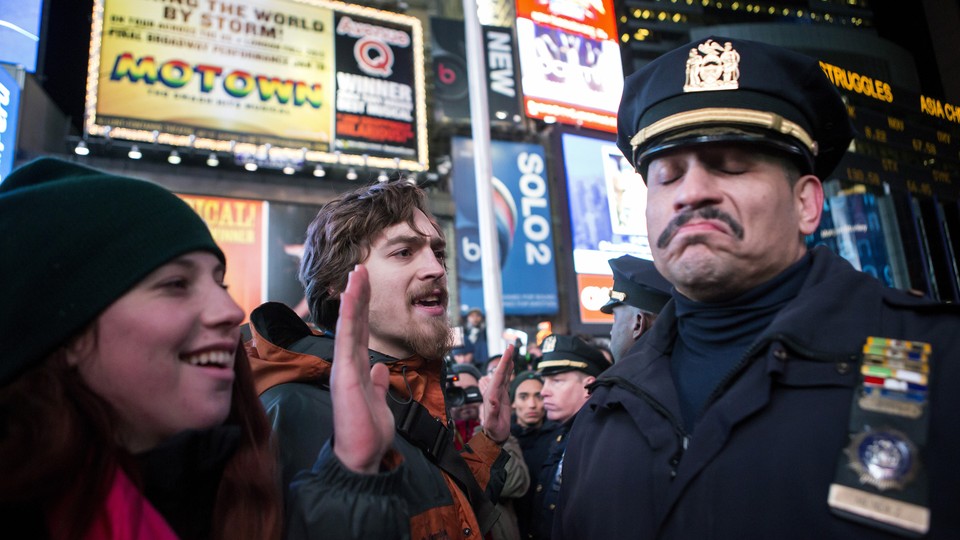 When Daniel Pantaleo put Eric Garner in the chokehold that killed him, the policeman should've known he was risking a man's life. Nearly 30 years ago, the New York Police Department, or NYPD, declared that "choke holds, which are potentially lethal and unnecessary, will not be routinely used." Exceptions were granted only when an officer's life was in danger.
Over the next eight years, even that most-narrow exception gave cops too much leeway: The NYPD banned chokeholds outright in November 1993. "The policy in New York grew from concern about the rising number of deaths in police custody over the last eight years, including that of Federico Pereira, a 21-year-old Queens man who in 1991 died of what the medical examiners called traumatic asphyxia," the New York Times reported. "Five officers were charged, but the charges against four were dropped and the fifth was acquitted." Same as it ever was.
Still, Commander John F. Timoney banned chokeholds in all circumstances, declaring,  "We are in the business of protecting life, not taking it." Then the abuse continued.
The very next year, on April 30, 1994, Ernest Sayon, a 23-year-old Staten Island man, died from "the pressure applied to his chest and back by the police, but a grand jury refused to indict any of the six officers whose conduct they examined."
Less than a year later, on December 22, Anthony Ramon Baez was throwing a football with his brothers "when two throws within minutes of each other hit two separate parked police patrol cars near the corner of Cameron Place and Jerome Avenue in the University Heights section of the Bronx. Neither the Police Department nor the family has suggested that the ball was thrown at the cars intentionally." According to the man's family,  "two officers grabbed Mr. Baez around the neck and handcuffed him for no good reason." Police said he died of an asthma attack. "His family accused the police of choking him to death, and the Medical Examiner's office indicated that the cause of death was probably asphyxiation."
He was killed for the sake of playing street football.
Officer Francis Livoti was charged with criminally negligent homicide and acquitted. "Unbound by double jeopardy, federal prosecutors stepped in," Julian Kimble reports. "Livoti was eventually convicted by a Federal court in June 1998 for violating Baez's civil rights. He was sentenced to seven years in a federal prison."
That same year, the NYPD settled a lawsuit over the case for $3 million:
In a deposition of Mr. Livoti's former commander taken by the Baez family's lawyers, the supervisor, William Casey, testified that nine police brutality complaints had been lodged against Mr. Livoti before the 1994 death of Mr. Baez, yet senior police officials had rejected a recommendation by the commander that Mr. Livoti be transferred to a clerical job or a less stressful precinct.

The testimony indicated that the transfer was rejected because Mr. Livoti was a police union delegate and was protected by connections high up in the chain of command. In addition to the department's handling of Mr. Livoti and the abuse complaints against him, the civil lawsuit highlighted the roles of other police officers who were on the scene when Mr. Livoti was accused of using the illegal chokehold.
Of course, most times that NYPD officers violate policy with dangerous chokeholds, no one dies. "From 2006-2010, the agency received over 200 chokehold complaints per year," Time says of the "banned" technique. "The Civilian Complaint Review Board released a report stating that between July 2013 and June 2014 it received 219 chokehold complaints, a number previously unseen since 2010." Thousands of NYPD chokeholds in an era of an outright ban!
That's the proper context for what happened in this video:
Notice that this isn't just one rogue officer breaking NYPD policy and using a banned technique (that was only ever appropriate when a cop's life was in danger, but was nevertheless used enough to generate hundreds of complaints per year). This is a group of police officers standing around as their colleague blatantly violates policy with a dangerous chokehold and doing nothing to stop him, even as Garner, who poses absolutely no danger to them, pleads that he can't breathe. Later, those officers went so far as to contribute to a dishonest incident report that didn't mention the chokehold even in a case when it ended in a homicide.
Now consider this.
Even with the NYPD's history of killing people with chokeholds that violate policy, hundreds of non-lethal violations of that policy every year, indisputable video evidence of multiple officers blithely ignoring the fact that a colleague was violating that policy, and their subsequent dishonesty about the chokehold when filing a report on the incident, Police Commissioner Bill Bratton still had the brass to say earlier this year that "he would not support a law to make chokeholds illegal, insisting that a departmental prohibition is enough." He also said, "I think there are more than sufficient protocols in place to address a problem." In context, that's sufficiently absurd to cast a shadow over the man's honor. It's hard to believe it won't come up when New York City is sued for negligence.
At minimum it undermines Bratton's credibility. "Every time this happens," Hamilton Nolan observes, "there's a lot of talk about 'training' and 'changing the culture' of the police." Yet chokeholds persist. "What will change this situation," he adds, "is putting police officers in jail for killing and abusing people. And it's abundantly clear that our current laws are too lax to accomplish that. The laws need to change."
Historical context suggests he is absolutely right.