Scenes From a Ferguson Protest in New York City
"I'm so fatigued that I don't even know if I have space to be angry."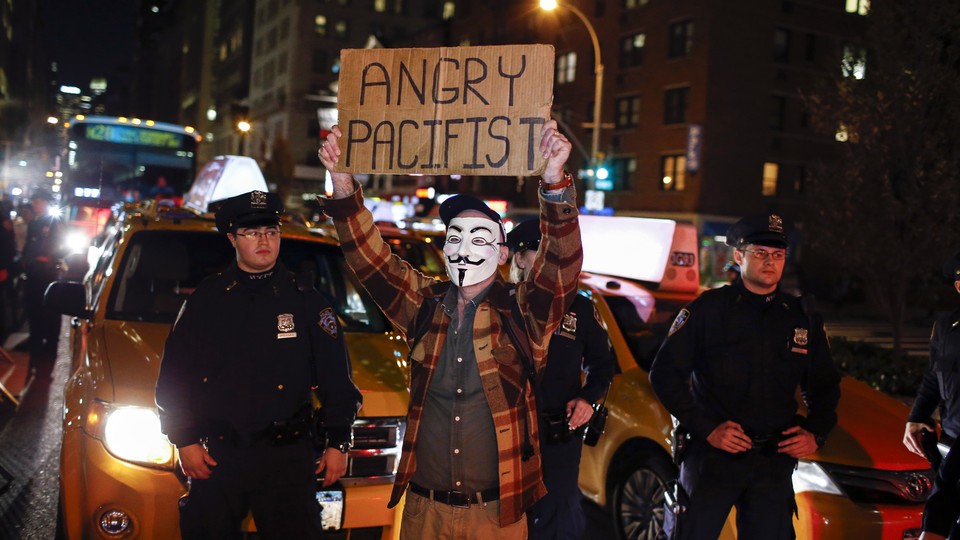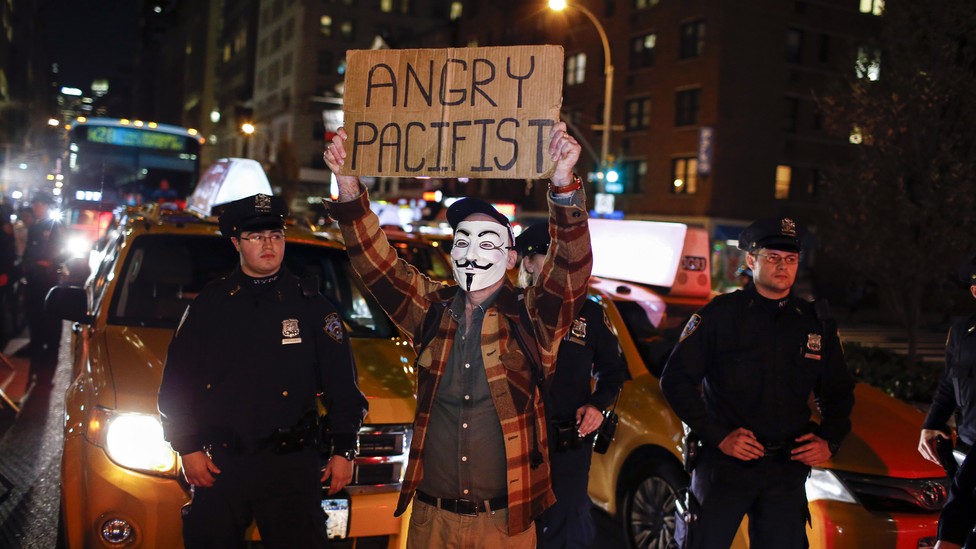 In the wake of the grand jury decision in Ferguson, Missouri, on Monday night, a crowd of more than 500 protesters assembled in Union Square, just one of the many local rallies in New York City, mirroring those across the country. Demonstrators from diverse age groups and ethnicities carried signs with the faces of Michael Brown, Eric Garner, and other black victims of police violence. In unison they chanted: "Black lives matter!"
Members of the group said they assembled to rally against police brutality unfairly targeted against black and minority communities. Though watched by some 50 NYPD officers standing in the vicinity, the group protested peacefully within a marked off area and there was no disturbance. Then they left the barriers, raised theirs fists to the air and shouted as they marched around the square, through bodegas selling scarves and purses, and across the city streets.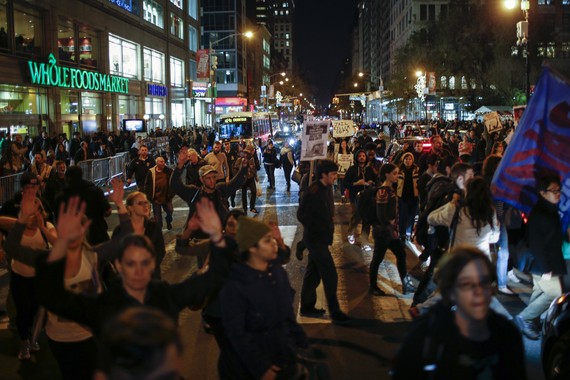 "No justice, no peace—No racist police," they shouted as they walked together.
Athena Soules was one demonstrator among the crowd. She held a sign made with lights that spelled out "Unite 4 Justice." Soules is a member of the New York City Light Brigade, an organization that brings illuminated signs to various public rallies. "Tonight our message is that black lives matter," said Soules. She pointed to her sign, which shined brighter than any of the others at the evening rally. "This is a way to illustrate this social movement and have people who can't see the other signs read further into this issue."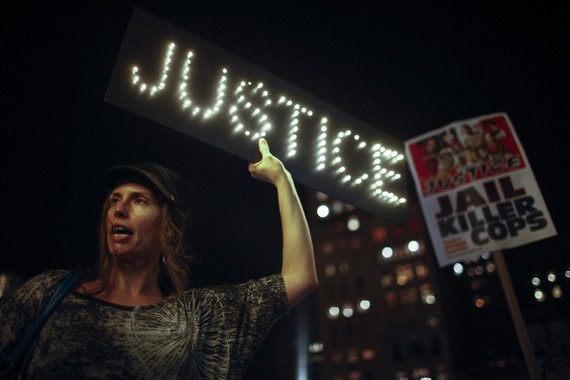 Many members of the congregation belonged to various New York City social justice organizations. They had organized beforehand and agreed to meet at the square awaiting word from the grand jury in Ferguson.
"The fight that's happening in Ferguson is happening here," said Simone Gamble, a member of CopWatch, a group that monitors police activity.  "We're going to keep fighting and bringing attention to these issues until justice is served."
The group continued to march and chant "No justice, no peace," up until the final minutes before the 9 p.m. EST announcement.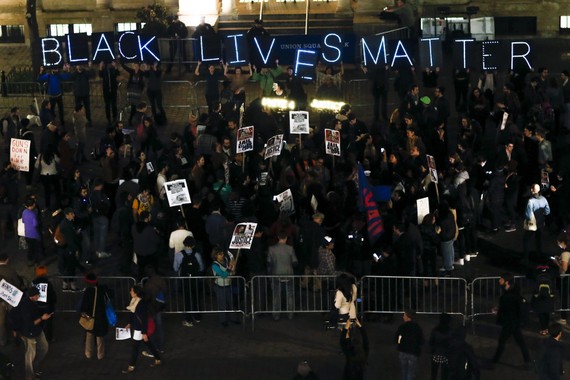 One person called for a moment of silence as the verdict neared. And then slowly, whispers of the news spread through pockets of the group: "There's no indictment. He wasn't indicted," someone looking at her cellphone said. The message was echoed softly among sections of the congregation, and then the voices grew. Finally one person shouted with certainty, "No indictment. Twitter announces no indictment!"
Without anyone calling for it, the group again fell silent. Following a few minutes of silence, the demonstrators were divided. Many looked defeated, but not broken as they sang Bob Marley's "One Love" to soothe the melancholy. Others, preferring a call to arms, instead shouted Bob Marley's "Get up-Stand up" and chanted expletives against the police officers that stood stone-faced some twenty feet away.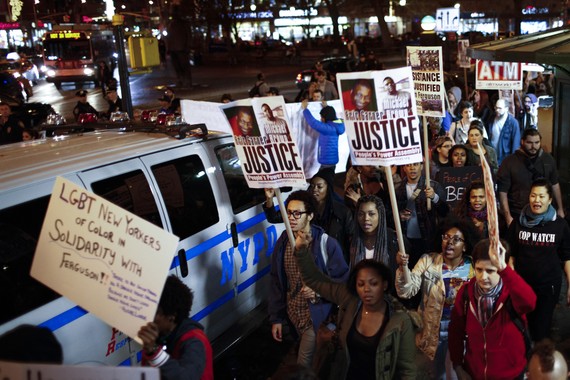 Then in unity, the group broke into another chant of "No justice, no peace" and resumed its march en masse along the city streets. Some people cried. For Camonghne Felix, a poet from Urban Word NYC, the night's verdict was nothing new.
"I've been out here in this square three times in the past three years for the same situation but for different bodies," said Felix. She said that she's tired of losing her voice every year fighting the same fight against police brutality. "At this point I'm more fatigued than anything else. I'm so fatigued that I don't even know if I have space to be angry."