Lava Engulfs First House in Hawaii
The river of molten rock that has spread unmitigated across the Big Island has consumed its first home.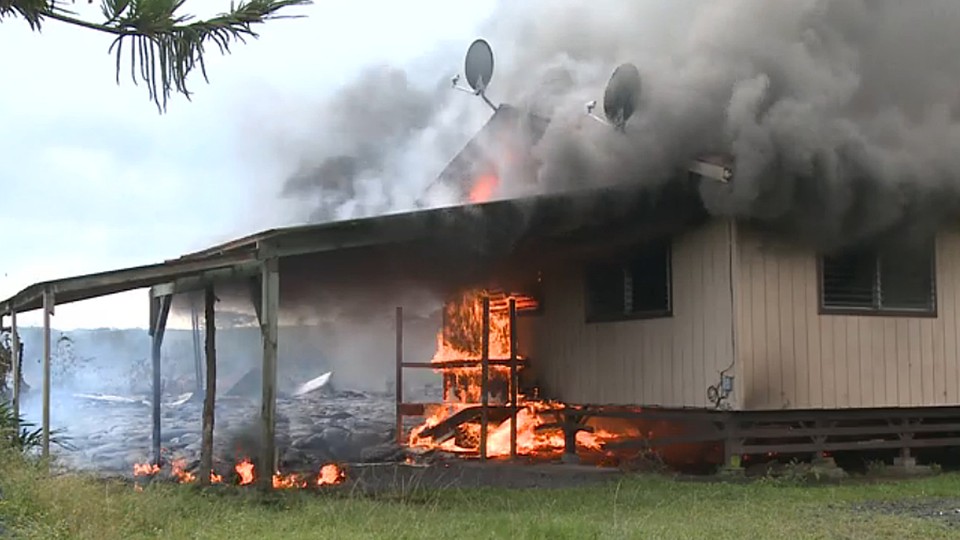 A lurking lava flow has consumed its first Hawaiian house, setting everything from its wooden porch to its rooftop satellite dishes ablaze.
The first flames from the 2,000-degree Fahrenheit molten rock ignited a one-story home in Pahoa just before noon on Monday. It turned the entire 1,100-square-foot, $200,000 house into an inferno 45-minutes later, the Associated Press reported. No one was injured as the residents had evacuated in August, Darryl Oliveria, the Hawaii County Civil Defense Director, told the AP. Oliveria said that a nearby garage and barn will most likely be the lava's next victims, as the closest neighbors to the house are about a half mile away.
The slow-moving flow arose from Hawaii's Kilauea volcano on June 27, and has trekked across the island unmitigated for the past few months at a rate of 15-20 yards per hour. Although this was the first house set on fire, it may not be the last to be consumed by the flames.