No Indictment
Ferguson, Missouri, became a city on fire after it was announced that Officer Darren Wilson would not face criminal charges for the shooting death of Michael Brown.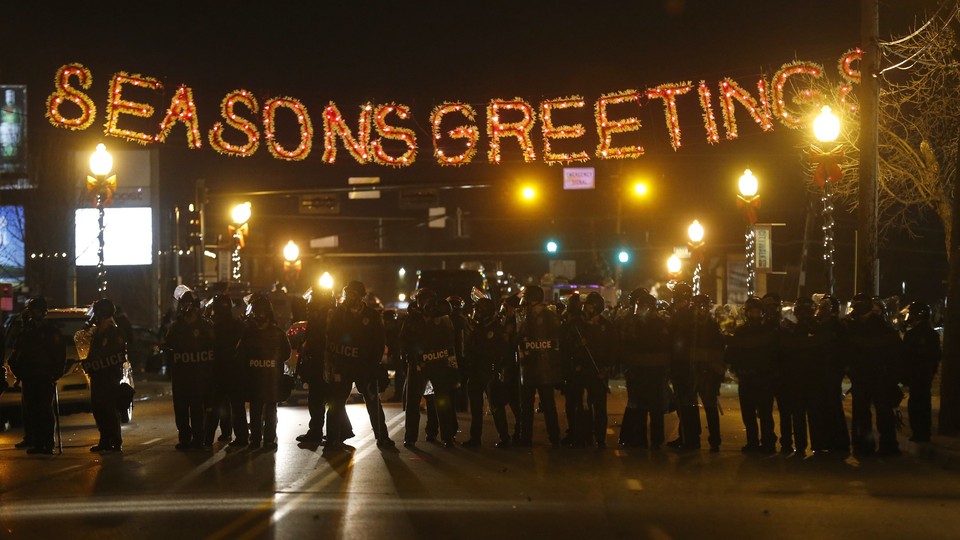 After nearly three months of investigation and deliberation, a St. Louis County grand jury declined to indict Ferguson Police Officer Darren Wilson for the shooting death of 18-year-old Michael Brown. Demonstrators took the streets after the announcement was made on Monday evening. Read below for updates from throughout the night.
All times Eastern
---
November 25, 6:20 p.m.
Obama: 'Nothing of Benefit Results From Destructive Acts'
For a second consecutive night, President Obama sought to discourage protesters in Ferguson from resorting to violence as they respond to the grand jury's non-indictment of Officer Darren Wilson.
"Nothing of benefit results from destructive acts," the president said at the opening of an event in Chicago to promote his executive action on immigration. Obama said he had no sympathy for those who would use the decision as an excuse for violence. "I have no sympathy at all for destroying your own communities," he said.
The president praised demonstrators in other cities who protested peacefully, noting that they did not get as much media attention as rioters in Ferguson. Obama pleaded for calm in a statement Monday night from the White House, but that did not prevent groups of protesters from burning businesses and setting police cars aflame in sections of Ferguson.
–Russell Berman
---
November 25, 5:30 p.m.
Holder 'Disappointed' in Outbreak of Violence
Attorney General Eric Holder on Tuesday said he was "disappointed" at the unrest in Ferguson on Monday night and that federal authorities were coordinating with "peaceful demonstrators" to try and isolate those who are intent on causing destruction following the grand jury's decision not to indict Officer Darren Wilson.
"It is clear, I think, that acts of violence threaten to drown out those who have legitimate voices, legitimate demonstrators, and those acts of violence cannot be and will not be condoned," the attorney general said in a televised statement Tuesday. He said he had spoken to President Obama, who was expected to address the situation at an immigration event later on Tuesday.
Holder spoke shortly after Governor Jay Nixon said he had dispatched hundreds more National Guard troops to Ferguson to help keep the peace as night fell on Tuesday.
–Russell Berman
---
November 25, 9:20 a.m.
Calm in Ferguson as Clergy March in Clayton
Television images and local reports showed a calm Ferguson on Tuesday morning after a violent night of protests in which gunfire rang out, police cars were overturned, and a dozen businesses were burned to the ground. The protests picked up in Clayton, Mo., west of St. Louis, where an estimated 140 demonstrators—many of them clergy—held a moment of silence for Michael Brown and marched down the streets with their arms linked. "Show me what theology looks like. This is what theology looks like," they chanted, according to the St. Louis Post-Dispatch.
–Russell Berman
---
November 25, 2:45 a.m.
Police Provide Late-Night Update
St. Louis County Police Chief Jon Belmar held a late-night briefing with reporters, in which he said he personally heard more than 150 gunshots and that a dozen buildings were set on fire, there were no fatalities related to the protests. Still, Belmar did say he was "disappointed" with the response and that the protests were "worse than the worst night we had in August." Twenty-nine people were arrested and some guns were seized.
He also added, "I don't think we were underprepared, but I'll be honest with you, unless we bring 10,000 policemen in here, I don't think we can prevent folks that really are intent on destroying a community."
More demonstrations are expected both in Ferguson and in many other cities across the country on Tuesday.
---
November 25, 2:30 a.m.
Fires Spread to Dellwood
The fires that sprung up in Ferguson on Monday night also showed up in neighboring Dellwood, where several cars at a dealership were set on fire, in addition to a couple of other local business. Like in Ferguson, many of the buildings were left to burn, either due to a lack of firefighters or concerns over their safety.
Also, despite the pre-announcement state of emergency, the mayors of both Dellwood and Ferguson complained that the National Guard was not deployed to their area as needed. Governor Jay Nixon finally did announce around 1 a.m. that the Guard would be sent to Ferguson.
---
November 25, 1:34 a.m.
Photos from Darren Wilson's Hospital Visit Released
Following the announcement of the non-indictment, the prosecutor's office took the unusual step of releasing nearly all the physical evidence and testimony presented to the grand jury, even though grand jury proceedings are usually completely secret. Among the evidence are photos taken of Wilson immediately after the shooting, marking the injuries he says he received after fighting with Brown. You can take a look for yourself here.
---
---
November 25, 1:30 a.m.
New York City Protesters Shut Down Major Bridges
Three major crossings in New York City were blocked and shut down by protesters as marchers fanned out across the city in support of Michael Brown. The Manhattan, Brooklyn, and RFK-Triboro bridges were all blockaded when hundreds of protesters walked onto the bridge, blocking, and sitting down in the roadway.
Meanwhile, in D.C. the protest moved to the steps of the Supreme Court.
---
November 25, 12:30 a.m.
Several Businesses Burned in Ferguson
While the large scale demonstrations began to wind down in Ferguson, flames continued to fill the sky as a number of local business continued to burn. According to various reports, Sam's Meat Market, Little Caesar's, Public Storage, and O'Reilly Auto Parts, were among the businesses that were set on fire during the evening's protests. Because of the sheer number of fires, firefighters were unable to even attempt to put some of them out, so the buildings burned on their own for several hours.
In addition to the fires, several business were looted, including a local Walgreens. At least two police cars were destroyed and set on fire, as well.
---
November 23, 11:40 p.m.
Protests Spread to Other American Cities
Ferguson and St. Louis are not the only places where demonstrators have taken to streets to show their frustration and anger with the verdict. In New York, marchers descended on Union Square and Times Square. Despite the mostly peaceful protest, someone managed to pelt NYPD Commissioner William Bratton with fake blood.
In Oakland, protesters took a similar path to St. Louis, blocking highway I-580 by marching in the driving lanes. The same thing happened on I-10 in Los Angeles.
And in Washington, more than 100 people gathered outside the White House, laying down in front of the building and chanting.
---
November 23, 11:30 p.m.
St. Louis Protesters Block Interstate
Hundreds of demonstrators in downtown St. Louis have blockaded the I-44 highway, preventing cars from passing and temporarily shutting down the roadway.
---
November 23, 11:06 p.m
Holder Says Federal Case Still Ongoing
Attorney General Eric Holder issued a statement late Monday night saying that while the grand jury in St. Louis County had decided not to indict Officer Darren Wilson, "the Justice Department's investigation into the shooting of Michael Brown remains ongoing."
Although prosecutor Bob McCulloch had sought to link his investigation with the federal inquiry, Holder stressed its independence. "Even at this mature stage of the investigation, we have avoided prejudging any of the evidence," the attorney general said. "And although federal civil rights law imposes a high legal bar in these types of cases, we have resisted forming premature conclusions."
Holder, who visited Ferguson during the first wave of protests in August, joined President Obama in calling for peaceful demonstrations. "It does not honor [Brown's] memory to engage in violence or looting," he said.
—Russell Berman
---
November 23, 10:54 p.m.
Tiananmen Square-Like Image Captured in Ferguson
---
November 23, 10:41 p.m.
Obama Calls for "Care and Restraint"
President Obama on Monday night pleaded for protesters on the streets of Ferguson on Monday night to act "constructively" and not "destructively" following a grand jury's decision not to charge Officer Darren Wilson in the killing of Michael Brown.
The president, delivering a response at the White House, did not weigh in on whether he thought Wilson should be charged, but he appealed to those angry at the decision to work with local and federal authorities to improve the relationship between the police and communities of color in cities across the country.
"First and foremost, we are a nation built on the rule of law, and we need to accept that this was a decision that was the grand jury's to make," Obama said.
He read from a statement issued by Brown's father, who implored protesters to demonstrate peacefully in response to a grand jury decision that was increasingly expected to clear Wilson leading up to the announcement on Monday night.
"Let me repeat Michael's father words: Hurting others and destroying property is not the answer," the president said. "Michael Brown's parents have lost more than anyone. We should be honoring their wishes."
Obama also urged police in Ferguson to "show care and restraint handling peaceful protests that may occur," and to be careful in distinguishing between peaceful demonstrators and those who are trying to cause harm or damage. It was a remarkable television visual, as cable networks showed Obama speaking from White House in a split screen alongside scenes of increasing unrest in Ferguson.
The president acknowledged that in Ferguson and in cities throughout the country, communities of color feel as though the law is being applied in a discriminatory fashion.
"We have made enormous progress in race relations over the course of the last several decades. I've witnessed that in my own life, and to deny that progress, I think, is to deny America's capacity for change.

But what is also true is that there are still problems, and communities of color aren't just making these problems up. Separating that from this decision, there are issues in which the law too often feels as if it is being applied in a discriminatory fashion. I don't think that's the norm. I don't think thats true for the majority of communities or the vast majority of law enforcement officials, but these are real issues, and we have to lift them up and not deny them, or try to tamp them down. What we need to do is to understand them and figure out where we can make more progress."
"That can be done," Obama added. 'That won't be done by throwing bottles. That won't be done by smashing car windows. That won't be done by using this as an excuse to vandalize property, and it certainly won't be done by hurting anybody."
The president was asked if he planned to go to Ferguson, and he said he would wait and see "how things are going."
—Russell Berman
---
November 23, 10:26
Tear Gas Used on Demonstrators in Ferguson
As President Obama delivered a brief statement on the verdict, most cable networks carried a split screen of the streets of Ferguson growing more chaotic. Some protesters began throwing rocks at police, who responded with smoke bombs and tear gas to try disperse the crowds. CNN anchors Don Lemon and Chris Cuomo both were both hit with tear gas while on the air, despite claims by the police that were not using tear gas.
---
November 23, 9:25 p.m.
Officer Darren Wilson Will Not Be Indicted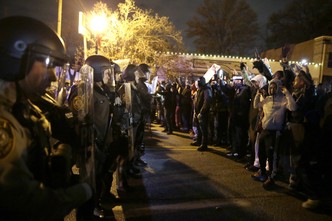 A St. Louis County grand jury has decided not to indict Ferguson Police Officer Darren Wilson for the shooting death of Michael Brown. Prosecutor Bob McCulloch announced the decision shortly after 9:15 p.m. Eastern.
McCulloch spent much of his statement by condemning people on social media and the "24-hour news cycle" for spreading questionable information that was not consistent with the physical evidence. Then after reading a lengthy recounting of the timeline of the case, McCulloch announced that Wilson would not face criminal charges on the five possible counts presented before the grand jury.
He said there was no question that Wilson was the shooter, but the jury had to considered whether he was the aggressor or authorized to use deadly force in his role as a police officer. In an unusual move, McCulloch also announced that much of the testimony and evidence will be released to the public later in the evening.
The Brown family was notified moments before McCulloch's press conference, as first reported by USAToday. They released a statement shortly after the announcement saying, "We are profoundly disappointed that the killer of our child will not face the consequences of his actions," but called for protests to remain peaceful, adding, "Let's not just make noise, let's make a difference."
Officer Wilson's representatives also released a statement saying, "Officer Wilson followed his training and followed the law" and thanking those who supported him during the investigation.
Discussing the grand jury members, McCulloch said, "These grand jurors poured their hearts and souls into this process.... They gave up their lives, the put their lives on hold, they put their families on hold, they put everything on hold, so that they could come in and do their civic duty. And it was a very emotional process for them."
Hundreds of protesters had already gathered outside both the Ferguson Police Department headquarters, and the courthouse in Clayton, Missouri, where the announcement was made. The situation remained calm for some time, but shortly after 10:00 p.m. (when McCulloch stopped talking) protesters were seen on CNN smashing up an empty police car.
---
November 23, 3:30 p.m.
Verdict Reached by Ferguson Grand Jury
The grand jury in the Michael Brown shooting investigation has reportedly reached a decision on whether or not to indict Officer Darren Wilson on criminal charges related to Brown's death. An announcement on the decision is expected on Monday evening, and no matter the decision, large scale demonstrations are expected in Ferguson, St. Louis, and across the country.
The Wall Street Journal reported that the St. Louis County prosecutor's office has scheduled a news conference for 4 p.m. local time, which is 5 p.m. Eastern. ABC News reported that a public announcement is scheduled for 8 p.m. Eastern. Prosecutors finally confirmed that it will be 9:00 p.m. Eastern.
Michael Brown's family told reporters this afternoon that they have been told by the prosecutor's office that a decision has been reached—though they weren't told what it is—and that some kind of formal announcement is expected this evening.
It is not known if they will announce the full decision or simply another time when the result will be revealed. Prosecutors had previously discussed the possibility of giving local law enforcement, schools, and other community leaders at least 48 hours notice before revealing the verdict of the grand jury, but given the preparations that have already been made, and the fact that the Thanksgiving weekend is rapidly approaching, that plan has apparently been changed. Even so, Ferguson schools have already announced they will be closed on Tuesday. (They were already scheduled to be closed from Wednesday to Friday.)
Missouri Governor Jay Nixon has scheduled a meeting in St. Louis with local clergy at 4 p.m. local time. He is also expected to hold a news conference at some point on Monday.
The 12-person grand jury has been in session since August 20. They resumed deliberations on Monday after hearing the final witnesses on Friday.
Wilson shot and killed Brown in Ferguson, Missouri, on August 9. Brown, who was black, was unarmed and there is no dispute that Wilson, who is white, is the one who shot him. But there have been many conflicting reports and much heated debate about the altercation that apparently led to the shooting.
Numerous leaks to media from the grand jury proceedings over the last few weeks have led to the perception among many that no charges will be filed. Among the leaks are an autopsy report that seems to support Wilson's statements to investigators that he and Brown scuffled inside Wilson's patrol car, and that the first shot was fired then, before Brown ran away. Several witnesses said the fatal shots were fired as Brown tried to surrender, but Wilson testified that Brown was charging at him when he fired.
A separate federal civil rights investigation of Wilson is also underway, but officials have publicly admitted that civil rights charges against the officer are unlikely, due to the high standards required.