Are Buffalo Bills Tickets Worth Shoveling 220,000 Tons of Snow?
The NFL team in western New York is offering free tickets and $10 an hour for fans to dig out the stadium before the Jets game on Sunday.
As of Wednesday evening, the Buffalo Bills still planned to host their Sunday game against the hapless New York Jets, despite the four feet of snow that has already covered the city. (Another foot of powder is on the way.)
According to the organization, that still leaves 220,000 tons of snow to be shoveled at Ralph Wilson Stadium before kick-off on Sunday. To do so, the Bills are hoping to enlist the help of its fans. But the Queen City is hardly offering a king's ransom: Those willing to shovel snow will be paid $10 an hour and will also receive free tickets to the game.
The Bills made their plea on social media earlier on Wednesday:
Want to help clear the Ralph? We're looking for snow shovelers. Pay is $10/hour + game tickets. Call 716-636-4840 for details.

— Buffalo Bills (@buffalobills) November 19, 2014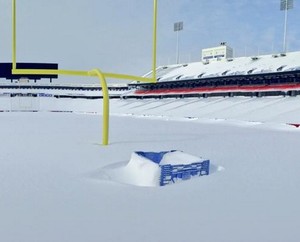 The team also tweeted photos of just how deluged the stadium is with snow. One field level photo described the winter snowfall as "waist deep."
Unfortunately for the team, the shoveling can't start until a driving ban that's currently in effect is lifted. The snow, to which has at least seven deaths have been attributed, was so intense that New York Governor Andrew Cuomo deployed 15o National Guardsman to assist in the city's post-storm recovery.
The management at Ralph Wilson Stadium is hoping for a larger army of about 500 volunteers to come help. Giving away that many tickets isn't likely to be a problem. On Wednesday, despite the storm, the Buffalo Sabres played their hockey match against the San Jose Sharks even though attendance was dismal and the National Anthem singers couldn't make the trip. The league-worst Sabres managed a nice 4-1 victory.