The First Person to Contract Ebola on U.S. Soil
As a Dallas nurse contracts the virus, John McCain is calling on the Obama administration to name an Ebola "czar."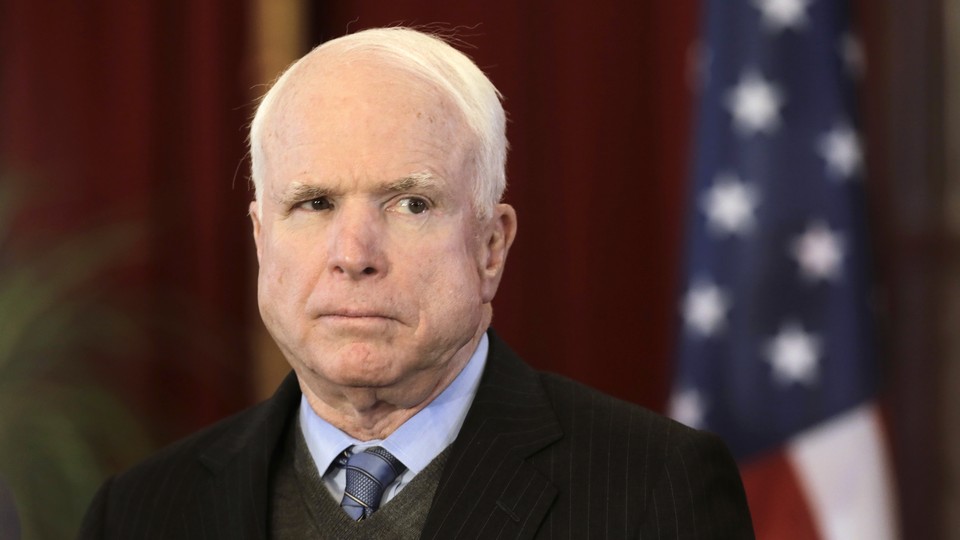 As news broke Sunday that a healthcare worker in Texas became the first person to contract Ebola on U.S. soil after treating a Liberian man who died of the disease at a Dallas hospital, Senator John McCain called on President Obama to appoint an Ebola "czar" to lead the federal response to the deadly virus. "My constituents are not comforted," he told CNN's State of the Union. "I would say that we don't know exactly who's in charge. There has to be some kind of czar."
Tom Frieden, the director of the Centers for Disease Control and Prevention, has been the public face of the administration's efforts. In a Sunday press conference, he said a "breach of protocol" was to blame for the nurse at Texas Health Presbyterian Hospital contracting the disease after "extensive contact" with the late patient.
McCain has been a critic of so-called czars, tweeting at the beginning of the Obama's first term that he had more czars than Russia's three-century-long Romanov Dynasty.
Obama has more czars than the Romanovs—who ruled Russia for 3 centuries. Romanovs 18, cyberczar makes 20.

—John McCain (@SenJohnMcCain) May 30, 2009
On Saturday, screenings began at John F. Kennedy, Newark Liberty, Washington Dulles, O'Hare, and Hartsfield-Jackson international airports in an effort to curb the spread of the virus. By focusing on these airports, officials say that screenings will cover 94 percent of passengers from the African countries struck by Ebola.