Bill de Blasio Implicated in Tragic Groundhog Death
In an added twist, this is a gender-bending groundhog. What the public thought was Chuck was actually Charlotte.
This article is from the archive of our partner
.
New York City Mayor Bill de Blasio is a groundhog murderer. Okay, technically, he may only be guilty of negligent groundhog homicide or mangroundhog-slaughter, because there was no malice aforethought involved. No matter the charge, reports say that de Blasio is directly responsible for the death of the Staten Island Zoo's beloved forecasting groundhog, "Chuck." (Or more accurately, his stunt double.)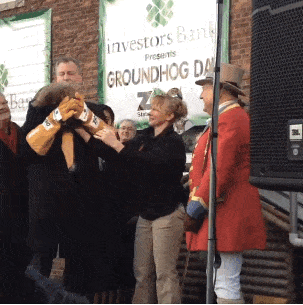 The New York Post broke the story of this city tragedy this morning, though the incident and subsequent death occurred months ago. On February 2nd, Groundhog Day, Mayor de Blasio paid the zoo a visit and held "Chuck." He then accidentally dropped the adorable rodent about six feet to the ground during the annual weather prediction ceremony. The animal died just a week later from internal injuries, but the zoo publicly claimed the death was due to natural causes.
To make things more peculiar, the zoo had secretly swapped out Chuck the groundhog for Charlotte the groundhog before de Blasio arrived, as Chuck has kind of a bad rep with city politicians.
In 2009, Chuck bit Mayor Michael Bloomberg:
In 2011, Bloomberg called Chuck a "little son of a bitch" during the ceremony, referring to the bite two years prior. To be fair, I would also be hesitant to come near that creature again after it bit me, but it is all in a day's work for the leader of our great city.
The Post's tipster said the zoo covered up both the groundhog swap and death to "protect the groundhog brand." The zoo continues to deny de Blasio's role in Charlotte's death. "It appears unlikely that the animal's death is related to the events on Groundhog Day," said a spokesperson, though the injuries leading to her death were directly in line with those sustained during a fall of that kind.
The mayor's spokesperson said, "We were unaware that Staten Island Chuck had passed, but are sorry to hear of the loss." Well, technically, they should be mourning the passing of Charlotte.
A tragic day for large rodents everywhere. Keep your capybaras safe, people.
This article is from the archive of our partner The Wire.