Bank Robber With No Bag Had Evidence Falling Out of His Pants
And if cash spilling out of his pants wasn't enough, by his mugshot, he would've been easy to identify.
This article is from the archive of our partner
.
A California bank robbery suspect was so amateur at his job, he hit a low volume Chase Bank in a grocery store and didn't even bother bringing a bag to carry his loot.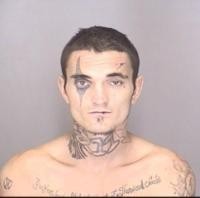 Shawn Lee Canfield, 25, was arrested Saturday after leaving a Chase bank in Merced County, California, with $2,748, according to police. Officers responding to the call spotted Canfield while he was trying to shove the money down his pants. The teller told police she was positive that Canfield was the man who robbed the bank — and given his appearance, there was really no reason to assemble a police line-up.  
According to police, most of the money fell out of Canfield's pants as he made his way through the police station. The remaining $334 fell out of his pant leg when he was asked to stand up. 
Canfield, who admitted to the bank robbery so he could visit his mother in Colorado, was charged with robbery and burglary and booked into the Merced County Jail. He's being held on $50,000 bond.
This article is from the archive of our partner The Wire.