When U.S. Law Enforcement Had a Different Look
Americans have often thought of themselves as level-headed and BS-detecting. What would a modern Mark Twain or Will Rogers make of policemen all dressed up for war?
If you haven't yet seen it, please read this Storify account, by Kelsey Atherton, of how veterans of real combat—in Iraq, Afghanistan, and elsewhere—view today's wildly over-militarized American police. For instance: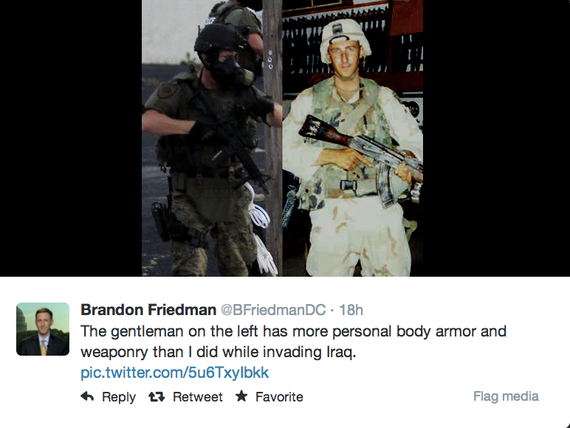 A reader on the East Coast responded to my post last night, which said that perhaps the scenes of stormtroopers among us would startle the public into realizing how far this security-state trend had gone. This reader, S.C., suggests a contrasting visual cue:
Maybe you're right to conjecture that police-state images might horrify the country into restoring good sense about cops in combat gear, riding in tanks on streets. Here's a thought about that. It's not new, but it might be worth mentioning.

I've pasted in an image [shown at the top of this post] that may fit slantwise with your insight. It's not what you meant, but it conveys the message in a country that still likes seeing if calm wisdom and brains can head off any need for ostentatious official bellicosity. From the old and much-loved The Andy Griffith Show, it's Sheriff Andy Taylor, who spurns sidearms in police work, and whose face expresses all that needs to be said about Deputy Barney Fife's comically enthusiastic wanna-be militarism.

I love it that Sheriff Taylor always allowed Deputy Fife to carry only one bullet, and required him to keep it in his pocket. Maybe you'll want to keep this photo in yours, in case it's needed (and assuming it's not already there).

It's unrealistic, of course, to try too hard to map this half-century-old sitcom onto present problems. But it's also unwise not to recall what Sheriff Taylor stood for, and not to recognize the extent of the country's respect for it.
Agreed. On that same theme, here is a clip from an episode of The Andy Griffith Show 50 years ago, in 1964, in which Barney Fife has a different helmet but the same enthusiasm for dress-up military gear.
That gentle, dismissive, pretense-puncturing humor—something I associated with Andy Griffith in my childhood and that my parents did with Will Rogers in theirs—doesn't have an exact current counterpart, or not one I can think of just now. Stephen Colbert is closer than Jon Stewart; in his earliest, funny-rather-than-angry days, Rush Limbaugh could sound this way. Among politicians, Ronald Reagan was actually good at it—"There you go again!"—as was John F. Kennedy in some of his press conferences. It's an effect Barack Obama strains for and sometimes achieves, for instance when poking fun at the latest Birther-style claim. (And yes, before you point it out, I'm aware that in an actual small Southern town 50 years ago, the real-world counterparts of Andy Taylor and Barney Fife would have been enforcing segregation laws.)
We would like to think that such level-headed, amused BS-detection is part of our national cast of mind. A Yank at Oxford! The Duke and the King in Huckleberry Finn! The Tweet shown above, by @BFriedmanDC, may offer a glimmer of hope for its reappearance. It is the kind of comment Sheriff Andy Taylor might have made if he had seen legions of Barney Fifes dressed for war.