Rain and Relative Quiet Fall on Ferguson
A night without major incident passed through Ferguson for the first time in a week.
This article is from the archive of our partner
.
It's a tale-tell sign of troubled times when we celebrate a night when only six people were arrested. However, after nearly a week of protests, rubber bullets, tear gas, and mass arrests, Wednesday night in Ferguson was characterized by rain and relative quiet.
Johnson: No Molotov cocktails, fires, shooting, handguns or confrontations tonight.

— KSDK NewsChannel 5 (@ksdknews) August 21, 2014
TIME went with a flourish-heavy account:
On a rainy night, a smaller-than-usual group of protesters still paced the wet streets, doing laps along West Florissant Avenue as their voices grew hoarse from chanting slogans. Small groups huddled along the battered boulevard, mostly unbothered by a police presence reduced from previous nights.
As Fox reported, the evening wasn't entirely without incident:
One officer was also hit with a bottle. The most tense moments came when two people supporting officer Darren Wilson showed up at the protest."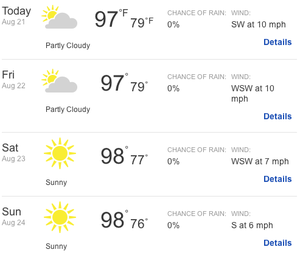 Capt. Ron Johnson started an early morning press conference by saying "Tonight was a good night in Ferguson,"  noting that arrests had dropped from 47 over Tuesday evening to just six. Johnson also speculated Attorney General Eric Holder's visit may have helped mitigate the tensions.
Following the rain, an "excessive heat" warning was issued, potentially auguring a longer lull in the unrest until Sunday night when warning expires.
Of course, this could all change based on whether or not a grand jury determines that Officer Darren Wilson should face criminal charges for shooting Michael Brown.
This article is from the archive of our partner The Wire.