The Roots of Violence in Ferguson
Clashes between protesters and law-enforcement officials over the death of 18-year-old Michael Brown began again on Saturday morning. Residents say the tension between the city's police and citizens is longstanding.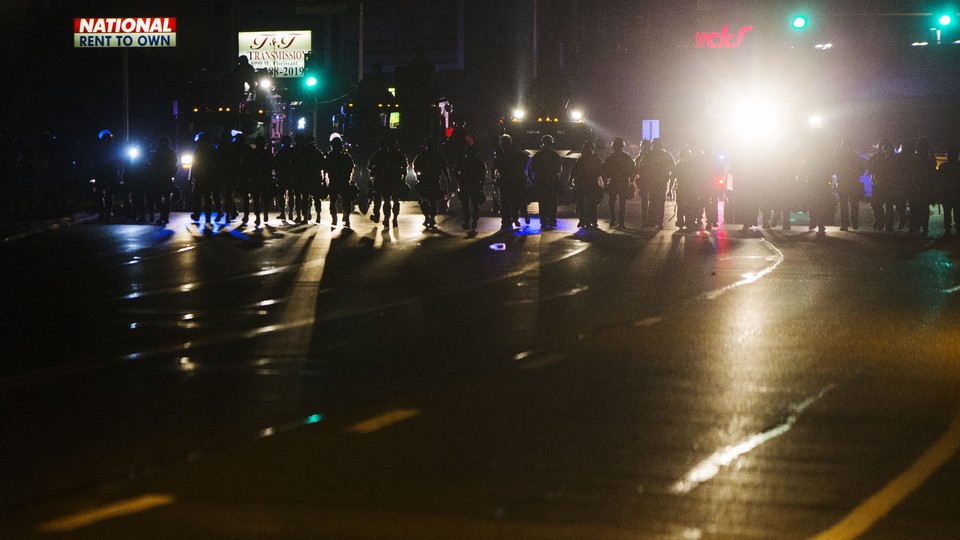 Updated 8/16/2014
FERGUSON, Mo.—On Thursday evening, Jerry Rodgers, a longtime resident of Ferguson, Missouri, who's known in the community as Uncle Black, gathered with other protesters for a peace march. Many in the crowd wore goggles or painters' masks, concerned about another round of tear gas. I asked Rodgers if his yellow shower cap was for a similar purpose. "Nah," he says. "I just put in a curl."
"The police just be on you pretty much just to be on you, man," Rodgers said. He doesn't drive, so he relies on public transit and rides from friends. But he says most of his buddies usually won't drive into Ferguson. "We ain't going out there, man," they tell him. "We ain't going out near Ferguson."
After days of violence following the shooting of an unarmed, black 18-year-old named Michael Brown by a police officer, tensions between law enforcement and protesters calmed somewhat on Friday. On Thursday, Governor Jay Nixon made a long-overdue intervention in the situation: The man he placed in charge of the police on the scene, Ron Johnson, is an African American State Highway Patrol captain who grew up in the area and still lives nearby. Johnson marched with, spoke with, and hugged protesters. The few police who showed up at Thursday night's demonstration wore normal uniforms. They left their gas masks at home.
But the purpose of the Ferguson protests was not to win the right to protest, as renewed tension has shown. On Friday, the police department identified the white officer who shot Brown as Darren Wilson, but they also released surveillance video allegedly showing Brown participating in a "strong-arm robbery" minutes before the shooting, causing a fresh wave of outrage in the community. The autopsy still has not been released. By early Saturday morning, "protesters barricaded a major thoroughfare and police officers in riot gear quickly responded, prompting a standoff," The New York Times reports. The case—and the pain it has caused—is far from being resolved.
In part, this may be because one of the most significant underlying causes of the unrest hasn't been addressed: allegations of racial profiling.
The civic infrastructure of Ferguson has not kept pace with its shifting demographics. In 1990, the town was three-quarters white. Twenty years later, white people made up only 30 percent of the population.
Now, Ferguson's population is two-thirds black. Its more-than-50-person police force includes just three black officers. In 2013, black people accounted for 86 percent of all traffic stops and 92 percent of searches and arrests.
Ferguson's figures are not much different than many municipalities in the St. Louis area—and they're actually better than the statewide average. But residents say profiling in the city is severe.
Anthony Johnson lives in the Canfield Green Apartments, where Mike Brown lived and where he was gunned down in the street. Tattooed below Johnson's right eye is a pair of tear drops, a tribute to his parents. His father was shot and killed when he was 10. His mom died in a car accident on Mother's Day. Standing on the lawn of the apartment complex, he said police harassment is a regular part of life here. Cops often stop him on the street and ask where he's going. Sometimes, they'll pick him up by mistake, looking for a different black man. He knows not to walk around the neighborhood after a certain time at night, to avoid being stopped, interrogated, and asked for identification. "Why should I have to show ID if I'm just walking down the street?" he asked. "It just don't make no sense. It's sad that it took an incident like this to shed some light on the Ferguson police."
One particularly appalling incident came in 2009, when Ferguson police picked up a 52-year-old named Henry Davis, as recently reported by The Daily Beast. He was arrested by mistake. The warrant had been for another man with the same last name. But rather than police setting him free, Davis was charged with "property damage" because he had bled on an officer's uniform.
"Why should I have to show ID if I'm just walking down the street?"
On Monday night, there was a second, less publicized police shooting in Ferguson. A man allegedly pulled a gun on an officer and was shot multiple times. He ended up in critical condition.
Martez Little, 24, was at the scene. Now he has a large bruise on his left cheek and scratches all across his chest. He says police punched him, smacked him with a gun, and dragged him on the ground. Little says he wasn't carrying a weapon and hasn't been in much trouble with the law. A search of state records shows traffic tickets and some family-court cases, but no felonies or violent crimes.
How often does he get stopped by police? "Plenty of times," Little says. "They're always stopping my car. My car is known out here… The only thing I ever been locked up for is traffic tickets."
At a recent community forum, Ferguson Police Chief Thomas Jackson acknowledged that problem, saying his department is working on the issue. It's a vicious cycle, he said: People get a few traffic tickets and can't afford to pay the fines; eventually a warrant is issued and an arrest is made; a court date is missed, and on and on…
Grazida King came to Thursday's march with his two sons, ages 9 and 11. He wanted to prove that protests can be peaceful and show his boys that it's important to stand up for your beliefs. "I've been profiled before," he says. "We call it driving while black, just pulled over for no apparent reason." He worries about his sons having the same problem. He tries to raise them the right way, but feels like he shouldn't have to train his children on how to avoid being harassed by police.
In addressing the crowd, even Johnson, the highway patrol captain, said he knows how it feels to be profiled. "When I was 18, I knew there were times when I was driving in my car and had to turn around," he says. "It needs to change. It's gotta change today."