No, Siri Can't Help You Hide Your Roommate's Body
A Florida man charged with killing his roommate allegedly asked Siri to "hide my roommate." The iPhone assistant wanted no part of it.
This article is from the archive of our partner
.
A Florida man charged with strangling his friend allegedly tried to make Siri his accomplice.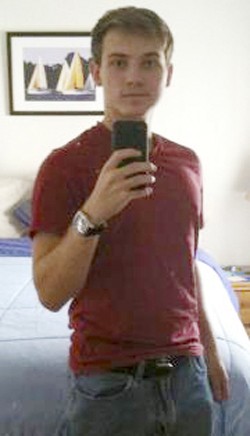 Authorities in the murder trial of Pedro Bravo say the 20-year-old turned to his iPhone's not-always-helpful assistant for help in hiding the body of Christian Aguilar after he allegedly killed him out of romantic jealousy.
"I need to hide my roommate," Bravo told Siri, according to ABC News.
Siri apparently wasn't much more helpful in dumping a body than she is in doing most other things. The application displayed options such as swamps, metal foundries, reservoirs and dumps, according to a screen grab that was shown in court.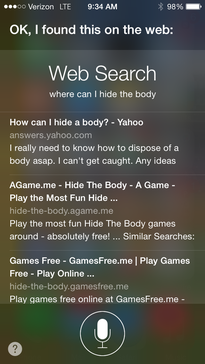 Detectives, who found the search on Bravo's phone, said he ended up taking the body to a forest, ABC reported.
Aguilar was killed in 2012, and authorities say Bravo drugged and strangled him over his jealousy that Aguilar was dating his ex-girlfriend from high school.
Bravo has pleaded not guilty, and his lawyers say that because there are hundreds of images on his iPhone, there is no way of knowing whether he actually asked Siri that question.
The Wire had no more success when we asked Siri (completely hypothetically, we promise) where we could hide a body.
UPDATE: The Gainesville Police wrote in Twitter posts on Wednesday that reports that their detective testified that Bravo asked Siri for help hiding his roommate were incorrect.
Multiple reports of Bravo asking Siri to hide a roommate are incorrect... GPD Det. Goeckel certainly did not testify to that. #BravoTrial

— Gainesville Police (@GainesvillePD) August 13, 2014
The department also retweeted articles from reporters at the trial who pointed out that Bravo and Aguilar were not roommates and that while the screenshot was found on Bravo's phone, it may not have originated from his phone.
The Wire has left a message seeking more information from the Gainesville Police, and the original post has been updated.
This article is from the archive of our partner The Wire.